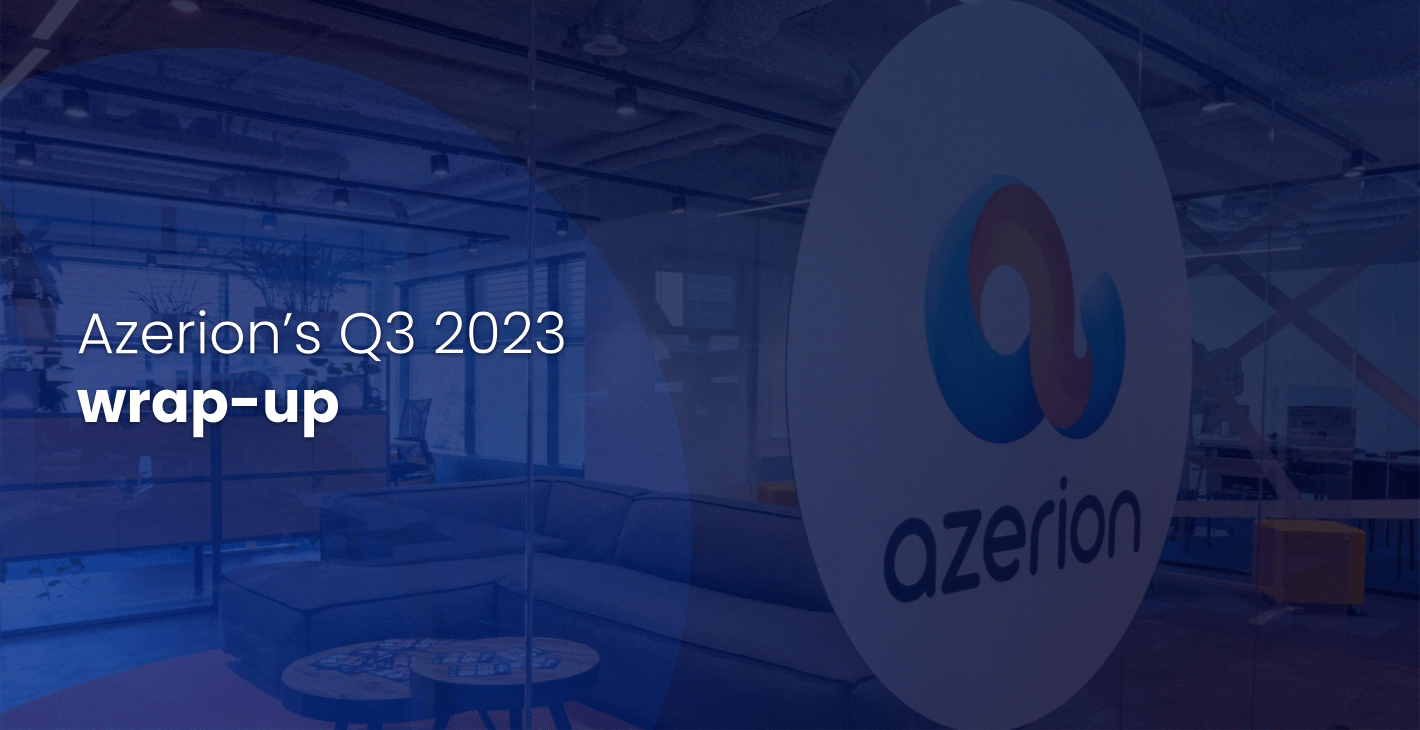 Dear All,
You are invited to attend Azerion's Q3 2023 webcast which will be held at 14:00 CET (13:00 GMT) on 30 November 2023, with members of the Executive Committee. Registration for the webcast is available via the link here.
Please find below a comprehensive overview of the events, achievements, and partnerships that have been announced during the course of Q3 2023.

1. Business Growth and Development:
Playtika Holding Corp. Enters Definitive Agreement to Acquire the Youda Games Portfolio from Azerion: Playtika Holding Corp. has acquired Azerion Group N.V.'s Youda Games portfolio, including social card themed title Governor of Poker 3, for an initial cash consideration of EUR 81.3 million, with an earnout based on the performance of the acquired business that could take the total consideration up to a maximum of EUR 150 million, subject to customary adjustments. The transaction was completed at the end of August 2023, with further details disclosed alongside Azerion's interim financial results on 31 August 2023.
2. Innovative Product Launches and Expansions:
Azerion launches audio capabilities, transforming Nordic digital audio advertising: Azerion recently introduced its Audio Ad Server in the Nordic digital audio advertising sector. This platform supports various formats, including podcasts and streaming, allowing advertisers to connect with their target audience in meaningful ways. Advertisers in the Nordic region can now leverage data-driven, targeted campaigns that maximise engagement and achieve measurable results.
Azerion expands into North America, merging three AdTech acquisitions: Azerion consolidated its position in the North American market following the integration of recent acquisitions – Hybrid Theory, Infinia, and Targetspot – to form a single entity, Azerion US. This move brings access to exclusive first-party data, and provides video, display, and audio supply from 20,000 owned and operated games and 15,000 digital radio stations within its proprietary advertising platform, Improve Digital. Azerion US is headquartered in New York, with offices at the One World Trade Center tower. 
3. Strategic Partnerships and Collaborations:
Azerion Fanzone and Tymes4 collaborate to redefine fan connectivity and engagement: Azerion Fanzone, the sports app developed by Azerion, has integrated Tymes4's ticketing solutions to enhance the user-friendly experience for fans. This collaboration empowers football enthusiasts with direct access to purchasing tickets for their favourite matches within the app's familiar environment. The integration of Tymes4 ticketing services has streamlined the ticketing process, enabling fans to utilise their smartphones as access passes, eliminating the need for physical tickets and simplifying stadium entry. 
Azerion and Dag en Nacht Media partner up on programmatic advertising: Azerion's audio branch, Targetspot, has partnered with the Dutch podcast network, Dag en Nacht Media, to focus on programmatic podcast advertising. Azerion will facilitate automated processes for placing ads in podcasts based on specific audience characteristics, interests, and behaviours. This collaboration aims to enhance the effectiveness of communication between advertisers and their audiences while providing new monetisation opportunities for podcast creators. 
Habbo partners with Juniper Creates to bring back merchandise and empower user creativity: Habbo announced its partnership with Juniper Creates, opening up unique opportunities for user-generated content in apparel and toys. Unlike traditional merchandise, this collaboration invites the Habbo community to design and select lines of apparel and toys, showcasing their creations in both the digital and physical realms. Users can actively participate in the design process, creating unique merchandise that mirrors the self-expression and creativity intrinsic to the Habbo universe.
4. High-impact Advertising Campaigns and Data-driven Insights:
Azerion JAPAC, Lifesight, and New Balance Collaborate on Innovative In-Game Advertising Campaign, Boosting Store Visits Across Australia: Azerion launched a campaign in Australia, employing high-impact creative display and in-game digital ads to increase footfall to New Balance stores nationwide. The objective was to engage younger consumers and correlate online advertising spend with physical store visits. The partnership with Lifesight enables precise measurement of the campaign's impact on store visits, providing valuable insights into consumer behaviour and location data. 
Azerion and Flashtalking by Mediaocean collaborate to bring dynamic creative to high-impact, video and gaming formats: Azerion and Flashtalking by Mediaocean announced their partnership in the Asia Pacific region, enabling dynamic creative optimisation across Azerion's suite of digital products. By integrating Flashtalking's technology, advertisers can deploy dynamic creative across various environments, including high-impact, standard display, video, and gaming, using managed services and programmatic buys.This partnership enhanced contextual relevance, location targeting, and data-driven messaging, enabling advertisers to deliver personalised messaging to their target audience in real-time. 
5. Community Initiatives Fostering Environmental Awareness and Creativity:
Azerion and Verse Estate unite to launch 'Join the Planet': driving environmental awareness through gaming and VR: Azerion and Verse Estate joined forces for the 'Join the Planet' initiative, supported by Lionel Messi, focused on driving environmental awareness through gaming and virtual reality (VR). Led by Sense Up, a social responsibility company in North America, Join the Planet aims to create sustainable products and raise awareness about environmental issues by enlisting celebrities worldwide. Azerion and Verse Estate will use their expertise to develop games and immersive experiences promoting the Join the Planet project. Additionally, they will collaborate on Metaverse solutions to deliver Join the Planet experiences to players. 
Azerion & Havas volunteer at De Spelen in Amsterdam: At the Olympic Stadium in Amsterdam, De Spelen, an annual event organised by NL Cares, and Youth Fund Support, was supported by Azerion and their media partner Havas. The event aimed to promote the importance of sports and health among underprivileged children in the Netherlands. A total of 50 schools, with 343 enthusiastic children, participated in various sports activities throughout the day, ranging from football to athletics. 
Q4 News You May Have Missed
Below, you'll find some previously announced news items from Q4 2023:

Azerion acquires Hawk and consolidates its position in the digital advertising market
Azerion Acquires Stake in Youth Media Platform Just Another Media Company
Azerion Group N.V. confirms early redemption of its outstanding senior secured bonds due April 2024
Stay Informed
Explore our latest updates on our website's news section. For detailed financial insights, visit the investor page. 
Kind regards,
Azerion Investor and Media Relations team
About Azerion
Founded in 2014, Azerion (EURONEXT: AZRN) is one of Europe's largest digital advertising and entertainment media platforms. We bring global scaled audiences to advertisers in an easy and cost-effective way, delivered through our proprietary technology, in a safe, engaging, and high-quality environment, utilizing our strategic portfolio of owned and operated content with entertainment and other digital publishing partners.
Having its roots in Europe with its headquarters in Amsterdam, Azerion has commercial teams based in over 26 cities around the world to closely support our clients and partners to find and execute creative ways to really make an impact through advertising.
For more information visit: www.azerion.com.
Contact
Investor Relations
ir@azerion.com
Media
press@azerion.com