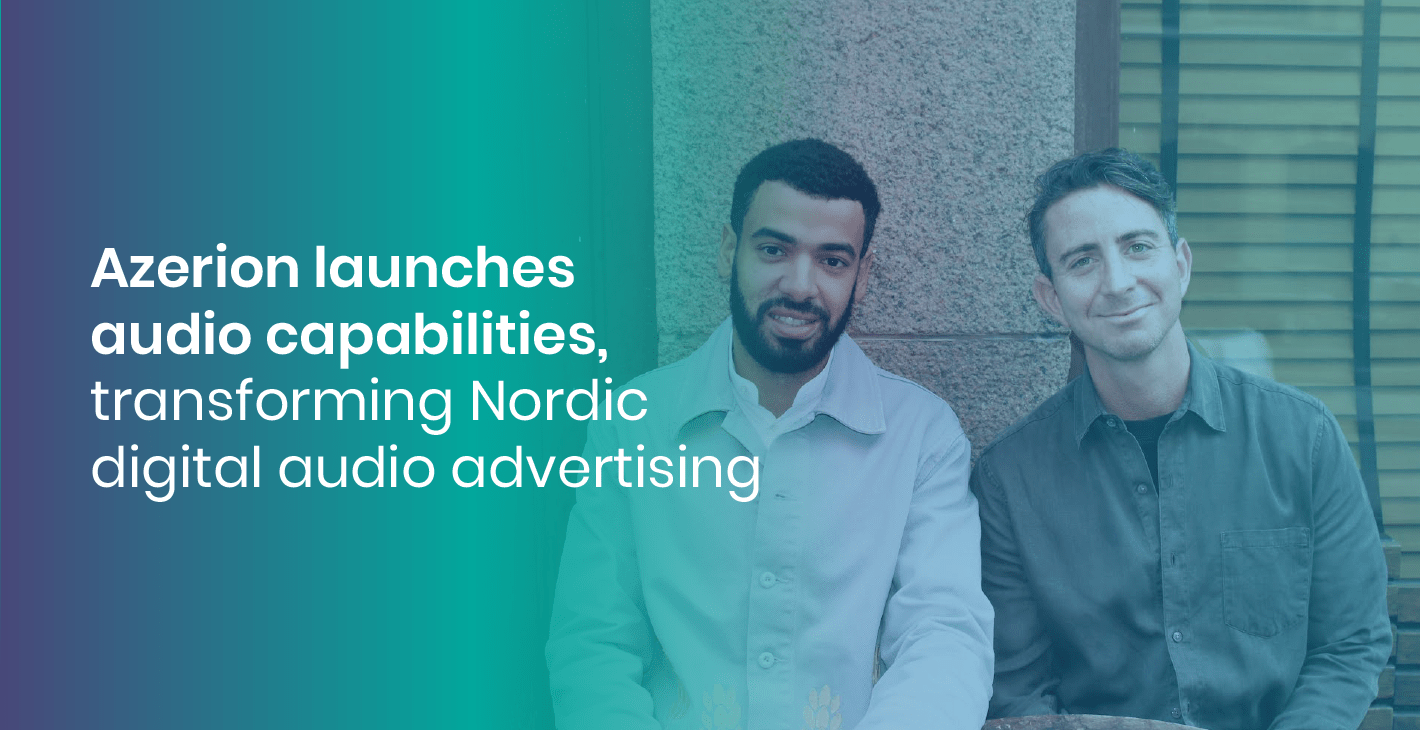 Amsterdam, October 4th, 2023 – Building on the strategic acquisition of Targetspot in 2022, Azerion now introduces its own Audio Ad Server, equipped with cutting-edge ad-stitching technology for monetising publisher content. This platform offers a comprehensive range of audio advertising formats, including pre-roll, mid-roll, branded podcasts, sponsoring, and host-read options. By harnessing the collective strengths of Azerion's sales team, a robust tech stack, and partnerships with premium international and local publishers, Azerion's audio offering brings an enhanced wealth of digital audio expertise to agencies and advertisers.
Azerion's audio offering in the Nordic market signifies the advent of pioneering audio advertising technologies, particularly programmatic advertising, which is set to reshape how advertisers connect with their target audiences through audio. Advertisers in the Nordic region can now leverage data-driven, highly targeted campaigns that maximise engagement and achieve measurable results.
Orson Speight, Head of Audio at Azerion Sweden comments, "We are empowering our clients with the ability to reach high-performing audiences. Our strategy revolves around contextual themes and niche segments, allowing us to connect to advertisers with their core audience through diverse formats such as podcast, streaming, text-to-audio, in-home with smart speakers or audio in video." 
Henric Smolak, Country Director at Azerion Sweden adds, "Audio has been the missing piece in our Swedish portfolio and I'm proud to introduce our audio offering. We can now provide advertisers with a premium and high-quality means of reaching their target audiences in one of the world's fastest growing media formats. This will be a game-changer to both our current and new clients." 
Azerion stands as the go-to European partner for advertisers seeking a user-friendly, competitively priced, and brand-safe digital environment. With this launch, Azerion aims to extend its global expertise to advertisers and content creators in Sweden, Norway, Denmark, and Finland, ushering in a new era of digital audio advertising innovation in the Nordic region.
About Azerion
Founded in 2014, Azerion (EURONEXT: AZRN) is one of Europe's largest digital advertising and entertainment media platforms. We bring global scaled audiences to advertisers in an easy and cost-effective way, delivered through our proprietary technology, in a safe, engaging, and high-quality environment, utilizing our strategic portfolio of owned and operated content with entertainment and other digital publishing partners.
Having its roots in Europe with its headquarters in Amsterdam, Azerion has commercial teams based in over 26 cities around the world to closely support our clients and partners to find and execute creative ways to really make an impact through advertising.
For more information visit: www.azerion.com.
Contact
Investor Relations
ir@azerion.com
Media
press@azerion.com
Head of Audio, Azerion Sweden
Orson Speight
orson.speight@azerion.com