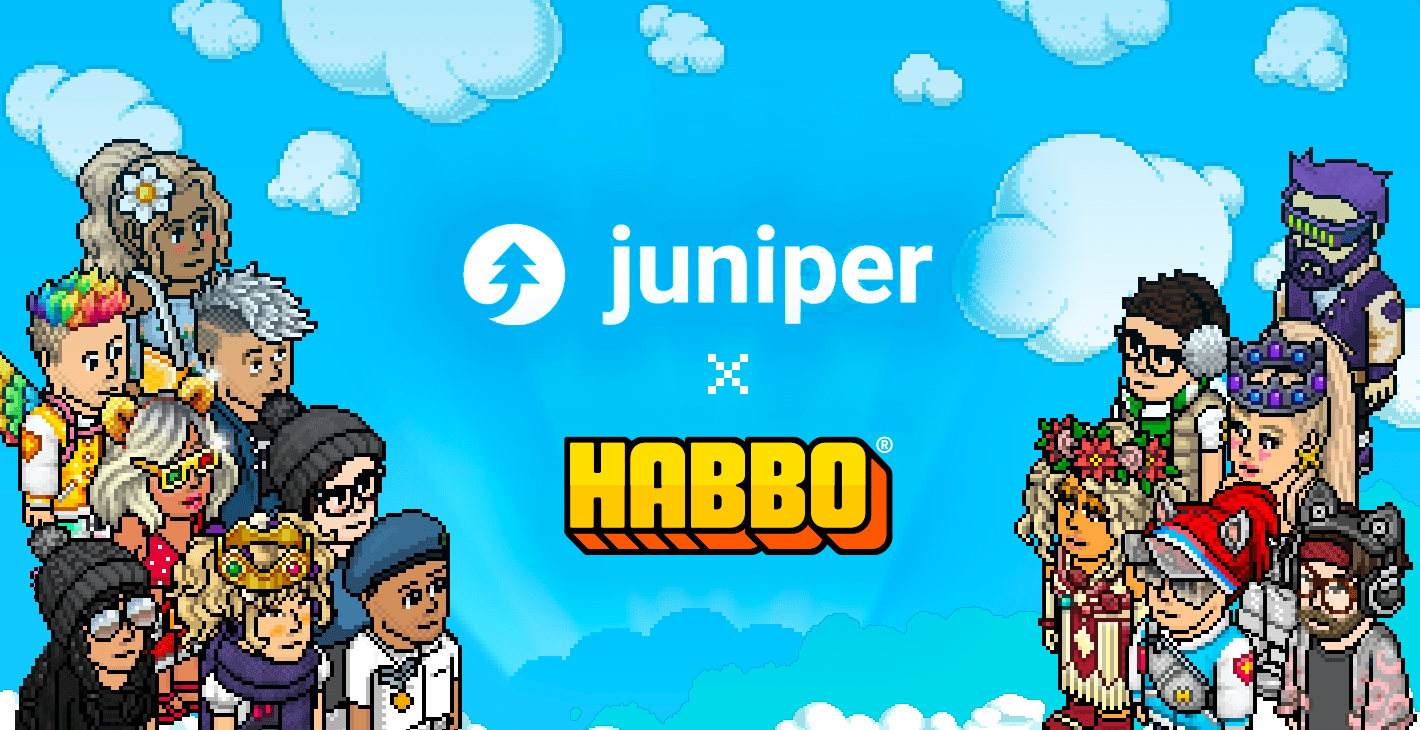 Amsterdam, August 3rd, 2023 – Habbo is thrilled to announce its partnership with Juniper Creates, opening up unique opportunities for user-generated content in apparel and toys. This collaboration aims to enhance the digital collectables and community experience, within the Metaverse.
Unlike traditional merchandise, where designs are determined solely by brand or company, this partnership invites the Habbo community to design and select lines of apparel and toys. These creations will be linked to in-game digital collectables crafted by the Habbo team. Users can submit their designs, participate in the community selection process, and proudly own and showcase their creations in both the real world and the digital realm.
Mika Timonen , Product Director for Habbo NFTs, explained the breadth of the opportunity for the partnership, stating, "User generated content has been the core of Habbo from the beginning. Now, our community can design merchandise for both real life and in-game. We are extremely excited to see what ideas our community will bring to the merchandise!".
Habbo's partnership with Juniper Creates brings a fresh approach to creating and owning merchandise, enriching the Metaverse and gaming experience. Just as the Habbo gameplay prioritises community, self expression, customisation, and collectables, the same principle will apply to the merchandise.
Robert Ianoni , Partnerships Manager for Juniper Creates, shared his excitement about the collaboration, stating, "Juniper Creates is thrilled to work on this partnership with Habbo. This collaboration brings together Juniper Creates' expertise in translating digital intellectual properties in tangible products within Habbo's expansive digital community. Together, we aim to create immersive physical products that will enhance the Habbo experience for its users worldwide!"
Through this partnership with Juniper Creates, the Habbo community  will enjoy a traditional merchandise experience featuring dedicated lines and seasonal content. The addition of user-generated content allows for the community to actively participate in designing and selecting merchandise. Moreover, as a clear distinction between Juniper's role in creating the merchandise and Habbo's involvement in developing the digital collectibles, new collections will have the opportunity to be collaboratively transformed into in-game digital collectibles by the Habbo team. Furthermore, the integration of Junipers Create's eCommerce platform built on Shopify opens doors for future Habbo's merchandise collections, leveraging the potential of owning Habbo digital collectables.
About Azerion
Azerion is a high-growth digital entertainment and media platform. We bring globally scaled audiences to advertisers in an easy and affordable way through our technology and in a safe, engaging and high quality environment, thanks to our owned and operated content with entertainment and other publishing partners.
Having its roots in Europe with its headquarters in Amsterdam, Azerion believes in a personal and local approach and has teams based in over 26 cities around the world to closely support our clients and partners to find and execute creative ways to really make an impact through advertising.
Founded in 2014, Azerion is listed as AZRN on Euronext Amsterdam.
About Juniper Creates
Founded in 2016, Juniper Creates is a premium, custom merchandising solution for the world's largest online creators. Our mission is to transform commerce by putting world-class product capabilities in the hands of creators and entrepreneurs. We design, manufacture, market, and ship imaginative products to fans around the world.
About Habbo
Habbo is one of the largest virtual communities in the world. Founded in 2000, Habbo has expanded to nine online communities (or "hotels"), with paying customers in over 150 countries and more than 600,000 active users a month. Habbo was originally developed by Sulake, a Finnish company owned by Azerion.
In December 2022, Habbo launched its first fully Web3.0 integrated game, Habbo X. A Metaverse hub in connection with their Web3.0 collectables and marketplace.
Contact Information
Investor Relations
ir@azerion.com
Media
press@azerion.com