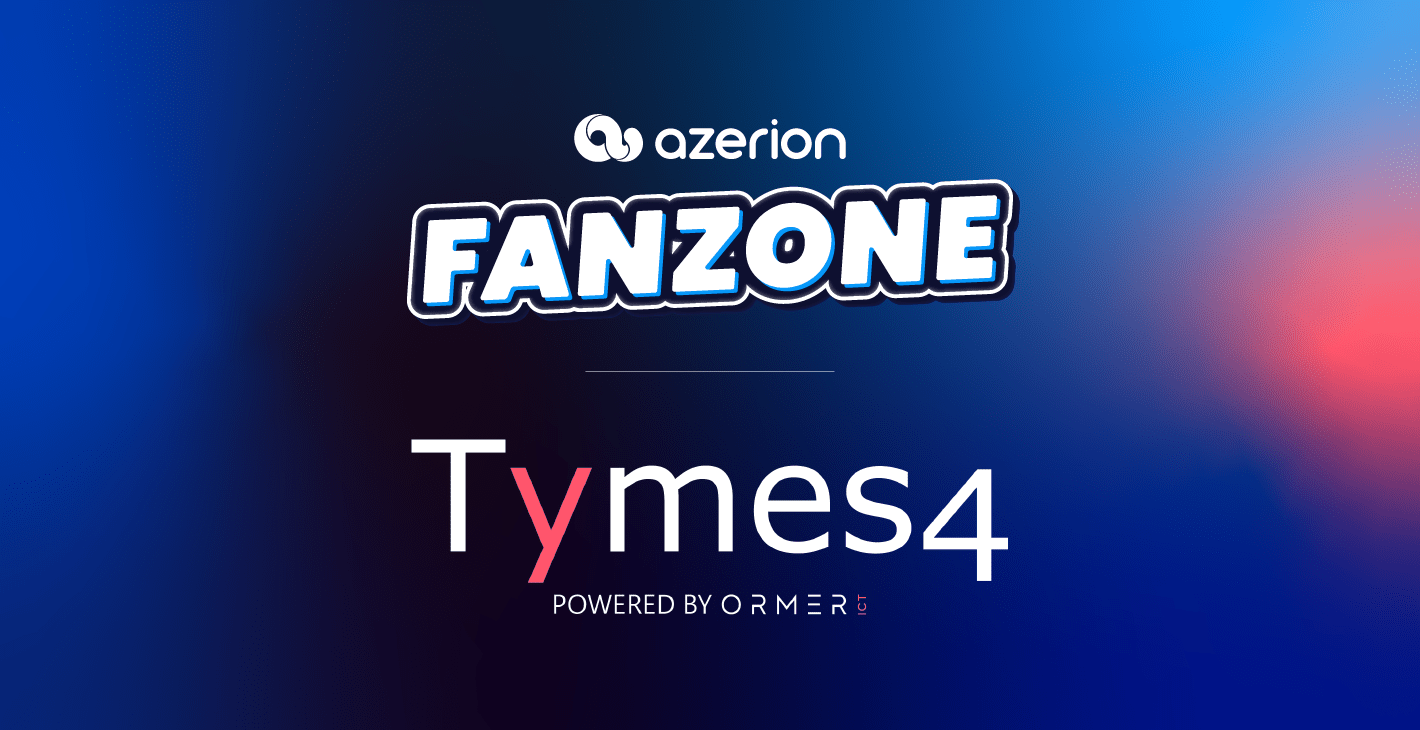 Amsterdam, September 6th, 2023 – Azerion Fanzone, the innovative sports app that puts fans at the heart of the action, is thrilled to announce its partnership with Ormer ICT, a leading IT supplier and developer of the Tymes4 ticketing platform. This partnership enables the seamless integration of Tymes4's ticketing solutions into the Azerion Fanzone app, enhancing the user-friendly experience for fans.
Azerion Fanzone is a digital ecosystem for sports enthusiasts, offering engaging features, live match updates, news, club videos, and activities like Guess the Score, which lets fans guess the score of the upcoming match. The app also features the Man of the Match voting, allowing fans to engage in post-match discussions.
Drawing on their collective expertise, Azerion and Ormer ICT have skillfully integrated Tymes4's cutting-edge ticketing services into the Azerion Fanzone app, thereby making Tymes4 the fourth ticketing platform to be seamlessly integrated. This collaboration empowers football fans with direct access to purchasing tickets for their most cherished matches within the app's familiar and user-friendly environment.
The impact has been swift and significant, with esteemed clubs like Fortuna Sittard, Vitesse Arnhem and RKC Waalwijk already reaping the rewards of this partnership. And this is just the beginning… Additional clubs are in the pipeline. Fans are embracing the convenience and efficiency of securing tickets via the Azerion Fanzone app, elevating their overall matchday experience.
Through the integrated Tymes4 ticketing solution, fans can effortlessly secure tickets for their preferred matches, streamlining the entire process and reinforcing their commitment to supporting their teams. Furthermore, the Azerion Fanzone app immediately presents purchased tickets, enabling fans to utilise their smartphones as access passes to the stadium. This innovative approach eliminates the need for physical tickets and simplifies the access control process during stadium entry.
Beyond elevating the fan experience, this collaboration between Ormer ICT and Azerion is aimed at driving increased revenue for football clubs. By fusing integrated ticket sales with captivating in-app games and features, the Azerion Fanzone app unlocked fresh revenue avenues, bolstering the financial foundation of clubs and enabling further investment in team growth and facility development.
Robbert Oomens, Product Director at Azerion Fanzone, comments: "Our collaboration with Ormer ICT enhances the match day fan experience. By seamlessly integrating Tymes4's ticketing prowess with the Azerion Fanzone app, we are delivering a revolutionary way for fans to connect with their beloved clubs."
Frank van Eijsden, COO at Ormer ICT Software Development at Ormer ICT, adds: "The partnership with Azerion is a testament to our commitment to enhancing the fan experience. The integration of Tymes4 ticketing services within the Azerion Fanzone app exemplifies our dedication to providing a seamless and enjoyable journey for football enthusiasts."
About Azerion
Founded in 2014, Azerion (EURONEXT: AZRN) is one of Europe's largest digital advertising and entertainment media platforms. We bring global scaled audiences to advertisers in an easy and cost-effective way, delivered through our proprietary technology, in a safe, engaging, and high-quality environment, utilizing our strategic portfolio of owned and operated content with entertainment and other digital publishing partners.
Having its roots in Europe with its headquarters in Amsterdam, Azerion has commercial teams based in over 26 cities around the world to closely support our clients and partners to find and execute creative ways to really make an impact through advertising.
For more information visit: www.azerion.com
About Azerion Fanzone
Azerion Fanzone is a cutting-edge platform that enables sports clubs to create a digital ecosystem tailored to their community's needs. With a wide array of engagement features, including ticketing and a live match centre, clubs can now connect with their fans in a more personalised and interactive way. This user-friendly platform acts as a one-stop hub for all online interactions, fostering a stronger bond between clubs and their fanbase and engages them before, during and after the match with newly added features each quarter.

About Ormer ICT
For over 30 years, Ormer ICT has been the premier service provider in the field of IT. Ormer ICT assists organisations in optimising and professionalising their IT operations. We achieve this through IT staffing, IT management services and software development.
About Tymes4
The Tymes4 platform emerged from the urgent need of professional football clubs for a user-friendly and comprehensive ticketing system. Ormer ICT embraced the challenge and developed Tymes4. As the only ticketing platform worldwide designed specifically by and for professional clubs, it caters to the unique demands of football organisations. With a focus on fan engagement, efficiency, data utilisation, and revenue generation, Tymes4 has become a market leader in the Dutch Eredivisie in just four years.
Contact Information
Investor Relations
ir@azerion.com
Media
press@azerion.com