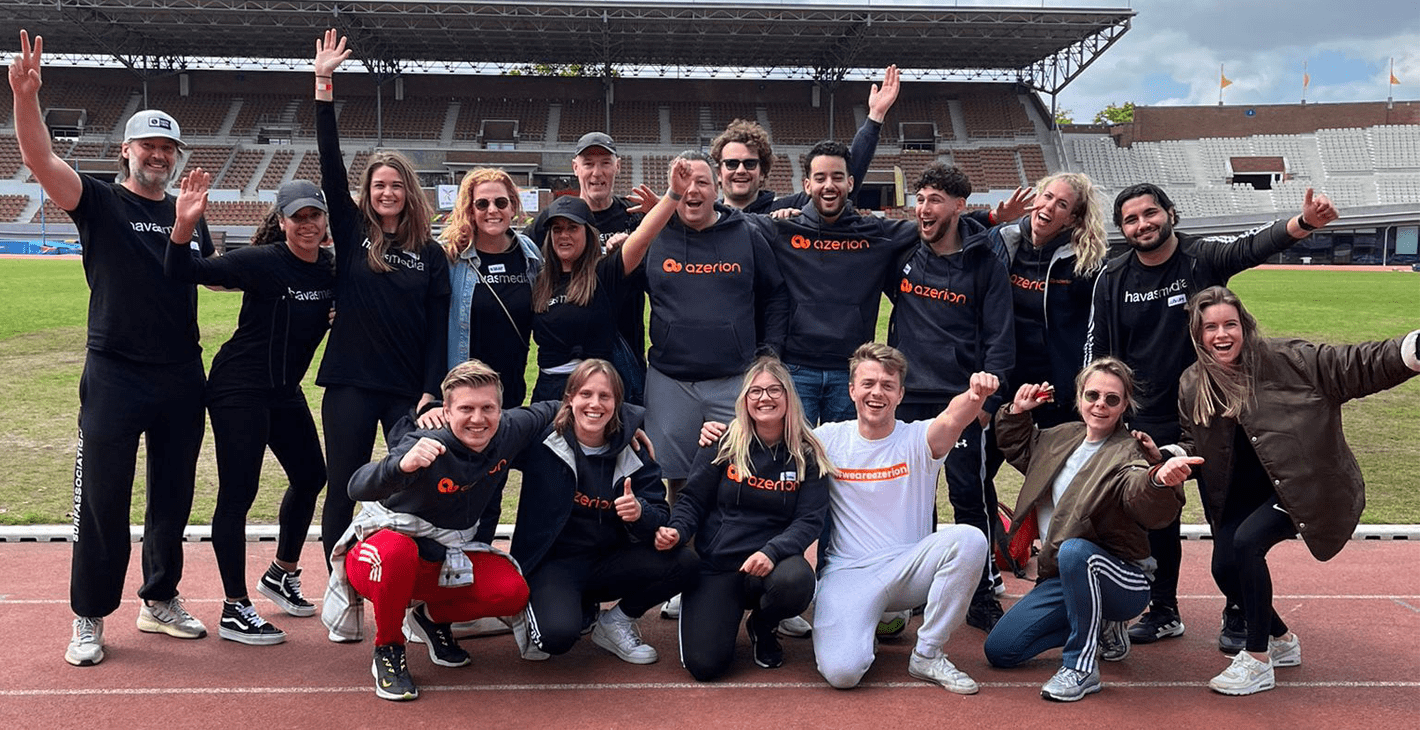 Amsterdam, 29 June 2023 – On May 25th, 2023, an extraordinary event took place at the prestigious Olympic Stadium in Amsterdam: De Spelen, organised by NL Cares, Combiwel, and Youth Fund Sport. This remarkable occasion was made even more special by the generous sponsorship and active participation of Azerion, in collaboration with Havas, Azerion's esteemed media agency partner. Their joint efforts aimed to impart the significance and enjoyment of sports to the young participants. A total of 50 schools, comprising of 343 enthusiastic children, came together to partake in this year's edition.

What is De Spelen?
De Spelen, translated as The Games in English, is an annual affair spanning multiple days held in the Amsterdam Olympic Stadium, bringing together multiple schools and children to engage in various sporting activities. Its main goal is to offer opportunities to underprivileged kids in The Netherlands to discover talent, develop socially, and live a healthy life.
De Spelen's mission is to give every child in The Netherlands an equal chance of happiness and health. Through the power of sports, De Spelen allows all children to discover their talents, develop socially and live a healthy life.
During each day of De Spelen, an array of diverse sports activities is meticulously organised by volunteer coaches from Amsterdam city and sponsoring companies. Notably, on May 25th, Azerion joined forces with ABN AMRO, HAVAS, Nescafé, and Playstation to make the event even more memorable.
The overarching objective of this special day is to educate children about the importance of health, with a particular emphasis on the crucial role of sports. Prior to the event, the children were provided with valuable information about maintaining a healthy diet and the benefits of engaging in physical activities.
Following this first day, a whole year-long process continues, where in the first phase children are mentored in classroom activities with essential knowledge about sports and De Spelen. During the second phase, the kids embark on an exciting sports exploration journey taking place in the Amsterdam Olympic Stadium, where they have the opportunity to discover a multitude of sports disciplines under careful supervision. Last but not least, the third stage involves working hand in hand with the Youth Sports Fund where we strive to foster a lasting commitment to sports by providing the children with an annual sports subscription to an association of their choosing. This initiative serves to encourage their ongoing and active participation in sports, nurturing their talents and overall well-being.
The course of the day
The day started off with an electric opening ceremony, featuring music, dance, and the Olympic fire. Divided into groups of approximately 15 children, accompanied by Azerion or Havas facilitators, they eagerly embarked on various sports activities. From football to athletics, the day was brimming with action and enjoyment. As the final alarm sounded, the closing ceremony took center stage, honouring all participants as winners, including the children and teachers.
To wrap up
De Spelen proved to be a resounding success, bringing joy not only to the children but also to the group supervisors and game organisers. 
As Marcel Schuyt, Regional Manager Azerion Benelux, affirms: "Every day it becomes more important to make a social impact and we are convinced that everyone should have the opportunity to participate in society, something that sports also plays a large part in. Azerion is happy to contribute to making this sports day possible at De Spelen together with our partner, Havas, through volunteer work and sponsorship. Because in a society where not everyone gets the same opportunities, these kinds of initiatives really make a difference." 
Such initiatives, where organisations and the business community collaborate to address equality of opportunity and promote health, are crucially important and much-needed in today's world.
About Azerion
Azerion is a high-growth digital entertainment and media platform. We bring globally scaled audiences to advertisers in an easy and affordable way through our technology and in a safe, engaging and high quality environment, thanks to our owned and operated content with entertainment and other publishing partners.
Having its roots in Europe with its headquarters in Amsterdam, Azerion believes in a personal and local approach and has teams based in over 26 cities around the world to closely support our clients and partners to find and execute creative ways to really make an impact through advertising.
Founded in 2014, Azerion is listed as AZRN on Euronext Amsterdam.
Contact:
Investor Relations
ir@azerion.com
Media
press@azerion.com