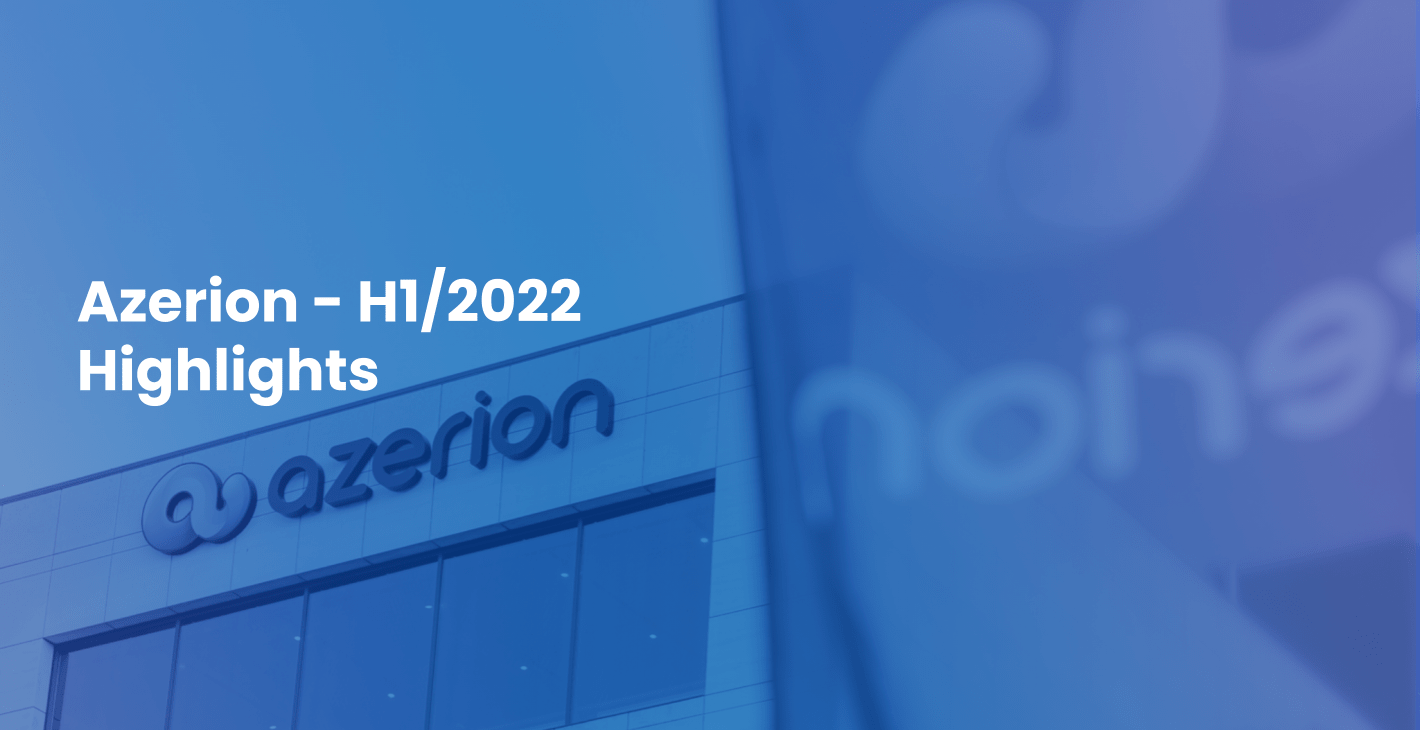 Dear all,
As you are all aware, Azerion has had a lot of business developments in the second half of the year and as a recap we would like to send you a summary of our 2022 news to date. In this newsletter, we will provide a brief overview of what we have achieved and where we are focussing on.
Azerion is scheduled to host its first Strategy Deep Dive and release its Q3 2022 results announcement on Wednesday 30 November 2022 at 8:00 CEST (7:00 BST), therefore we wanted to use this opportunity to look back and reflect on all the amazing projects we've accomplished over the last few months.
Mergers & Acquisitions
For the second half of the year, Azerion has been growing its portfolio as well as its global footprint with a number of acquisitions as a complement to its organic growth. We've brought together a great diversity of offerings and capabilities to one global powerhouse, creating a new world of opportunities for us.
As a leading digital entertainment and media company, we are reaching more people in more ways. We are adding value to our audiences and increasing access to our advertising and digital publishers around the world. For example, we now have new innovative formats added to our proprietary portfolio of ad formats, thanks to Vlyby (video advertising), Targetspot (audio advertising), Madvertise (mobile formats), and AdPlay (digital out-of-home advertising). We strengthened our direct sales to advertisers with [M]Media in the Netherlands and TakeRate in Italy). Lastly, we've optimized services to advertisers and publishers along with Hybrid Theory (campaign performance management) and AdPlay (publisher monetization services).
We are expanding our geographic footprint – in Europe, the UK, US, and APAC region – to become faster and more competitive. From these acquisitions we are launching new products, expanding our investments in digital advertising, and vigorously building our offerings to keep growing for many years to come.
Azerion bolsters in-app digital advertising capabilities with new acquisition
Azerion announces acquisitions totalling approximately €12 million
Azerion strengthens Dutch digital advertising foothold through acquisition of [M]media Azerion acquires Hybrid Theory, opening new footprint in the US and broader APAC market
Azerion acquires Radionomy and enters audio advertising market
Azerion acquires AdPlay and strengthens Italian digital advertising foothold
Partnerships & Collaborations
Our partnership announcements are always pretty big news. During the second half of the year, we extended our partnership with Ajax eSports, partnered with Cool Cats to increase the utility of NFT's within Habbo, and added a large selection of games to GameDistribution with Gameloft and Ubisoft Nano.
Azerion extends partnership with Ajax eSports
Azerion continues Web 3.0 Habbo collaborations with Cool Cats
Azerion announces a partnership with Gameloft, adding a large selection of games to its platform
Azerion and Ubisoft Nano extend strategic partnership, bringing more games to the platform

Platform
We were once again voted the best Digital Media Owner in the Autumn Award surveyed by the Institute of Practitioners in Advertising in the UK. We had won the Spring award in May and this time we achieved the highest score in the history of the survey. This is a great recognition of our integrated value proposition to advertisers.
In November, we also announced the results of its brand survey on attention measurement, revealing that their digital advertising formats drive up to 20x higher attention compared to standard formats.
Expanding the Azerion platform H1 2022 highlights round-up
Azerion tops IPA Digital Media Owners Autumn survey
Azerion's digital advertising formats drive up to 20x more attention than standard formats, according to independent survey

Premium Games
We had a lot of exciting advancements regarding our premium games lately, specifically in Habbo and Hotel Hideaway! Most notably, we've partnered with ITV studios, with Love Island opening a virtual villa in Hotel Hideaway to create  social experiences and opportunities for brands and players. The branded room attracted 3 million visits in 30 days with 46,000 daily visitors on average, spending an average of 52 mins in total over the period.
In August, Habbo launched its new app, available for Android. Not long after that, Habbo followed with the launch of its new Habbo iOS app. Android and iOS users can now have a much smoother, fully-fledged cross-play experience in Habbo.
Another big win for Azerion was to be crowned the winner in the "Top European Metaverse Platform" at the first annual European Metaverse Summit & Awards 2022. These awards are just this beginning, and we promise that there are many more milestones to follow!
Virtual branded Love island villa: Driving user engagement, in-game purchasing and new experiences in Hotel Hideaway
Azerion's new Habbo Android App is now live!
Azerion's new Habbo iOS App is now live!
Azerion wins in "Top European Metaverse Platform" category 
Kind regards,
Azerion Press
About Azerion
Azerion is a high-growth digital entertainment and media platform. As a content-driven, technology and data company, Azerion serves consumers, digital publishers, advertisers and game creators globally. Azerion's integrated platform provides technology solutions to automate the purchase and sale of digital advertising for media buyers and sellers, supported by in market sales and campaign management teams. Through its technology, content creators, digital publishers and advertisers work with Azerion to reach the millions of people across the globe that play Azerion's games and view its distributed entertainment content to increase engagement, loyalty and drive e-commerce.
Founded in 2014 by two Dutch entrepreneurs, Azerion has experienced rapid expansion driven by organic growth and strategic acquisitions. Azerion is headquartered in Amsterdam, the Netherlands and is a publicly traded company listed on Euronext Amsterdam. For more information visit: www.azerion.com
Contact
Investor Relations
ir@azerion.com
Media
press@azerion.com