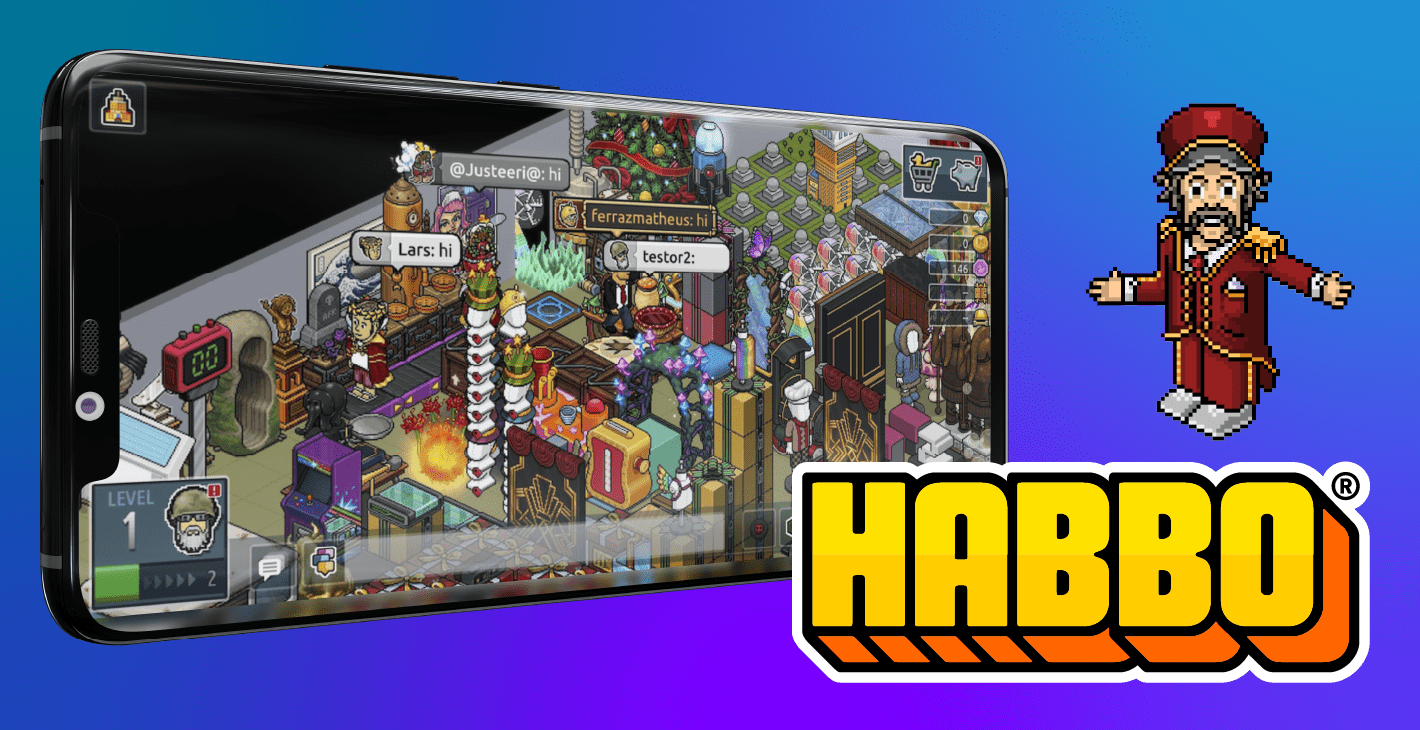 Android users can now have a much smoother, fully-fledged cross-play experience in Habbo
Amsterdam, 24 August 2022 – Azerion, the digital entertainment and media platform, announced today the launch of the new Habbo Android App allowing players to access Habbo seamlessly and with an even better overall experience. This new app, built with Unity, takes full advantage of cross-play capabilities, making it easier for Android users to access the game and connect with users of the browser version. 
This app was created hand in hand with the community, after an open beta where invaluable feedback was given, helping to improve its function and stability. As a reward for all pre-registered users, Habbo are giving out a free gold version of the 2015 Alien Hat to adorn their eager avatars. Download the app at the Google Play Store.
"We are constantly embracing technology that will enhance the Habbo experience," said Jurriaan van Teunenbroek, Vice President of Azerion. "Use of the Unity client, with its cross-play functionality, continues to grow  the Habbo audience, creating a greater social community experience. Our goal is to maintain an inclusive and safe environment for people of all ages to connect and socialize, with this Android app being yet another step in the right direction."
About Azerion
Azerion is a high-growth digital entertainment and media platform. As a content-driven, technology and data company, Azerion serves consumers, digital publishers, advertisers, and game creators globally. Azerion's integrated platform provides technology solutions to automate the purchase and sale of digital advertising for media buyers and sellers, supported by in-market sales and campaign management teams. Through our technology, content creators, digital publishers and advertisers work with Azerion to reach the millions of people across the globe that play Azerion's games and view its distributed entertainment content to increase engagement, loyalty, and drive e-commerce.
Founded in 2014 by two Dutch entrepreneurs, Azerion has experienced rapid expansion driven by organic growth and strategic acquisitions. Azerion is headquartered in Amsterdam, the Netherlands and is a publicly traded company listed on Euronext Amsterdam. 
For more information visit: www.azerion.com.
About Habbo
Habbo is one of the largest virtual communities in the world. Founded in 2000, Habbo has expanded to nine online communities (or "hotels"), with paying customers in over 150 countries and more than 600,000 active users a month. Habbo was originally developed by Sulake, a Finnish company owned by Azerion.