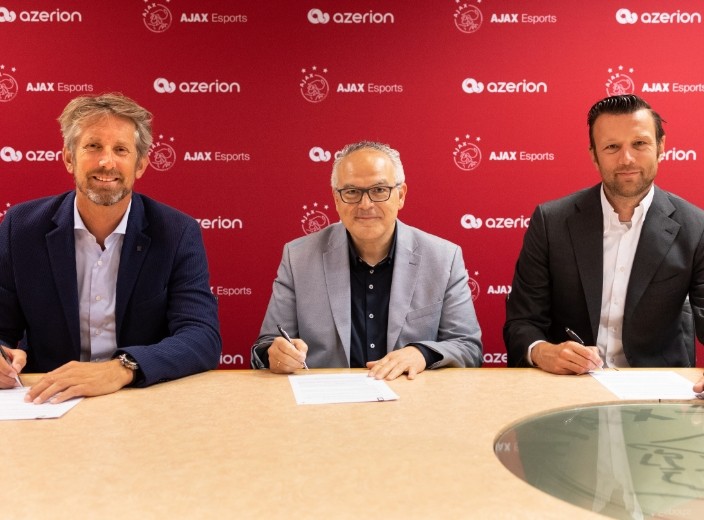 Amsterdam, 15 July 2022 – Azerion, the digital entertainment and media platform, is extending its partnership with professional eSports club, Ajax eSports. This collaboration has been extended until 2024, and will focus on connecting and engaging highly diversified audiences. 
In this extended partnership, both parties will continue to benefit from each other. A brand exposure package will be provided to Azerion; in return, Azerion will use its media reach, outlets and channels to support Ajax campaigns. 
Since 2019, Ajax has had Azerion as a renowned partner in the world of entertainment. In addition to the fact that Azerion and Ajax reinforce each other in pursuing their ambitions, the two organisations are looking forward to welcoming partners, clients and relations to the dedicated Azerion area in the Arena Stadium and cheer Ajax on.
Menno Geelen, commercial director, at Ajax: "Azerion and Ajax eSports are both successful in gaming, and have strengthened each other in that area. Like us, Azerion has grown enormously, and our ambitions remain as high as ever. We are therefore looking forward to our joint future with great pleasure."
Atilla Aytekin, co-CEO, at Azerion: "We want to inspire fans & audiences. Ajax eSports is a powerful platform to engage them. In addition, ambition, growth and daring are in our DNA, something we also find at Ajax. We have therefore extended our partnership with great confidence."
About Azerion
Azerion is a high-growth digital entertainment and media platform. As a content-driven, technology and data company, Azerion serves consumers, digital publishers, advertisers, and game creators globally. Azerion's integrated platform provides technology solutions to automate the purchase and sale of digital advertising for media buyers and sellers, supported by in-market sales and campaign management teams. Through our technology, content creators, digital publishers and advertisers work with Azerion to reach the millions of people across the globe that play Azerion's games and view its distributed entertainment content to increase engagement, loyalty, and drive e-commerce.
Founded in 2014 by two Dutch entrepreneurs, Azerion has experienced rapid expansion driven by organic growth and strategic acquisitions. Azerion is headquartered in Amsterdam, the Netherlands and is a publicly traded company listed on Euronext Amsterdam. 
For more information visit: www.azerion.com.