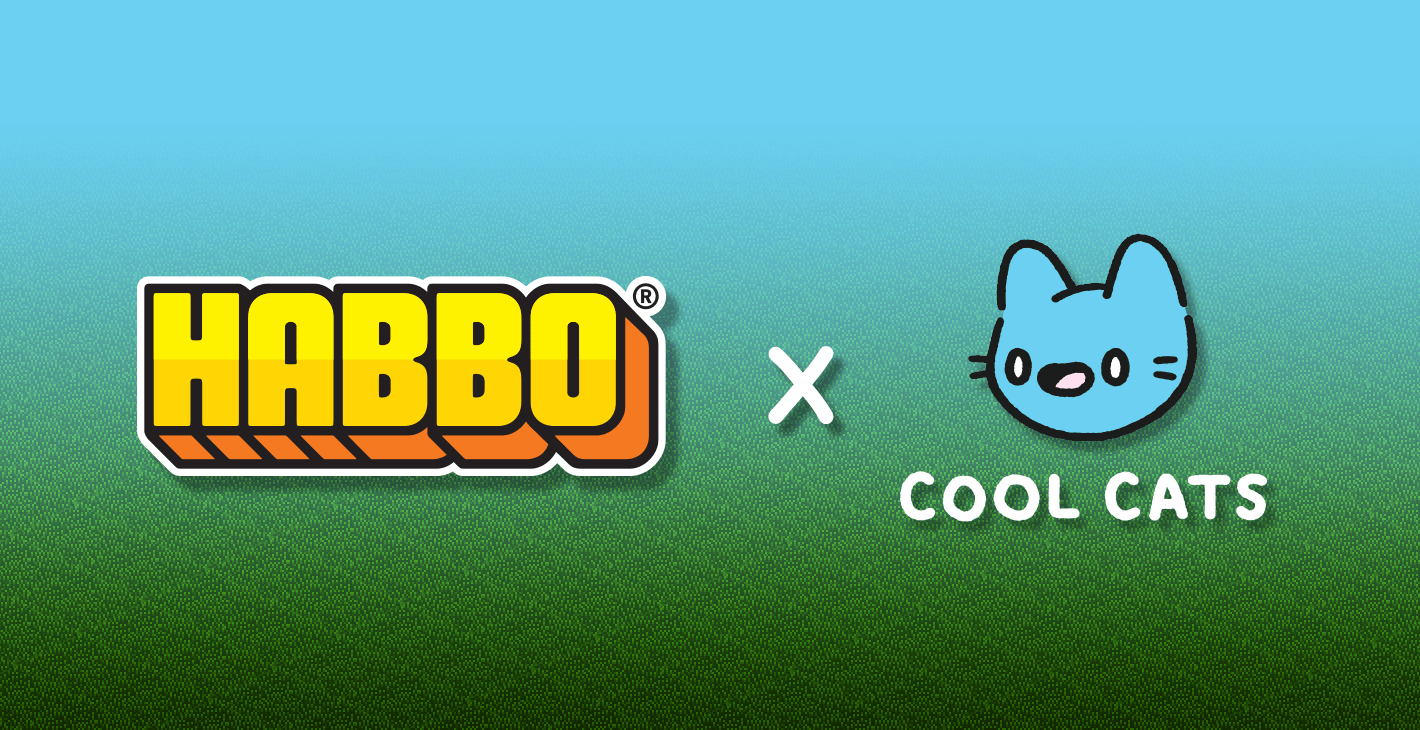 Exclusive clothing and items up for grabs for Cool Cats holders  
Amsterdam, NL –  19 September 2022 – Azerion, the digital entertainment and media platform, today announced a new partnership with Cool Cats, as part of its many NFT collaboration projects this year within Habbo. The inclusion of NFTs in Habbo allows the game to create a more personal and enhanced experience for its users.
After connecting their crypto wallets with their Habbo account, Cool Cats NFT owners will be able to unlock unique in-game items, including badges and clothing, as well as being given in-game furniture items to decorate their hotel rooms and avatars. In a future update, a bespoke effect will be added too. 
"Being able to raise your voice and express yourself have always been core values of Habbo, and we want our community to be able to embrace the new technologies which allow them to do just that," said Jurriaan van Teunenbroek, Vice President of Azerion. "As the latest Web 3.0 collaboration with Habbo, we are so excited to see how residents welcome and adapt Cool Cats into the hotel."

"We're beyond excited to be able to introduce the Cool Cats NFT brand in the form of Blue Cat into the Habbo ecosystem – both the Habbo and Cool Cats community share many similar ideologies such as interactive collaborative fun and inclusivity. We can't wait to see Blue Cat in the Habbo metaworld!" said Evan Luza, Co-Founder of Cool Cats.
For more information on Habbo and the latest NFT integration efforts and FAQs:
Follow Habbo on Twitter: @Habbo
Follow the Habbo Avatars project on Twitter: @HabboNFT
Join our channel for the latest updates: http://discord.gg/habbo-nft
About Cool Cats
"The Cool Cats NFT brand was launched on July 1, 2021, and has since spread into the hearts of many Web3 enthusiasts and beyond. Blue Cat, the main character in the Cool Cats collection, was created by Colin Egan aka "Clon" back in 2013. Blue Cat has evolved over the years until finally materializing into his final form in 2021, and immortalizing into the blockchain forever. The Cool Cats brand is all about providing an inclusive and accessible community for all, while celebrating individuality and defining what it means to be cool."
Visit the Cool Cats website: https://www.coolcatsnft.com/
Follow Cool Cats on Twitter: https://twitter.com/coolcatsnft 
About Habbo
Habbo is one of the largest virtual communities in the world. Founded in 2000, Habbo has expanded to nine online communities (or "hotels"), with paying customers in over 150 countries and more than 600,000 active users a month. Habbo was originally developed by Sulake, a Finnish company owned by Azerion.
About Azerion
Azerion is a high-growth digital entertainment and media platform. As a content-driven, technology and data company, Azerion serves consumers, digital publishers, advertisers and game creators globally. Azerion's integrated platform provides technology solutions to automate the purchase and sale of digital advertising for media buyers and sellers, supported by in market sales and campaign management teams. Through our technology, content creators, digital publishers and advertisers work with Azerion to reach the millions of people across the globe that play Azerion's games and view its distributed entertainment content to increase engagement, loyalty and drive e-commerce.
Founded in 2014 by two Dutch entrepreneurs, Azerion has experienced rapid expansion driven by organic growth and strategic acquisitions. Azerion is headquartered in Amsterdam, the Netherlands and is a publicly traded company listed on Euronext Amsterdam. For more information visit: www.azerion.com