Global mobile telecoms giant Telenor has partnered with Azerion to launch a subscription mobile gaming service in Norway – Telenor Spill.
Azerion provides content for the service and was selected by Telenor because of the quality and breadth of family-friendly games it has at hand. Among Azerion's offerings are games from Disney, Sega and Atari. Telenor Spill is available for download from Google Play and the Apple AppStore.
This is the first gaming service to provide such a wide range of games, across all demographics, says Erol Erturk, Executive VP Games & Strategic Partnerships at Azerion. We've hand picked games for Telenor, making sure they are all family friendly, COPPA compliant and targeting Telenor's audience groups.
74% of children play games for more than two hours a day on average, according to a Telenor survey [1]. Creating a safe environment for that gameplay was key for the new service.
We've launched Telenor Spill to make mobile gaming simple, safe and fun, says Ric Brown, Mobile Director at Telenor Norway. With this service, parents don't have to worry about their kids running up huge bills with in-app purchases, downloading viruses or being exposed to inappropriate advertising.
Providing distinctive content for subscribers is vital for Telenor and adding games is an important part of that strategy. Almost three quarters of mobile phone users play games – the content is highly engaging and keeps them coming back to their devices.
Telenor's mobile game app launches today in its home country of Norway. The service comes with a free two-month trial period, after which it costs NOK 79 a month. One subscription covers up to five people in a household. The service is expected to roll out globally in due course.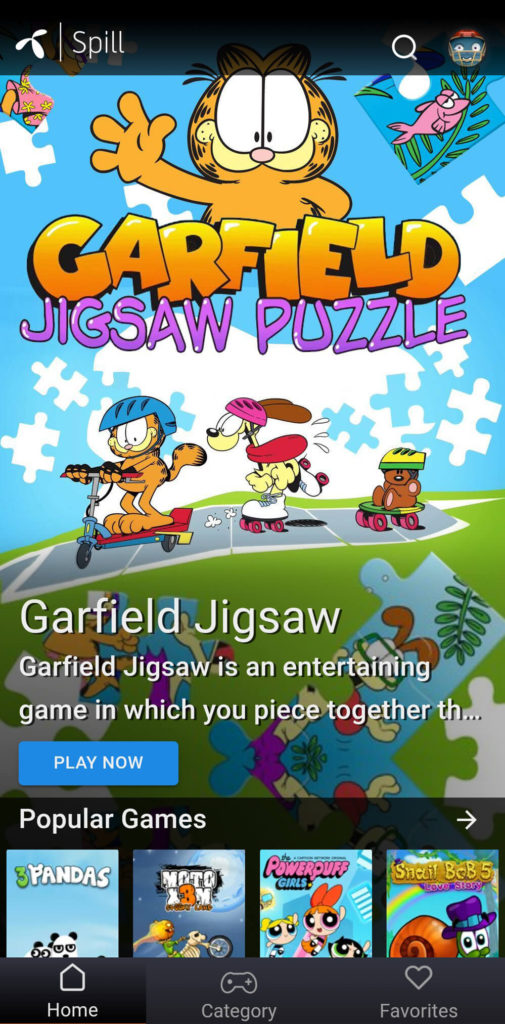 Ten well-known games out of 300 available on Telenor's game portal
Asteroids (Atari)
Breakout (Atari)
Pong (Atari)
Frozen (Disney)
Star Wars (Disney)
Ben 10 (Cartoon Network)
Power Puff Girls (Cartoon Network)
Garfield
Phase 10 (Mattel)
Dr. Panda
[1] Telenor surveyed 1000 parents and 540 young people aged 10 to 15. It found that:
38% of children spend more than 3 hours a day playing games online.
74% spend more than 2 hours a day playing games online.
Notes for editors
Azerion (azerion.com) is a global tech company in the media and entertainment business, headquartered in Amsterdam.
Hundreds of millions of people play our games and watch our videos.
Advertisers reach massive audiences and targeted groups with our tech.
Publishers earn top revenue with our tech and engage quality audiences with our content.
Uniquely, Azerion works across these groups. We spot synergies, find efficiencies and weave together the best strands from our business for each of our users.
Azerion: content, reach, revenue, engagement — a million possibilities
Telenor Group (telenor.com) is a leading telecommunications company across the Nordics and Asia with 186 million customers and annual sales of around USD 12 billion (2019). Connectivity has been Telenor's domain for more than 160 years, and its purpose is to connect its customers to what matters most.