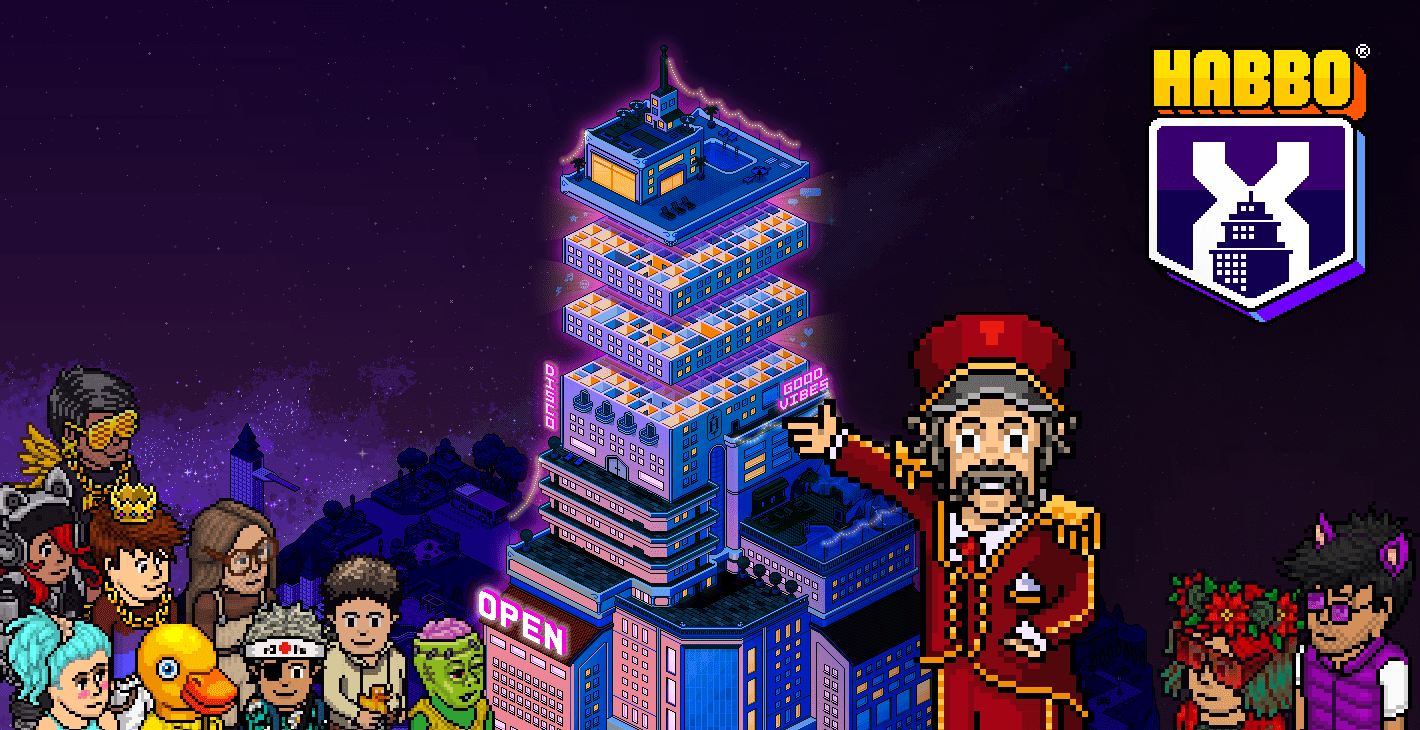 Amsterdam – 19 December 2022 — Coinciding with the successful start of the Habbo X Alpha, the initial player testing of the first fully Web3.0 integrated Habbo game, the Room NFT collection went on sale on December 14th at 6pm GMT and sold out 54 hours later. Owners of the room NFTs can leverage the enormous back catalog of Habbo items, plus existing NFT furni, to decorate, creating their own unique immersive social spaces.
"We've seen a waning in enthusiasm for NFTs in the general market, but the Habbo community has welcomed and embraced the Web3.0 integration, demonstrated by the speed of selling out in this room NFT collection sale," said Mika Timonen, NFT Director for Azerion. "By providing utility in the NFTs in Habbo X we are able to provide another reason to have an NFT outside of just the ownership factor. We feel this has been key to our success in this space and are grateful once again to our awesome community for taking this journey with us."
For more information on Habbo and the latest NFT integration efforts and FAQs:
Access the Habbo X Alpha: https://www.habbox.game/
Follow Habbo on Twitter: @HabboFollow the Habbo Avatars project on Twitter: @HabboNFT
Join our channel for the latest updates: http://discord.gg/habbo-nft
About Habbo
Habbo is one of the largest virtual communities in the world. Founded in 2000, Habbo has expanded to nine online communities (or "hotels"), with paying customers in over 150 countries and more than 600,000 active users a month. Habbo was originally developed by Sulake, a Finnish company owned by Azerion.
About Azerion
Azerion is a high-growth digital entertainment and media platform. As a content-driven, technology and data company, Azerion serves consumers, digital publishers, advertisers and game creators globally. Azerion's integrated platform provides technology solutions to automate the purchase and sale of digital advertising for media buyers and sellers, supported by in market sales and campaign management teams. Through its technology, content creators, digital publishers and advertisers work with Azerion to reach the millions of people across the globe that play Azerion's games and view its distributed entertainment content to increase engagement, loyalty and drive e-commerce.
Founded in 2014 by two Dutch entrepreneurs, Azerion has experienced rapid expansion driven by organic growth and strategic acquisitions. Azerion is headquartered in Amsterdam, the Netherlands and is a publicly traded company listed on Euronext Amsterdam. For more information visit: www.azerion.com
Contact
Investor Relations
ir@azerion.com
Media
press@azerion.com