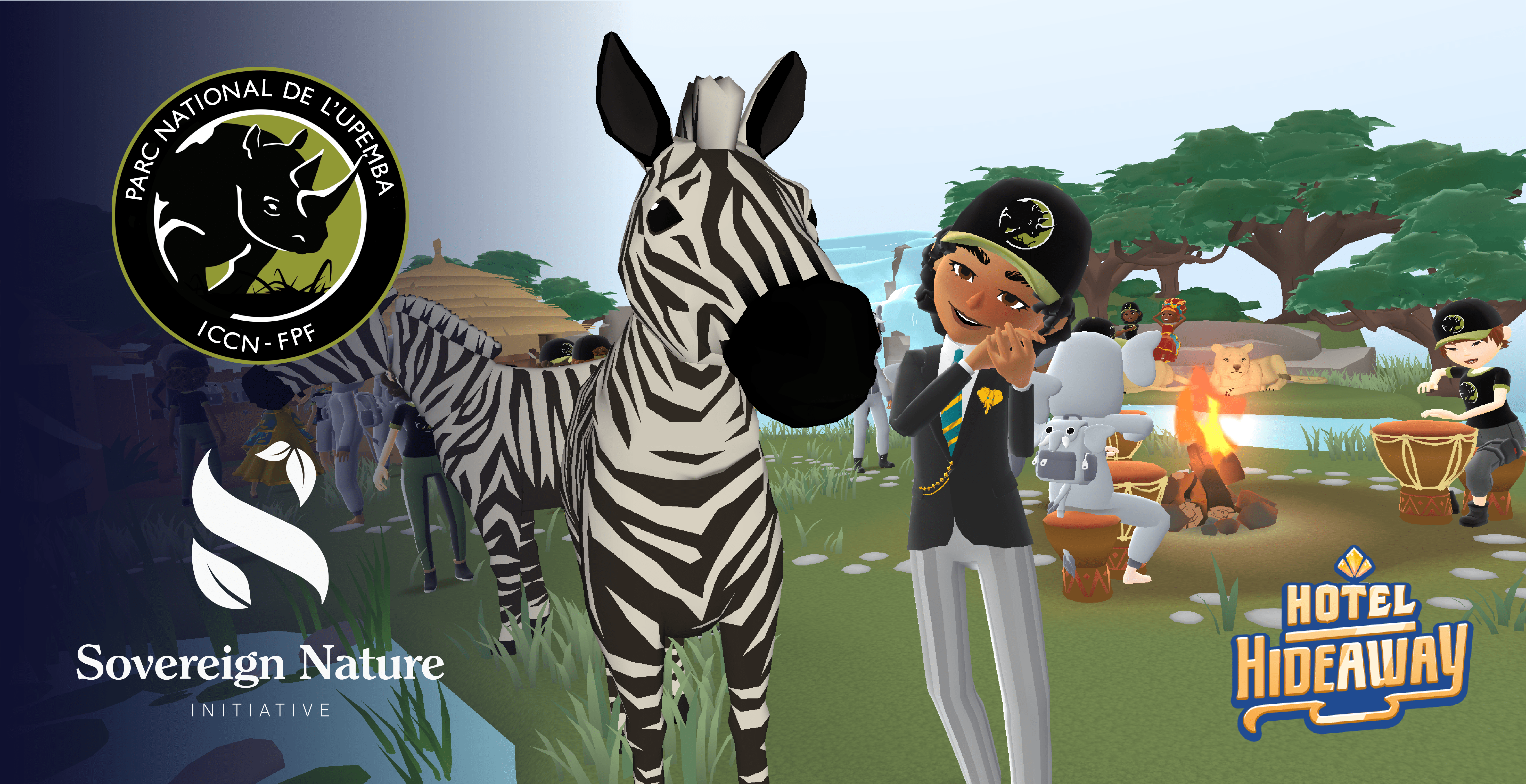 Amsterdam, 31st October 2023 – Azerion, the digital advertising and entertainment media platform renowned for the social game Hotel Hideaway, proudly announces a collaboration with the non-profit organisation Sovereign Nature Initiative (SNI), benefitting the Forgotten Parks Foundation (FPF). Together, they are set to transform the Hotel Hideaway metaverse into an educational sanctuary, fostering awareness about wildlife and their habitats.
This partnership introduces a dedicated space within Hotel Hideaway, inspired by the breathtaking beauty of Upemba National Park. Nestled in the heart of Africa, Upemba National Park is home to a myriad of species, some of which are endemic and endangered, including elephants, buffalo, antelopes, lions, and the Katanga impala.
Through this initiative, Hotel Hideaway, SNI, and FPF will recreate the essence of Upemba National Park, offering players an immersive experience within the virtual realm. Moreover, they will launch monthly virtual item drops, allowing users to purchase exclusive items inspired by an eco-region within the park. A portion of the proceeds from these purchases will support the park's conservation efforts, with users able to verify the impact of their items via SNI's REAL verification portal. Additionally, monthly events featuring special guests from the Park will showcase content and documentaries, further enriching players' knowledge about wildlife and biodiversity conservation.
The collaboration between Azerion's Hotel Hideaway metaverse and SNI emphasises the critical importance of collective action in addressing our planet's rampant biodiversity loss. By seamlessly integrating entertainment, education, and conservation efforts, this collaboration aims to raise awareness of the importance of biodiversity conservation, nurture a sense of responsibility amongst players, and provide a reliable funding stream for FPF. 
"At Azerion, we believe in the power of gaming to drive positive change. Our collaboration with Sovereign Nature Initiative and Forgotten Parks Foundation signifies our commitment to raising awareness about endangered wildlife. Together, we are creating a unique virtual experience that not only educates but also inspires our users to become stewards of our planet's precious biodiversity," said Jurriaan Van Teunenbroek, VP of Games and Content at Azerion.
Catherine Bischoff, SNI CEO, added, "We are thrilled to partner with Azerion on this innovative initiative. Through this collaboration, we showcase the power of connecting scientific research data from the conservation organisation FPF with an immersive virtual world. We are looking forward to engaging a global digital audience in the vital mission of preserving our planet's biodiversity."
"We are in a race against time to effectively protect 30% of our planet by 2030. We believe digital innovation is crucial for the conservation efforts at Upemba National Park. Through this partnership, we aim to educate people, drive impact, and bring Upemba closer to gamers' hearts," said Rodrigo Zapata, Digital Project Manager, FPF.
For more information about Hotel Hideaway and to visit and support the upcoming Upemba National Park-themed space, download the app https://hotelhideaway.onelink.me/hx0J/a34nzsg5 and follow Hotel Hideaway on social media at @HotelHideaway.
About Azerion
Founded in 2014, Azerion (EURONEXT: AZRN) is one of Europe's largest digital advertising and entertainment media platforms. We bring global scaled audiences to advertisers in an easy and cost-effective way, delivered through our proprietary technology, in a safe, engaging, and high-quality environment, utilizing our strategic portfolio of owned and operated content with entertainment and other digital publishing partners.
Having its roots in Europe with its headquarters in Amsterdam, Azerion has commercial teams based in over 26 cities around the world to closely support our clients and partners to find and execute creative ways to really make an impact through advertising.
For more information visit: www.azerion.com.
About Hotel Hideaway
Experience the vibrant and dynamic world of Hotel Hideaway, a thriving 3D social virtual community that connects over 20 million users worldwide. Discover endless possibilities for socialising and forging meaningful connections in this lively and immersive environment.
As part of Azerion, a leading digital entertainment and media platform, Hotel Hideaway benefits from cutting-edge technology, data-driven strategies, and a content-driven approach. Azerion's integrated platform automates digital advertising transactions, providing opportunities for content creators, advertisers, and digital publishers to reach millions of engaged individuals globally. With Hotel Hideaway, you can dive into a realm of exciting social adventures, thrilling activities, and unforgettable experiences. 
For more information, visit: https://www.hotelhideawaythegame.com/
About Sovereign Nature Initiative
Sovereign Nature Initiative operates as a conduit between conservation organisations and the digital gaming industry by making scientific data produced by conservation organisations (eco-data) available to digital content creators, enabling a new value exchange between these unlikely partners. Every in-game item is connected to a particular animal or landscape, and the funds connected to it can be traced through SNI's REAL Verification Portal. This approach reinvents how real-world ecosystems are valued without driving resource depletion and offers full transparency on financial transactions. Value emerges in the digital realm while imbuing digital assets with real-life meaning. 
For more information, visit: https://www.sovereignnature.com/ 
About Forgotten Parks Foundation
Forgotten Parks Foundation is a non-profit dedicated to protecting national parks and other biodiversity-rich areas worldwide. They currently manage Upemba National Park, a sprawling 13,000 KM² wilderness in South Congo (DRC). This vast reserve is home to hundreds of species, some of which are endemic and endangered, including elephants, buffalo, antelopes, lions, and monkeys. They envision a world where national parks, biodiversity, and healthy ecosystems are valued and protected, playing a central role in the well-being of a global society that champions the One Health approach.
For more information, visit: https://forgottenparks.org/ 
Contact
Investor Relations
ir@azerion.com
Media
press@azerion.com