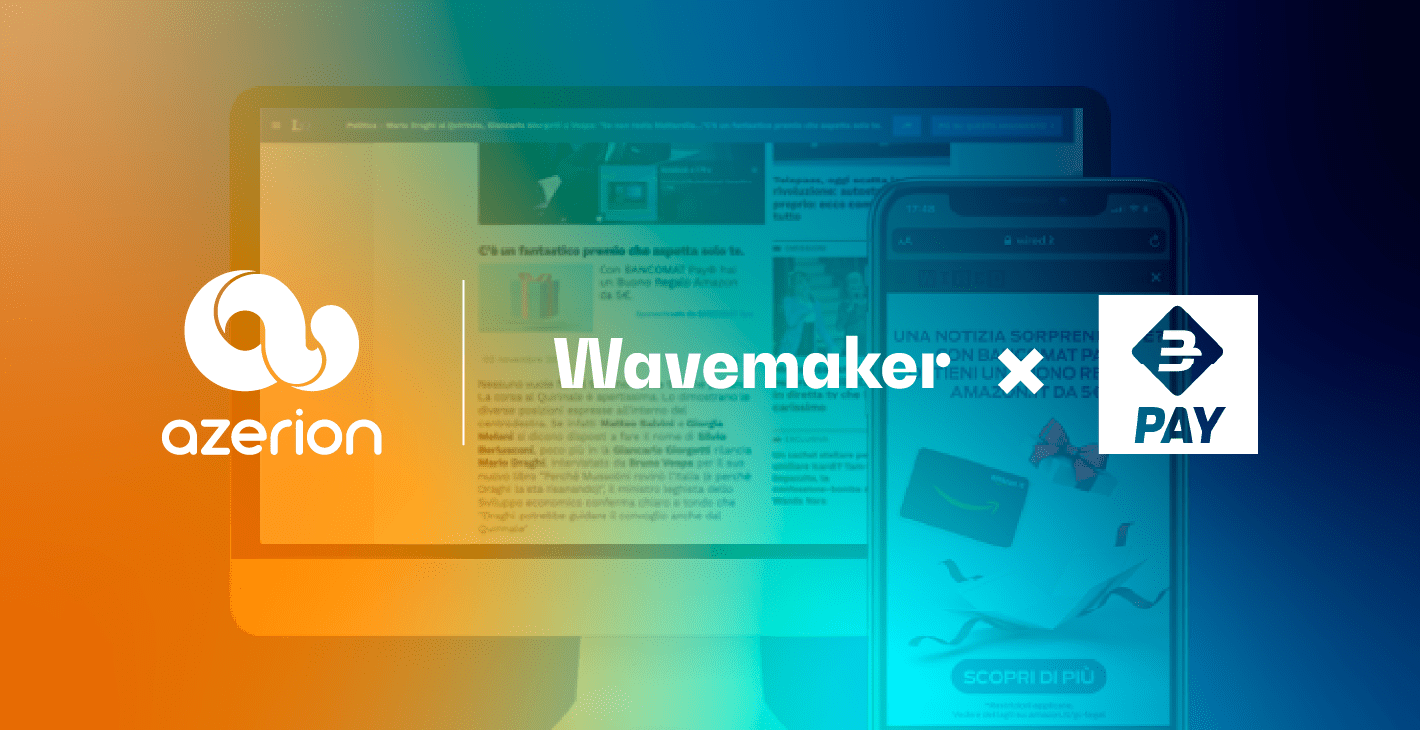 Milan, Italy – February 2022: Azerion, the digital entertainment and media platform has announced the successful launch of the campaign for Bancomat, planned by Wavemaker, which focuses on brand outcomes. 
Bancomat is the largest payment system provider for the Italian market for ATM, POS and ecommerce payment solutions. Its loyalty program, BPlay allows customers to send and receive money and make payments simply, quickly, and securely via any smartphone.
Between November 1st and December 31st 2021, Bancomat wanted to maximize service activation. The company also needed to raise awareness of its new initiative of rewarding Amazon vouchers to customers that completed the activation process and finalized payments via its service. 
Azerion, through its proprietary platform, provided both the technology and access to audience at scale through a curated pool of supply allowing efficient solutions to achieve advertising campaigns goals, above all, in terms of reach. The campaign achieved a CTR of 0.44% and a Viewability of 75%, thus exceeding expectations.
Nicolò Palestino, Country Manager Italy, at Azerion comments: "Over the last two years, we have built a solid and successful relationship with one of the country's leading agencies, GroupM. Together, we have achieved one of the most impactful advertising campaigns in Italy. It's fantastic to see the synergies of this relationship create such outstanding results on behalf of such a renowned Italian brand."
Camilla Cenci, Digital and Social Media Specialist  at Bancomat adds: "Working together with Wavemaker and Azerion to promote our services has ensured important results to the campaign while maintaining the highest quality and complete transparency."

About Azerion
Azerion is a fast-growing and leading pan-European digital entertainment and media platform. Azerion's integrated platform provides technology solutions to automate the purchase and sale of digital advertising for media buyers and sellers. Content creators, digital publishers and advertisers work with Azerion to reach millions of people across the globe that play its games and its entertainment concepts to increase engagement, loyalty and drive e-commerce. Founded in 2014 by two Dutch entrepreneurs, Azerion has experienced rapid expansion thanks to organic growth and strategic acquisitions. Azerion is headquartered in Amsterdam, the Netherlands and is a publicly traded company listed on Euronext Amsterdam.
About Wavemaker
We believe there always is a better way to grow. We positively provoke growth for our clients by reshaping consumer decision-making and experiences through media, content and technology. The Wavemaker way is globally consistent. Fueled by the world's most powerful consumer data, we understand where and how marketing can intervene decisively to help brands win more sales. Our 7,200 people across 90 markets have the deep knowledge, confidence and courage to provoke growth for some of the world's leading brands and businesses.
We are a part of GroupM, WPP's global media investment management company. Discover more on wavemakerglobal.com, Twitter and LinkedIn.
About Bancomat
BANCOMAT S.p.A. for almost 40 years it has been managing the most widespread and well-known payment and withdrawal circuits in Italy, identified respectively by the brands PagoBANCOMAT® and BANCOMAT®.
From January 2019 the company has expanded its offer with the BANCOMAT Pay® circuit for digital payments.
BANCOMAT is the absolute leader of the debit card payments market in Italy, with approximately 2 billion payment and withdrawal transactions for a value of over 160 billion euros on an annual basis and approximately 34 million cards in circulation.
It is owned by 122 Italian banks, which are among the more than 400 that use its services.