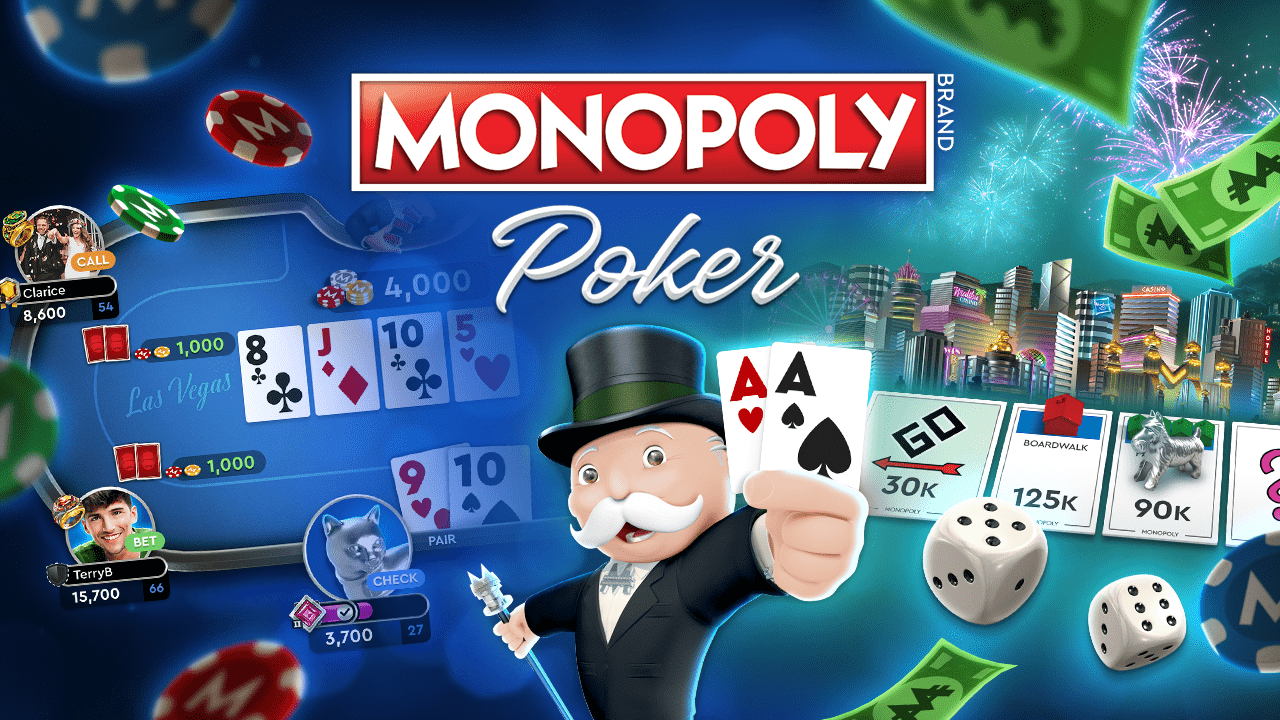 Amsterdam, 18 August 2020: Azerion today announces the worldwide launch of MONOPOLY Poker, a new mobile game combining the immense appeal of the MONOPOLY brand with a great poker game play.
MONOPOLY Poker, available today for download from the Apple AppStore and Google Play, is a free-to-play, social, multiplayer Texas Hold'em game that includes elements from the iconic MONOPOLY board game. The game builds on Azerion's proven publishing experience and leadership in the social poker category. MONOPOLY Poker combines the fun of a poker game, with a unique meta game that takes players around the MONOPOLY board on a quest for bonuses. MONOPOLY Poker is not a cash gambling game.
MONOPOLY, owned by Hasbro, is the world's favorite family game brand and is enjoyed by more than one billion players in 114 countries across the globe.
That Hasbro has chosen to license the MONOPOLY brand to Azerion to create the MONOPOLY Poker game shows enormous confidence in our ability to deliver the highest quality games, says Jur van Teunenbroek, Vice President of Content at Azerion. We expect the MONOPOLY brand will introduce an awesome poker experience to a whole new audience.
Hasbro is committed to building mobile game experiences based on our brands that are unique and engaging to players, says Mark Blecher, Senior VP, Corporate Strategy & Business Affairs at Hasbro. We are delighted to have licensed the MONOPOLY brand to Azerion in order to bring the free-to-play MONOPOLY Poker game into the MONOPOLY family.
The MONOPOLY license is part of Azerion's long-term strategy to license well-known brands from world class brand owners to the benefit of its player, advertiser and publisher clients. In the last few months, Azerion has also entered partnership deals with Ajax Esports and Talpa Networks.
The MONOPOLY name and logo, the distinctive design of the game board, the four corner squares, the MR. MONOPOLY name and character, as well as each of the distinctive elements of the board and playing pieces are trademarks of Hasbro for its property trading game and game equipment. © 1935, 2020 Hasbro. All Rights Reserved. Licensed by Hasbro.
About Azerion
Azerion (azerion.com) is a global tech company in the media and entertainment business, headquartered in Amsterdam.
Hundreds of millions of people play our games and watch our videos.
Advertisers reach massive audiences and targeted groups with our tech.
Publishers earn top revenue with our tech and engage quality audiences with our content.
Uniquely, Azerion works across these groups. We spot synergies, find efficiencies and weave together the best strands from our business for each of our users.
Azerion: content, reach, revenue, engagement — a million possibilities
About Hasbro
Hasbro (NASDAQ: HAS) is a global play and entertainment company committed to Creating the World's Best Play and Entertainment Experiences. From toys, games and consumer products to television, movies, digital gaming, live action, music, and virtual reality experiences, Hasbro connects to global audiences by bringing to life great innovations, stories and brands across established and inventive platforms. Hasbro's iconic brands include NERF, MAGIC: THE GATHERING, MY LITTLE PONY, TRANSFORMERS, PLAY-DOH, MONOPOLY, BABY ALIVE, POWER RANGERS, PEPPA PIG and PJ MASKS, as well as premier partner brands. Through its global entertainment studio eOne, Hasbro is building its brands globally through great storytelling and content on all screens. Hasbro is committed to making the world a better place for children and their families through corporate social responsibility and philanthropy. Hasbro ranked No. 13 on the 2019 100 Best Corporate Citizens list by CR Magazine and has been named one of the World's Most Ethical Companies® by Ethisphere Institute for the past nine years. We routinely share important business and brand updates on our Investor Relations website, Newsroom and social channels (@Hasbro on Twitter and Instagram.)