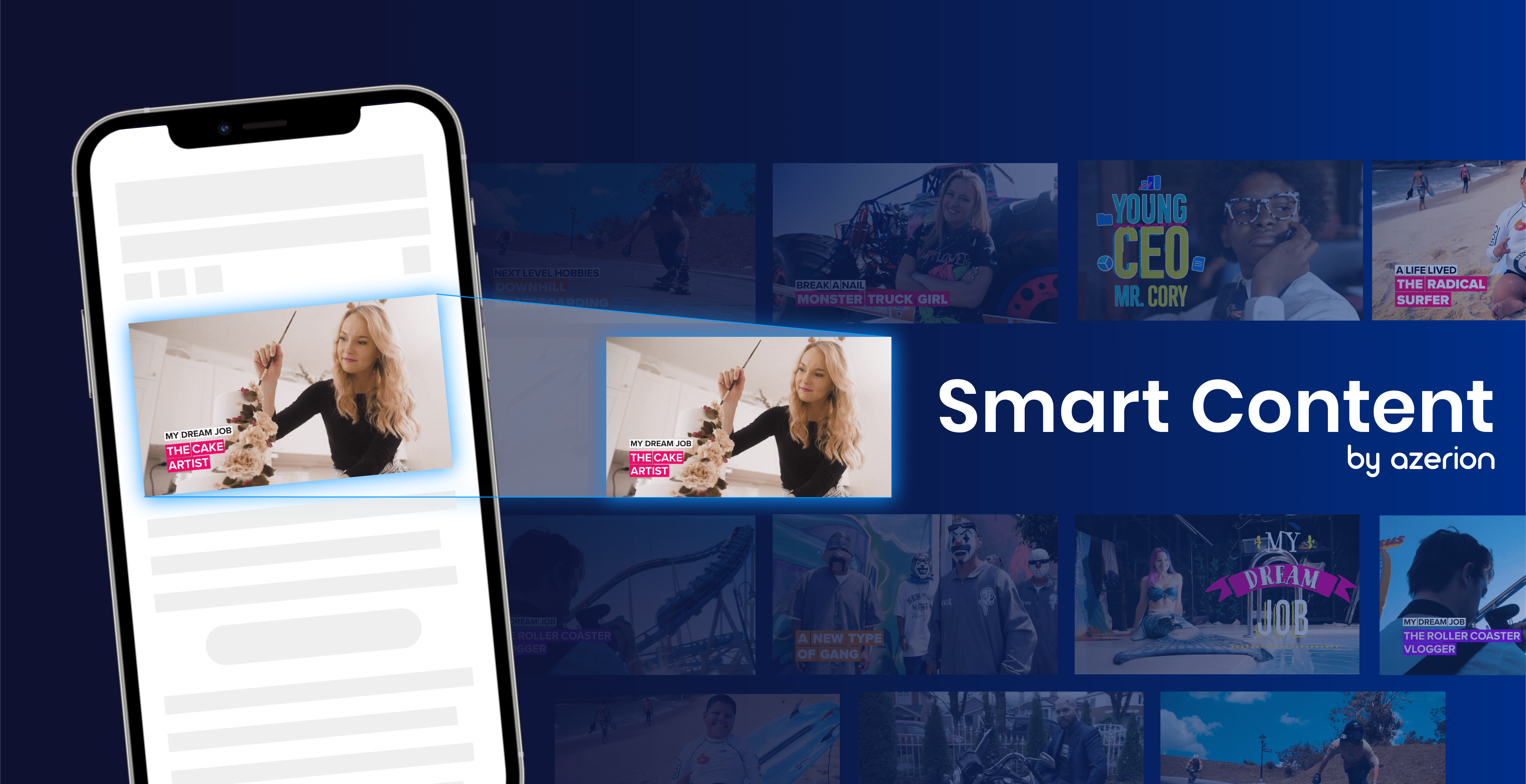 Amsterdam, 9 May 2023 – Azerion announces the launch of 'Smart Content', an AI-powered solution that combines advertising technology and video content onto its platform. Smart Content's video library of over 10,000 unique brand-safe video clips is seamlessly integrated into Azerion's video monetization platform. The content, which is produced in-house, covers various topics across various IAB categories and comes in seven languages. Now our publishing partners can easily add Azerion's video content and immediately start monetizing the incremental traffic.
"With Smart Content, we help publishers to find the perfect video content and ensure optimal engagement and relevance for the publishers' audience. With targeted audiences, we unlock publishers' revenue potential with our innovative digital assets and provide more value to our customers.", says Damian Hartmann, Product Director of Smart Content at Azerion.
"We are determined to keep Azerion at the forefront of these technological advancements in generative AI and machine learning, expanding our value proposition to publishers. With Smart Content, we will help publishers broaden the reach of their campaigns, drive more traffic, and boost engagement to maximise their yield," comments Daan Boekestein, Vice President Technology at Azerion.
Azerion is the European go-to-partner for advertisers for an easy-to-use, competitively-priced and brand-safe digital environment. Following the acquisition of video advertising company, VLYBY, in October Azerion diversified video advertising offering at its platform. With the launch of Smart Content, the ad tech company strengthens its existing video advertising technology solutions for online publishers with a wide-ranging selection of premium content, paving and simplifying their way to connect with a sophisticated audience through great content that aligns with the users' interests and expectations. 
About Azerion
Azerion is a high-growth digital entertainment and media platform. As a content-driven, technology and data company, Azerion serves consumers, digital publishers, advertisers, and game creators globally. Azerion's integrated platform provides technology solutions to automate the purchase and sale of digital advertising for media buyers and sellers, supported by in-market sales and campaign management teams. Through our technology, content creators, digital publishers and advertisers work with Azerion to reach the millions of people across the globe that play Azerion's games and view its distributed entertainment content to increase engagement, loyalty, and drive e-commerce.
Founded in 2014 by two Dutch entrepreneurs, Azerion has experienced rapid expansion driven by organic growth and strategic acquisitions. Azerion is headquartered in Amsterdam, the Netherlands and is a publicly traded company listed on Euronext Amsterdam.
For more information visit: www.azerion.com
Contact:
Investor Relations
ir@azerion.com
Media
press@azerion.com