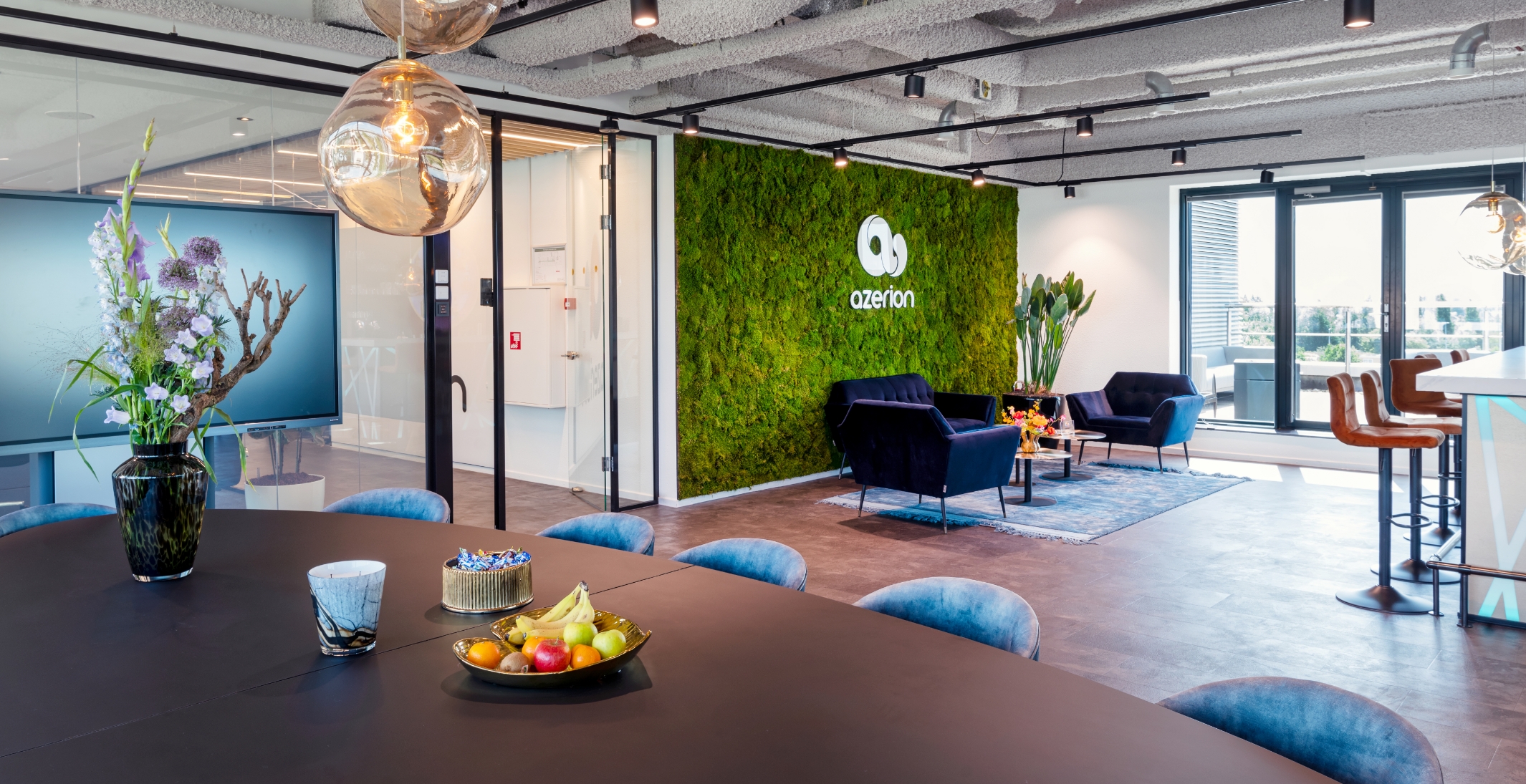 As we all readjust to a hybrid world and work from the office again, Azerion is pleased to welcome everyone back to its Amsterdam HQ campus at the RichPort business park. Our thoughtful, attentive, and committed approach to designing a workplace that simplifies employees' higher engagement and motivation, makes it easier to spend the right moments together.
 Work and fun combined 
The Azerion office campus includes an inspiring work environment, with a restaurant and bar in the basement, phone booths, meeting rooms, auditorium, parking garage, lounge and roof terrace. These various facilities, as well as the work floors, are all game themed — an environment where the combination of work and fun comes together. 
The building has large open work floors, in which specific interior aspects, such as moss walls, bear resemblance to the previously completed Azerion Campus in Helsinki. The interior, which radiates passion for games and entertainment, once again fits the creative employees perfectly.
This project has been executed in collaboration with RED Concepts. 
Specs
Surface: 4,672 m2
Floors: 6
Partners: RED Concepts
To check out more RED Concepts projects, check out their page: https://redconcepts.nl/en/
About Azerion
Azerion is a high-growth digital entertainment and media platform. As a content-driven, technology and data company, Azerion serves consumers, digital publishers, advertisers, and game creators globally. Azerion's integrated platform provides technology solutions to automate the purchase and sale of digital advertising for media buyers and sellers, supported by in-market sales and campaign management teams. Through our technology, content creators, digital publishers and advertisers work with Azerion to reach the millions of people across the globe that play Azerion's games and view its distributed entertainment content to increase engagement, loyalty, and drive e-commerce.
Founded in 2014 by two Dutch entrepreneurs, Azerion has experienced rapid expansion driven by organic growth and strategic acquisitions. Azerion is headquartered in Amsterdam, the Netherlands and is a publicly traded company listed on Euronext Amsterdam. 
For more information visit: www.azerion.com.
About RED Concepts
RED Concepts (RED) develops and realizes innovative real estate concepts. With many years of industry experience, RED covers a wide range of real estate disciplines. With an extensive network and expertise, RED knows how to bring interesting parties together and generate support for its projects. Most importantly, RED knows how to come up with creative and appealing concepts, manages involved parties and is well positioned and equipped to take on and realize complex assignments. RED has a track record of award-winning office and residential concepts. More information can be found on the company's website: www.redconcepts.nl.