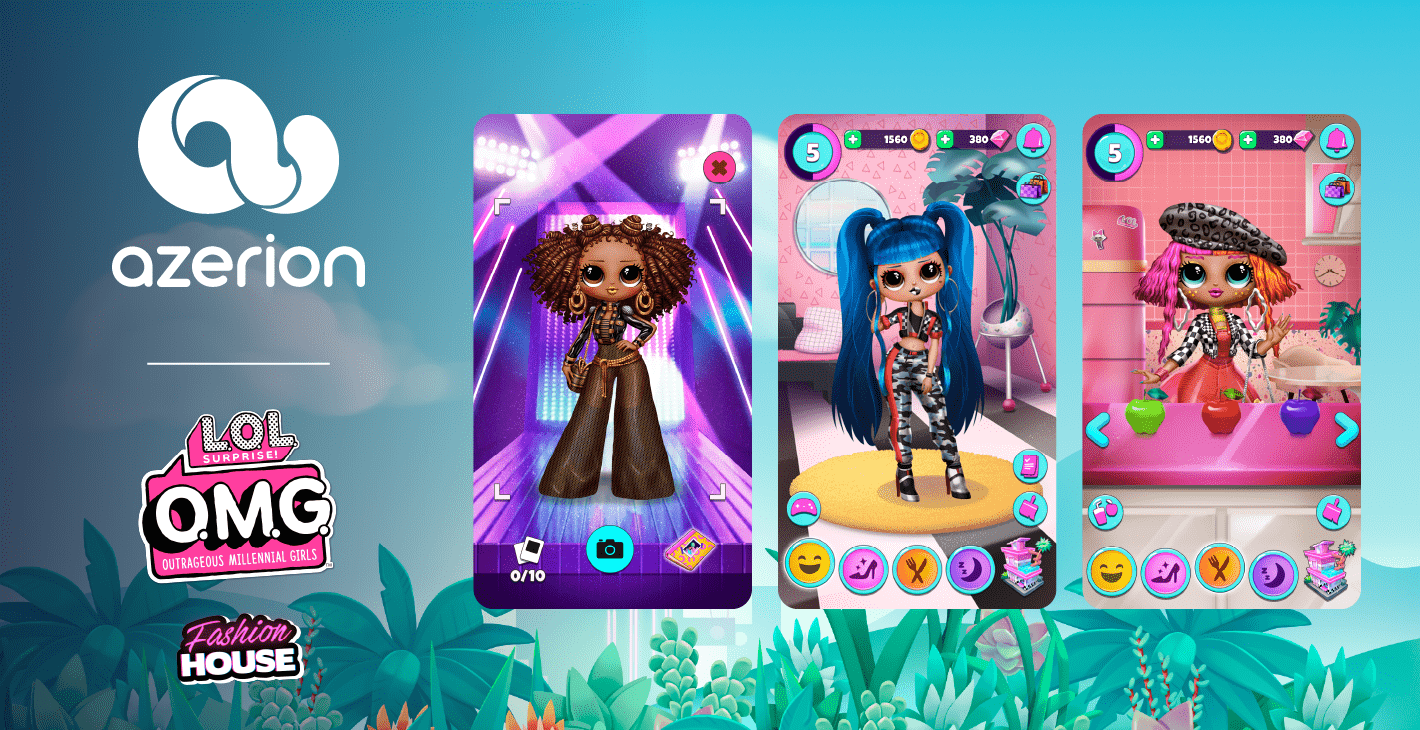 Amsterdam, 03 March 2023 – Azerion announces the release of L.O.L. Surprise! O.M.G. Fashion House™, developed in collaboration with long-standing partner MGA Entertainment (MGA), bringing the popular franchise to mobile gaming and into multi-channel distribution.  The video game, available for Android and iOS, creates a new experience for the brand's popular L.O.L. Surprise! O.M.G.™ fashion doll collection.

"The success of the partnership between Azerion and MGA underscores the advantage of our franchising approach," said Azerion SVP Erol Erturk. "As a media-entertainment company, Azerion has built an outsized presence in digital games, metaverse, and as an advertising platform. Our partnership with MGA showcases the many possibilities for brands to engage with consumers in an organic way. This partnership also demonstrates the opportunities of in-game advertising and branding, capturing the attention of millions of actively engaged audiences and coupling it with a successful TV show to increase cross-marketing strategies."

"From its start just about seven years ago, the L.O.L. Surprise! brand has been a global sensation. Continuing to extend the brand experience for fans remains important for its continued growth," said Mindy Puente-Escalera, SVP, Global Licensing, MGA Entertainment. "Our partnership with Azerion helps us to engage with consumers in the mobile gaming space and bring L.O.L. Surprise! O.M.G. to new and existing consumers where they are."

Following on the 2022 success of the L.O.L. Surprise! Winter Fashion Show movie on Netflix, MGA looked to Azerion to bring the L.O.L. Surprise! O.M.G. fashion dolls into the world of gaming and to further build the brand through multi-channel digital distribution. In addition, Azerion partnered with Magic Star, a division of Sony Music Entertainment, to use the music from the L.O.L. Surprise! Winter Fashion Show movie in upcoming L.O.L. Surprise!™ game promotions. A version of the game for HTML5 will be available later this year through Azerion's digital game portals.

Gameplay
In the L.O.L. Surprise! O.M.G. Fashion House game, players along with their favorite fashionistas Neonlicious, Lady Diva, Swag, Royal Bee, and the other L.O.L. Surprise! O.M.G. girls from the movie and YouTube series decorate the fashionistas' Fashion House, complete challenges to level up their avatars, and collect fashion dolls.

In 2023, Azerion will bring L.O.L. Surprise! O.M.G. fan favorites into the metaverse by releasing core-branded items in one of Azerion's virtual worlds in Woozworld. Players in this fashion-centric game can collect and dress up in the character-inspired outfits and hairstyles. 
Contact:
Investor Relations
ir@azerion.com
Media
press@azerion.com
About Azerion 
Azerion is a high-growth digital entertainment and media platform. As a content-driven, technology, and data company, Azerion serves consumers, digital publishers, advertisers, and game creators globally. Azerion's integrated platform automates the purchase and sale of digital advertising for media buyers and sellers and is supported by in-market sales and campaign management teams. Content creators, advertisers, and digital publishers work with Azerion to reach millions worldwide who are playing Azerion's games and engaging with Azerion's distributed entertainment content.

Founded in 2014 by two Dutch entrepreneurs, Azerion has experienced rapid expansion driven by organic growth and strategic acquisitions. Azerion is headquartered in Amsterdam, the Netherlands and is a publicly traded company listed on Euronext Amsterdam.

For more information visit azerion.com
About MGA Entertainment
MGA Entertainment is one of the world's fastest growing and largest privately held toy and entertainment companies. Headquartered in Chatsworth, Calif. and with offices globally, the company creates innovative, proprietary, and licensed consumer products and entertainment, including toys, games, dolls, apparel, consumer electronics, home décor, stationery, sporting goods, movies, and television series. The MGA family includes award-winning brands such as L.O.L. Surprise!™, Little Tikes®, Rainbow High™, Shadow High™, Bratz®, MGA's Miniverse™, Na! Na! Na! Surprise™, Mermaze Mermaidz™ Color Change, Micro Games of America™, Baby Born® Surprise and Zapf Creation®. For more information, please visit us at www.mgae.com or check us out at LinkedIn and Facebook.