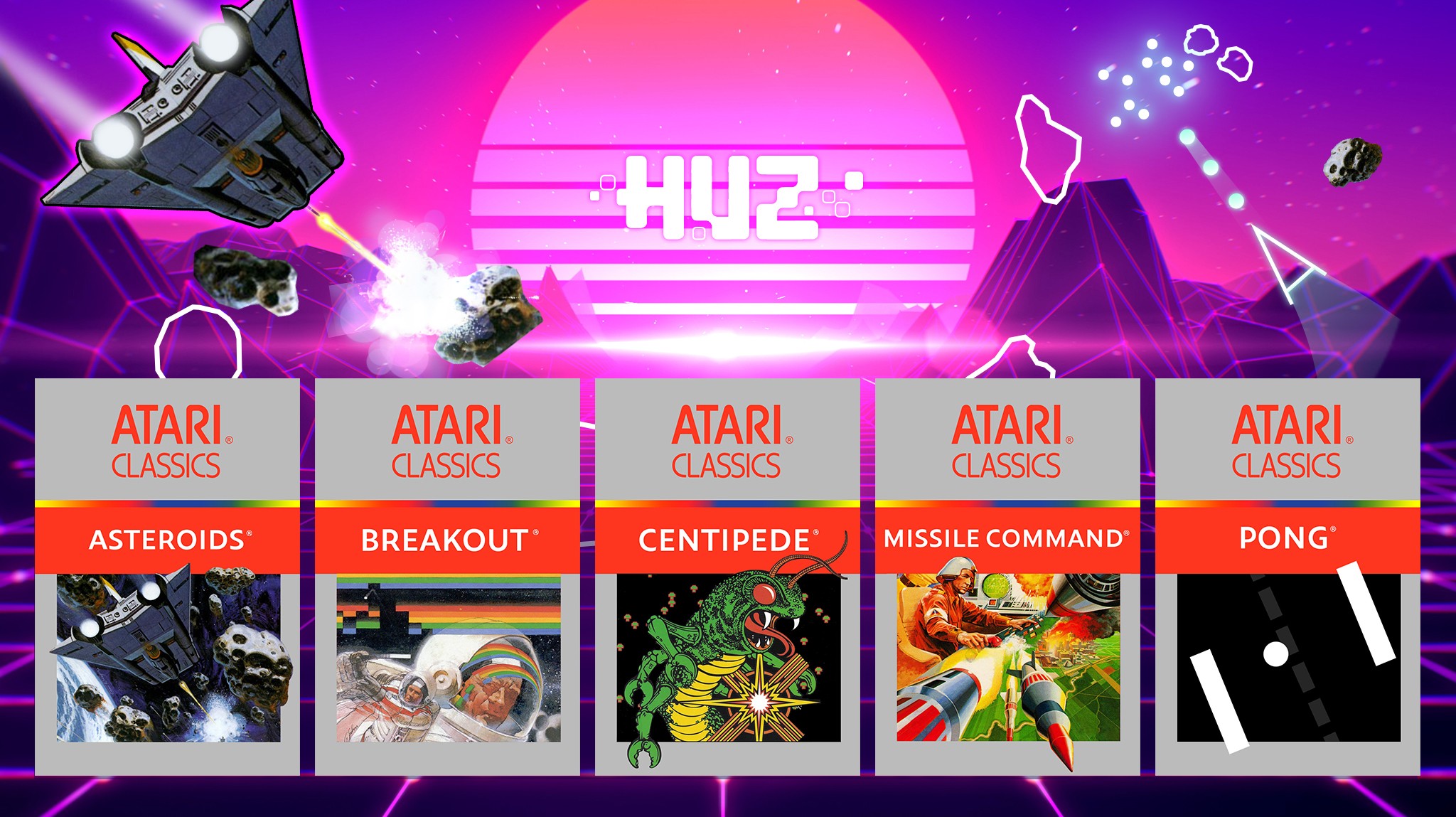 Mobile and browser gamers can now blast, dodge, and bounce their way through five classic Atari® arcade games including Asteroids®, Pong®, and more.
Atari® — one of the world's most iconic consumer brands and entertainment producers — today announced, in partnership with Azerion, the launch of five Atari classic games as web-enabled versions powered by HTML5. Original versions of Atari® classics Asteroids®, Breakout®, Pong®, Centipede® and Missile Command® are now accessible to a wider audience on both the web and mobile devices. This expands the reach of these cherished games to a global audience who can now experience the joy of Atari's classics no matter where they are or what device they use.
We are thrilled to bring these immensely popular games to a new generation of players, says Jean-Marcel Nicolai, Atari Chief Operating Officer. The Azerion team perfectly captured what people have loved for years about our games while refreshing each title to work seamlessly on any web-enabled device, be it PC, Mac, Linux, or mobile.
Millions of people play HTML5 games every day, making it a smart way for Atari to reach a huge additional audience, says Erol Erturk, Executive VP Games & Strategic Partnerships at Azerion. Atari is huge in gaming and the fact that they have trusted us to recreate their iconic titles shows enormous faith in our ability to make HTML5 games successful. We're thrilled to bring our expertise to this partnership.
Currently, these HTML 5 versions of the games are available in Norway and the Netherlands. Dutch players can go to the gaming portal Playtime (the first product from Azerion's joint venture with Talpa Network), while the games are available in Norway via the Telenor Spill mobile app. Azerion is the exclusive provider of both game services, and will be bringing its catalog, including the listed Atari titles to other territories in the coming months.
About Azerion
Azerion (azerion.com) is a global tech company in the media and entertainment business, headquartered in Amsterdam.
Hundreds of millions of people play our games and watch our videos.
Advertisers reach massive audiences and targeted groups with our tech.
Publishers earn top revenue with our tech and engage quality audiences with our content.
Uniquely, Azerion works across these groups. We spot synergies, find efficiencies and weave together the best strands from our business for each of our users.
Azerion: content, reach, revenue, engagement — a million possibilities
About Atari
Atari, comprised of Atari SA and its subsidiaries, is a global interactive entertainment and multiplatform licensing group. The true innovator of the video game founded in 1972, Atari owns and/or manages a portfolio of more than 200 games and franchises, including globally known brands such as Asteroids®, Centipede®, Missile Command® or Pong®. From this important portfolio of intellectual properties Atari delivers attractive online games for smartphones, tablets, and other connected devices. Atari also develops and distributes interactive entertainment for Nintendo, Microsoft and Sony game consoles. Atari also leverages its brand and franchises with licensing agreements through other media, derivative products and publishing. For more information: www.atari.com and www.atari-investisseurs.fr
The Atari shares are listed in France on Euronext Paris (Compartment C, ISIN FR0010478248, Ticker ATA) and are eligible for the Nasdaq International Designation program in the United States (OTC Market – Ticker PONGF).