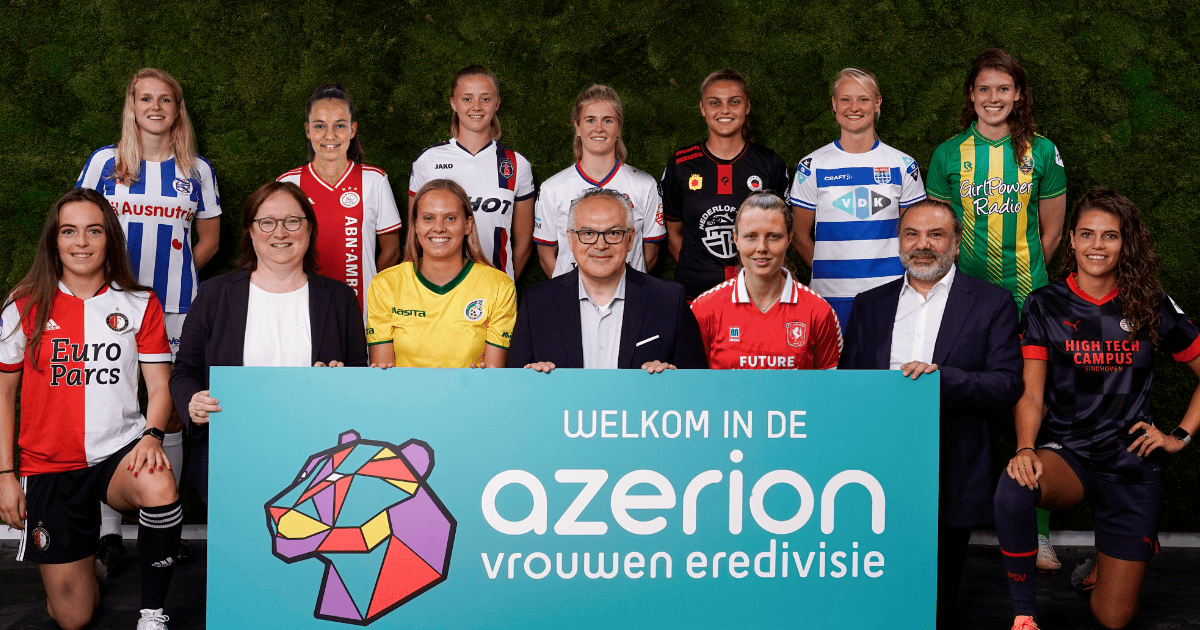 Amsterdam, NL – June 29th 2022 – Digital entertainment and media platform Azerion is the new name partner of the Women's Dutch League. Azerion will commit itself to the highest women's football competition in the Netherlands for three seasons. As part of this partnership, Azerion and the Royal Dutch Football Association (KNVB) plan to structurally increase the attention to women's football; this will be done using Azerion's content platform, which reaches hundreds of millions of users. The ultimate goal: spread women football fever to all and draw even more football fans to the Azerion Women's Dutch League. 
Supporting diversity and inclusivity in football is the driving force behind Azerion's project to support the Women's Dutch League. It is now crucial that the attention for the highest stage of Dutch club football for women increases even more. The bar is set high, but the potential is there. Women's football attracts a different target group than men's football. It has proven itself as a family sport and is therefore excellently positioned to realize our goal. Women's football should become the ideal weekly family outing in every region; a moment for everyone to enjoy, and where everyone is welcome and included.
Azerion knows what it is like to reach and connect millions of people worldwide.  We aim to use our anchor to support our partnership with the KNVB.
"That is therefore an important part of the collaboration," said Kirsten van de Ven, manager of women's football at the KNVB. "Women's football has made great strides in recent years. The knowledge and experience of Azerion can help us enormously to further increase the attention for women's football in the Netherlands."
Change the game
Azerion is also no stranger to football. It is a sponsor of Ajax eSports and partner of football club Fortuna Sittard. Additionally, Azerion has been developing Azerion Sports, a fan engagement app, which is trusted by many professional sports clubs.
"We believe in diversity and inclusion, commitment and the sense of belonging. We want to invest in the future of women's football so that new generations have more role models," said Atilla Aytekin, CEO of Azerion. "We can't wait to realize this great ambition together with the KNVB. On to full stadiums, we can change the game!". 
About Azerion
Azerion is a high-growth digital entertainment and media platform. As a content-driven, technology and data company, Azerion serves consumers, digital publishers, advertisers and game creators globally. Azerion's integrated platform provides technology solutions to automate the purchase and sale of digital advertising for media buyers and sellers, supported by in market sales and campaign management teams. Through our technology, content creators, digital publishers and advertisers work with Azerion to reach the millions of people across the globe that play Azerion's games and view its distributed entertainment content to increase engagement, loyalty and drive e-commerce.
Founded in 2014 by two Dutch entrepreneurs, Azerion has experienced rapid expansion driven by organic growth and strategic acquisitions. Azerion is headquartered in Amsterdam, the Netherlands and is a publicly traded company listed on Euronext Amsterdam. For more information visit:
About KNVB
Every week 1.2 million members play more than 30,000 matches at thousands of clubs. 400 thousand volunteers are active along the fields and in stadiums. And with millions of supporters and enthusiasts, you can safely call football the biggest sport and the largest social network in the Netherlands. The sport that more than 500 KNVB employees are committed to on a daily basis. We try to make and keep football attractive, accessible and enjoyable. We cannot and cannot do this alone. We work together with professional football clubs, amateur associations, the government and social and commercial partners. With the aim of an optimal football climate for the football player and the football fan. For the future of football.