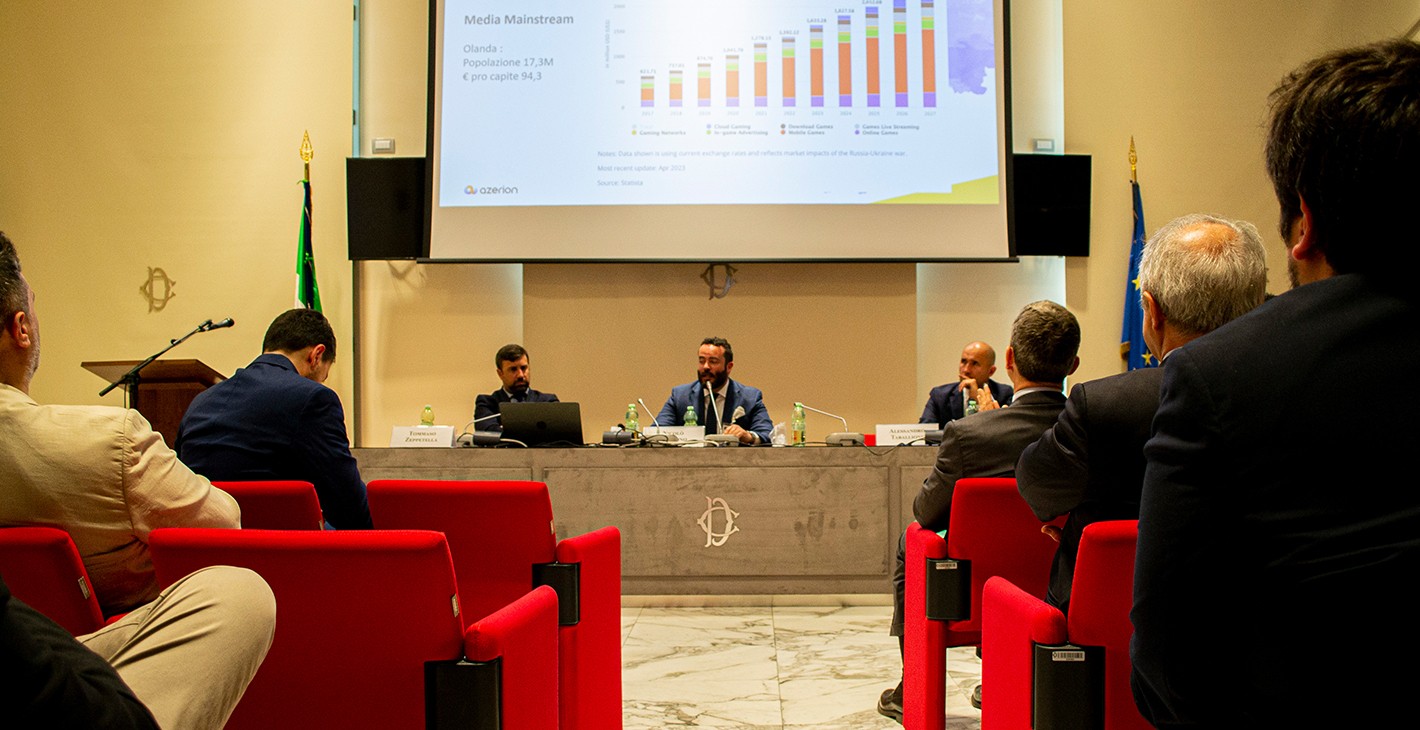 Evidence from Azerion's speech yesterday at the Chamber of Deputies conference 'Criticalities and potentialities of eSports in Italy'
Amsterdam, 11 May 2023 – The conference "Criticalities and Potentials of eSports in Italy," organized by OIES, the Italian ESports Observatory of which Azerion has been a partner since its founding, was held yesterday at the Sala Matteotti of Palazzo Theodoli Bianchelli in Rome and aimed at investigating the social and economic aspects of gaming in Italy. 
Azerion was a major participant at the event, with Nicolò Palestino, Country Manager for Italy, and Tommaso Zeppetella, Head of Sales for Italy, speaking on the topic of "Differences in the development of the gaming market in Italy and Europe." They provided the audience with insightful data and analyses to contextualize the gaming sector, its nuances, and usage profiles. They also offered valuable insights into the challenges and opportunities for the advertising market related to the world of digital gaming.
"Gaming has seen remarkable success in recent years, driven by the digital acceleration brought on by the worldwide pandemic situation. This success has been further consolidated by the ease with which users can access various game titles, the vast array of games available on the market – Azerion alone distributes 20,000 titles – and the accessibility of gaming across multiple devices, such as smartphones, iPads, PCs, and Connected-TV," explained Tommaso Zeppetella.
Azerion specializes in casual games, which are short, simple, and visually appealing games that are intuitive and engaging. The stereotype of the typical gamer being male, teenage, isolated, and anti-social is a myth that needs to be dispelled. Nicolò Palestino pointed out that "We are all gamers" because gaming has reduced the digital divide across all age groups. For younger individuals, the gaming environment provides a safe and controlled place that is free from fake news, user-generated content, and hate speech, making it a preferred form of digital entertainment. For older individuals, it is possible to access game dynamics that are similar to crossword puzzles and chess, making it a convenient and accessible form of entertainment that can be carried around in one's pocket.

The numbers of casual gaming
Few cultures in Europe are as passionate about gaming as Italy. In Italy, gaming is for all intents and purposes a Mainstream Media, with future growth projections driven by the mobile world.
In 2022, out of a population of 59.11 million, there were about 22 million casual gamers, with a per capita spending on online gaming of 95.3 euros, in line with other European countries.

Challenges for the advertising market
The data clearly shows that the gaming market in Italy is thriving, but there is still a major challenge that needs to be addressed from an advertising perspective – the delayed digitalisation process in the country. According to Nicolò Palestino, "Italy is currently ranked ninth out of the nine most digitally ready countries based on the Digital Transformation Index, with Denmark taking the top spot." To fully capitalize on the opportunities offered by the gaming advertising sector, there needs to be a significant investment in Digital Education and Culture. This includes not only the ability to use and enjoy IT infrastructures but also the skills and expertise required to assess and appreciate their value. Unfortunately, the level of preparation and awareness needed to support the development of the gaming advertising market is currently concentrated primarily in Northern Italy, leaving the rest of the country behind.
About Azerion
Azerion is a high-growth digital entertainment and media platform. As a content-driven, technology, and data company, Azerion serves consumers, digital publishers, advertisers, and game creators globally. Azerion's integrated platform automates the purchase and sale of digital advertising for media buyers and sellers and is supported by in-market sales and campaign management teams. Content creators, advertisers, and digital publishers work with Azerion to reach millions worldwide who are playing Azerion's games and engaging with Azerion's distributed entertainment content.

Founded in 2014 by two Dutch entrepreneurs, Azerion has experienced rapid expansion driven by organic growth and strategic acquisitions. Azerion is headquartered in Amsterdam, the Netherlands and is a publicly traded company listed on Euronext Amsterdam.

For more information visit azerion.com
Contact:
Investor Relations
ir@azerion.com
Media
press@azerion.com