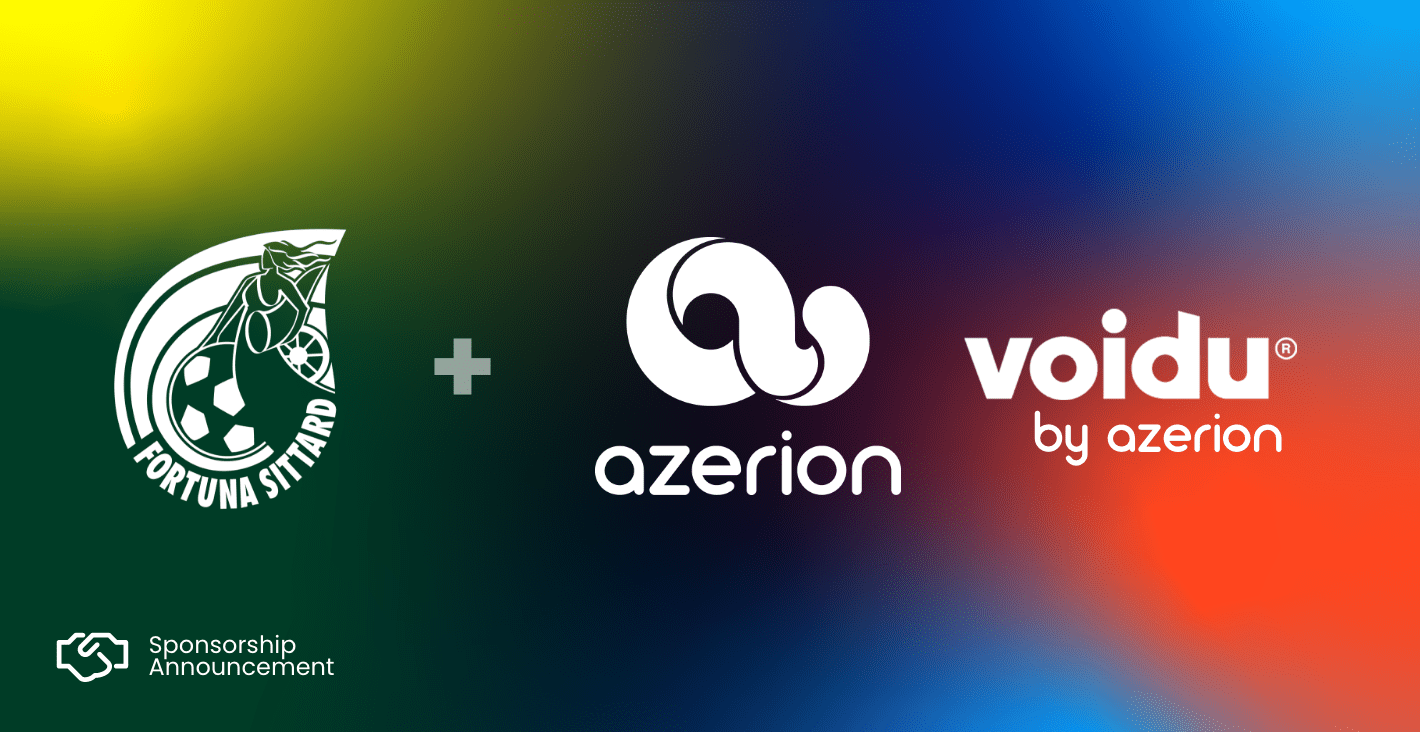 – The sponsorship is part of the long term commitment from Azerion to create a high-quality fan experience by integrating offline and online services
– Voidu commits to Fortuna Sittard and brings fans, gamers, and the club closer to each other with esports and exclusive fan experiences
Amsterdam, 22nd September 2021 – Voidu, the official online game distribution platform owned by Azerion, announced today that it is the new esports sponsor of Fortuna Sittard. With this brand new sponsorship Voidu is bringing fans, gamers, and the football club closer to each other via esports, digital events and exclusive fan engagement and experiences.
Fortuna Sittard esports
With this sponsorship Voidu commits to the football club from the Eredivisie and invests heavily in the Fortuna Sittard Esports team that ended 7th in eDivisie's last season rankings. Esports games are a very important part of our business, so it makes perfect sense to grab the opportunity Azerion has given us and partner up with this amazing football club to reach esports players and gamers in The Netherlands, says Cem Temur, Director at Voidu. We are very happy with this sponsorship, and we are committed to helping Fortuna Sittard reach the top of the eDivisie. Furthermore, as our first deed, I'm happy to announce the very strong new line-up of Fortuna Sittard's esports team including Tim van Doleweerd, and Marc Groenland. We can't wait for the start of the season.
We are very excited about the new sponsorship with Voidu. They understand gamers and esports players and this will allow us to perform on the highest level says Marc Groenland.
Exclusive events and fan engagement
On top of the esports sponsorship, Voidu is organizing several fan engagement activities exclusively for fans of Fortuna Sittard soon. We are not only aiming to be successful in the eDivisie but we also would like to bring the football club, players and fans closer together by offering digital entertainment and events, says Cem Temur, Director at Voidu. We are planning to organise exclusive events where fans and the players of Fortuna Sittard can play exclusively together in FIFA. Furthermore, fans of Fortuna Sittard will have a chance of receiving discounts on our platform and they'll be able to compete in unique giveaways to win games.
It's wonderful that Voidu is our new partner and brings not only a lot of fan engagement and entertainment but also strives to win with our new esports team adds Jordy Joosten, eSports responsible at Fortuna Sittard.
www.fortunasittard.nl
www.azerion.com
www.voidu.com
About Voidu
Voidu is an official online digital distribution platform. All the products available on our website come directly from official sources i.e. developers, publishers or distributors. Our services and products are available around the clock, 365 days per year. We're working together with hundreds of publishers to give you the greatest catalog possible. Voidu is for gamers, by gamers.
About Azerion
Azerion is a fast-growing and leading pan-European digital gaming and monetization company. We develop and operate a safe and reliable online social gaming and entertainment platform for people of all ages to enjoy. Our integrated platform includes monetization features and provides technology solutions to automate the purchase and sale of digital advertising for media buyers and sellers. Content creators, publishers and advertisers work with us to reach millions of people across the globe that play our games and use our entertainment concepts to increase engagement, loyalty and drive e-commerce. Founded in 2014 by two Dutch entrepreneurs, Azerion has experienced rapid expansion thanks to organic growth and strategic acquisitions. Azerion is headquartered in Amsterdam, the Netherlands.
About Fortuna Sittard
Fortuna Sittard is the pioneering player of professional football in the Netherlands. The club was established in 1968 from a merger between RKSV Sittardia and Fortuna '54 and can therefore call itself the very first professional club in the Netherlands. Highlights of the team's success include winning the National Cup in 1957 and 1964, becoming first division champions in 1995 and achieving promotion into the Eredivisie, first in 1982 and again in 2018 – the division where they currently compete.