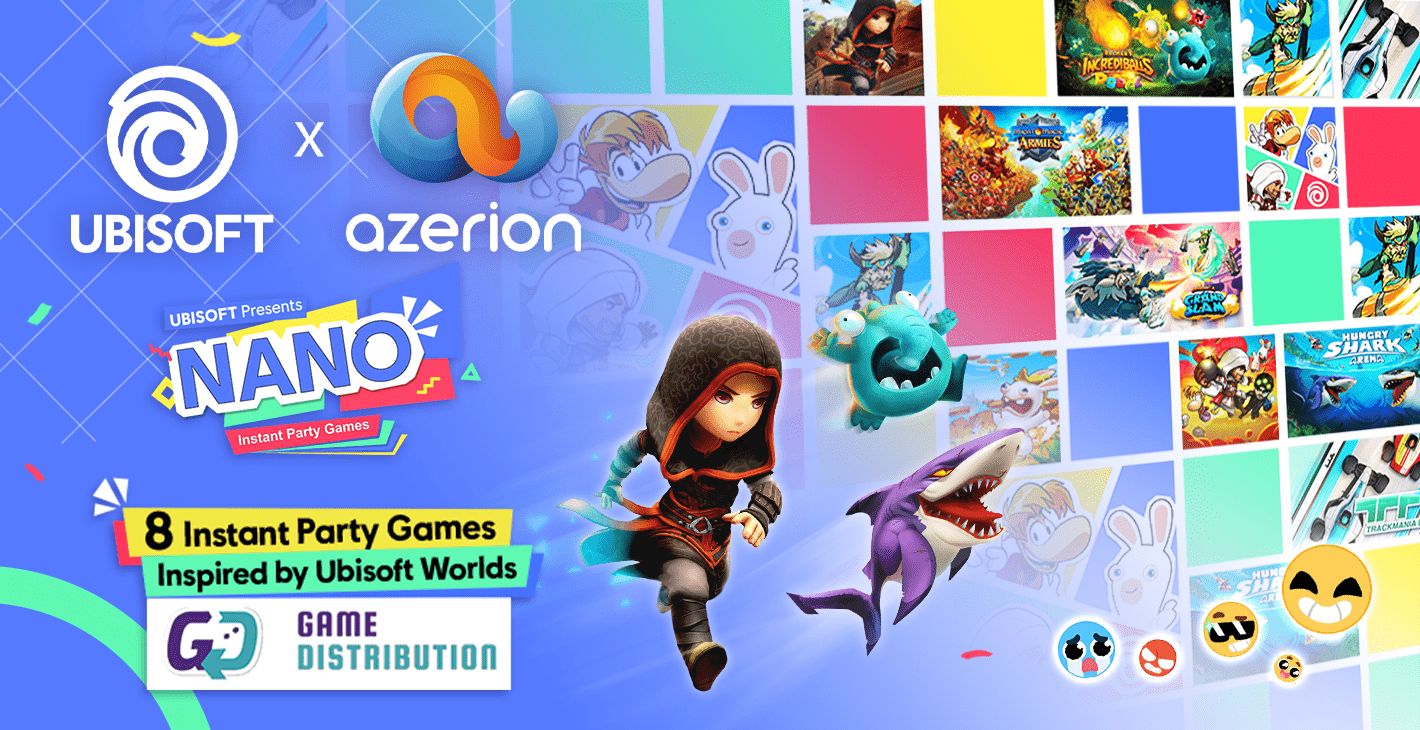 Azerion to monetize and exclusively distribute Ubisoft Nano games over the next two years
Amsterdam, 10th of January 2022 – A few months and over 5 million game plays after the release of Ubisoft Nano's title Hungry Shark Arena with GameDistribution – the leading online and cross-platform games  publishing service, part of Azerion, the digital entertainment and media platform – Ubisoft announced a significant expansion to this strategic partnership with the upcoming publication of 7 more Ubisoft Nano games, including the entirety of the collection's future Season 2 & 3 line up. Azerion will handle the monetization and exclusive distribution of these 7 Ubisoft Nano games through its powerful platform over the next two years.
Ubisoft Nano is a growing catalogue of Instant Party games developed by the studio of Ubisoft Da Nang – a varied collection of tiny social multiplayer games based on Ubisoft various Worlds (Assassin's Creed, Rabbids, Might & Magic, Rayman,etc.) developed with HTML5 and playable worldwide on mobile and a multitude of online devices.
The collection has offered a playground to over 10M players in 2021, and is expected to generate millions of sessions in 2022 through this partnership with Azerion. This collaboration also marks the entrance of 3 first-rate hypercasual games developed by Ubisoft-owned company KETCHAPP to the catalogue of GameDistribution.
"This partnership is one of the most important strategic deals for the Azerion content distribution network in 2022. We are proud to represent Ubisoft brands and bring them to the large casual audience through the Azerion distribution network from cross-platform gaming portals to subscription services and telcos." – said Erol Erturk, EVP Games and Strategic partnerships at Azerion.
"Ubisoft Nano has been designed to bring our world into new audiences and Azerion is the ideal partner to put our games in the hands of millions of new players consuming games on unconventional platforms such as web browser of telco subscription." – Aurelien Palasse – Ubisoft Da Nang Studio Manager.
These 10 new games will be playable online in 16 languages on 1000+ websites subscribing to GameDistribution services. Players will also be able to enjoy regular releases of new games and updates via all usual platforms (the Ubisoft Nano APP, on the web nano.ubisoft.com and in iOS and Android native stores).
About Azerion
Azerion is a fast-growing and leading pan-European digital entertainment and media platform. Azerion's integrated platform provides technology solutions to automate the purchase and sale of digital advertising for media buyers and sellers. Content creators, digital publishers and advertisers work with Azerion to reach millions of people across the globe that play its games and its entertainment concepts to increase engagement, loyalty and drive e-commerce. Founded in 2014 by two Dutch entrepreneurs, Azerion has experienced rapid expansion thanks to organic growth and strategic acquisitions. Azerion is headquartered in Amsterdam, the Netherlands.
Azerion has announced a proposed business combination with EFIC1 which upon completion will result in Azerion becoming a publicly traded company listed on Euronext Amsterdam.
About Ubisoft
Ubisoft is a leading creator, publisher and distributor of interactive entertainment and services, with a rich portfolio of world-renowned brands, including Assassin's Creed, Just Dance, Tom Clancy's video game series, Rayman, Far Cry and Watch Dogs. The teams throughout Ubisoft's worldwide network of studios and business offices are committed to delivering original and memorable gaming experiences across all popular platforms, including consoles, mobile phones, tablets and PCs. For the 2016-17 fiscal year Ubisoft generated sales of €1,460 million. To learn more, please visit www.ubisoft.com.