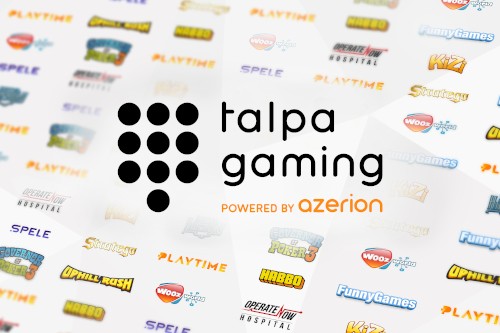 Talpa Network and Azerion, the Netherland's market leader in casual gaming, join forces from 1 December as they launch the joint venture Talpa Gaming, powered by Azerion. Gaming is the fastest growing form of entertainment among Dutch consumers. Over 8 million Dutch people play online games* and this number is increasing day by day. Talpa Network and Azerion are meeting this demand and with Talpa Gaming will provide the perfect place for the entire family to enjoy games in a secure and reliable environment.
* Source: Newzoo.com
The joint venture has a portfolio of over 9000 games which can be played on the popular websites Spele.nl and Funnygames.nl. Governor of Poker and Hotel Hideaway are among its best-known games. Talpa Gaming will develop new casual game platforms as the joint venture unfolds, where Dutch consumers of all ages will be able to enjoy high-quality games in a secure and reliable environment.
Louise van Nispen, until recently Director of Data at Talpa Network, has been appointed CEO of Talpa Gaming and together with Robbert Oomens (Vice President Product) and Age Sluis (Director Marketing & Sales) makes up the management team of the new company.
Peter de Mönnink, CEO of Talpa Network says: The number of Dutch people playing online games is massive and is growing rapidly. People come back to casual games time and again and so the online medium is a valuable contribution to building relationships with consumers. Because of this, online gaming is an essential pillar in the Talpa Network strategy. Being the biggest Dutch casual gaming company and having a portfolio that nicely matches Talpa Network's target groups, Azerion is the perfect partner for conquering this market.
Umut Akpinar co-CEO of Azerion says: Gaming entertainment has become more popular than movies and music. Smart brands are using the strength of the channel to target a broad audience. Talpa Network understands Dutch consumer habits better than any other company, so we are very pleased to be involved in this joint venture.
About Talpa Network
Talpa Network is the name of the company in which John de Mol has consolidated his multimedia activities. Talpa Network consists of Events, TV (incl. SBS6, Net5, Veronica and SBS9), Radio (incl. 538, Sky Radio, Veronica and Radio 10), Social (Social1nfluencers, StukTV and Gierige Gasten), Digital (incl. KIJK, JUKE and VoetbalTV), LINDA. and the Ecommerce division (incl. VakantieVeilingen and Actievandedag). The ANP Dutch Press Agency is also part of the Talpa concern. All these parts of the company are supported by Media Solutions, Technology, and Creative. This extensive network means that the Dutch multimedia company is more than relevant for both consumers and advertisers.
John de Mol is well known for a number of worldwide blockbuster formats such as Big Brother, Deal or No Deal, and The Voice. For the latter show he received four Emmy Awards.
His production company, Talpa Media, was incorporated by the British company ITV in 2015. John de Mol is still responsible for the creation and production of the television formats and multimedia concepts, as well as for their international distribution. The most successful production is The Voice, which was launched in 2010. Since then, there have been more than 65 local versions of this program and it has been broadcast in 180 different countries. About Azerion
Notes for editors
Azerion (azerion.com) is a tech company in the media and entertainment business.
Hundreds of millions of people play our games and watch our videos.
Advertisers reach massive audiences and targeted groups with our tech
Publishers earn top revenue with our tech and engage quality audiences with our content.
Uniquely, Azerion works across these groups. We spot synergies, find efficiencies and weave together the best strands from our business for each of our users.