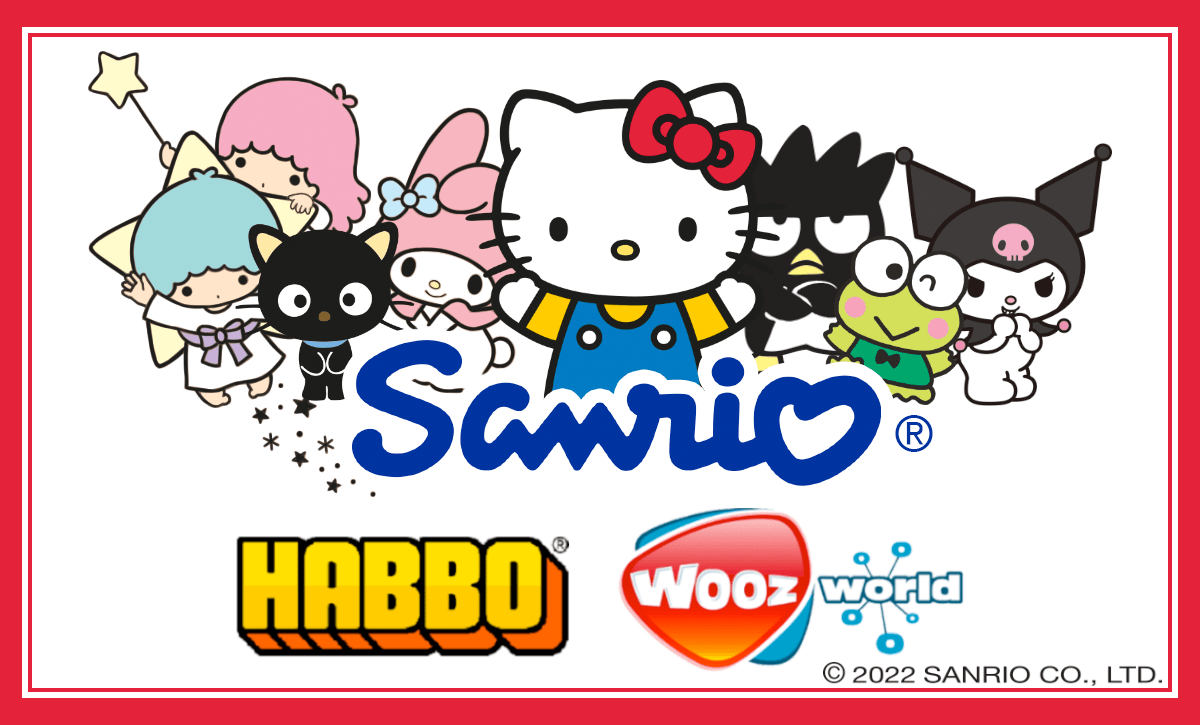 After the successful launch of Hello Kitty into the metaverse, Azerion will launch six additional Sanrio characters within Habbo and Woozworld during 2022.
Amsterdam, Netherlands — January 25, 2022 — Azerion, a digital media and entertainment platform, Sanrio do Brasil, a global licensor recognized worldwide for its pop icon, Hello Kitty®, and Bare Tree Media, a digital licensee for Sanrio, are expanding their recent partnership with a launch scheduled for this year.
This collaboration between Sanrio do Brasil, Bare Tree Media, and Azerion, allows fans to experience their favorite characters in an innovative and exciting way. Given the successful launch of Hello Kitty virtual goods in late 2021, starting this month Habbo and Woozworld players will be able to interact with the character My Melody, who arrives in the metaverse with an incredible variety of assets, including exclusive themed virtual clothing and furniture.
Sanrio and Habbo are both iconic, long-lasting brands that invoke similar feelings of nostalgia for childhood memories. A natural fit together, the partnership will soon extend to the other Sanrio characters, starting with the new My Melody collection and continuing with a rollout that will soon feature the other Sanrio fan favorites, Badtz-Maru, Chococat, Keroppi, Kuromi, and Little Twin Stars.
Azerion is continuing to build connections via brand partnerships in the metaverse, allowing their own brands and their partners to benefit from extended reach while the audience has the chance to take part in exclusive events. The new Sanrio characters collaboration experience will enable Azerion to continue to reach new audiences on both publisher and consumer sides and offer new entertainment content for existing Sanrio fans within Azerion's immersive virtual worlds.
Christopher Daniels, COO of Sanrio do Brasil, comments: "Azerion has a reputation for developing and maintaining high quality, engaging games with global brand recognition. We're confident that their abilities to build and manage an enthusiastic community across various titles will enable us to reach new audiences with our beloved characters.".We are excited to continue this work with the teams at Bare Tree Media and Azerion to release our other characters, within a fun and engaging environment for our fans."
Jurriaan van Teunenbroek, Vice President of Azerion, said, "Azerion's continued partnership with such iconic characters positions Sanrio as a next-generation global brand. With this new collection, Azerion will give Hello Kitty and the other characters a strong position in the ever-expanding metaverse. We are optimistic about the possibilities of working with a renowned company like Sanrio do Brasil."
Robert Ferrari, President of Bare Tree Media, said, "We are impressed with the initial launch of Hello Kitty virtual goods released recently in December, and look forward to expanding the rollout of My Melody in January." Robert Ferrari also said, "Excitement around the metaverse has spawned all sorts of opportunities for popular and iconic characters and brands, therefore we plan to continue releasing more Sanrio characters as virtual goods throughout the year to drive fan engagement and digital sales."
About Azerion
Azerion is a fast-growing and leading pan-European digital entertainment and media platform. Azerion's integrated platform provides technology solutions to automate the purchase and sale of digital advertising for media buyers and sellers. Content creators, digital publishers and advertisers work with Azerion to reach millions of people across the globe that play its games and its entertainment concepts to increase engagement, loyalty and drive e-commerce. Founded in 2014 by two Dutch entrepreneurs, Azerion has experienced rapid expansion thanks to organic growth and strategic acquisitions. Azerion is headquartered in Amsterdam, the Netherlands.
Azerion has announced a proposed business combination with EFIC1 which upon completion will result in Azerion becoming a publicly traded company listed on Euronext Amsterdam.
About Bare Tree Media

Bare Tree Media is a digital agency and publisher focused on helping brands reach and engage fans within the metaverse, AR experiences for Instagram, Snapchat and TikTok, Twitter emoji campaigns and popular messaging apps as mobile stickers and GIFs. Learn more at www.baretreemedia.com
About Sanrio do Brasil
Sanrio is the global lifestyle brand best known for Hello Kitty who was created in 1974. Sanrio was founded on the small gift, big smile philosophy – that a small gift can bring happiness and friendship to people of all ages. Since 1960, this philosophy has served as the inspiration to offer quality products, services and activities that promote communication and inspire unique consumer experiences across the world. Today, Sanrio's business extends into the entertainment industry and includes the operation of a number of theme parks. Sanrio boasts an extensive product lineup of around 50,000 products, which are available in over 130 countries and regions around the world. To learn more about Sanrio, please visit www.sanrio.com.br and follow us on Facebook, Instagram and Twitter.