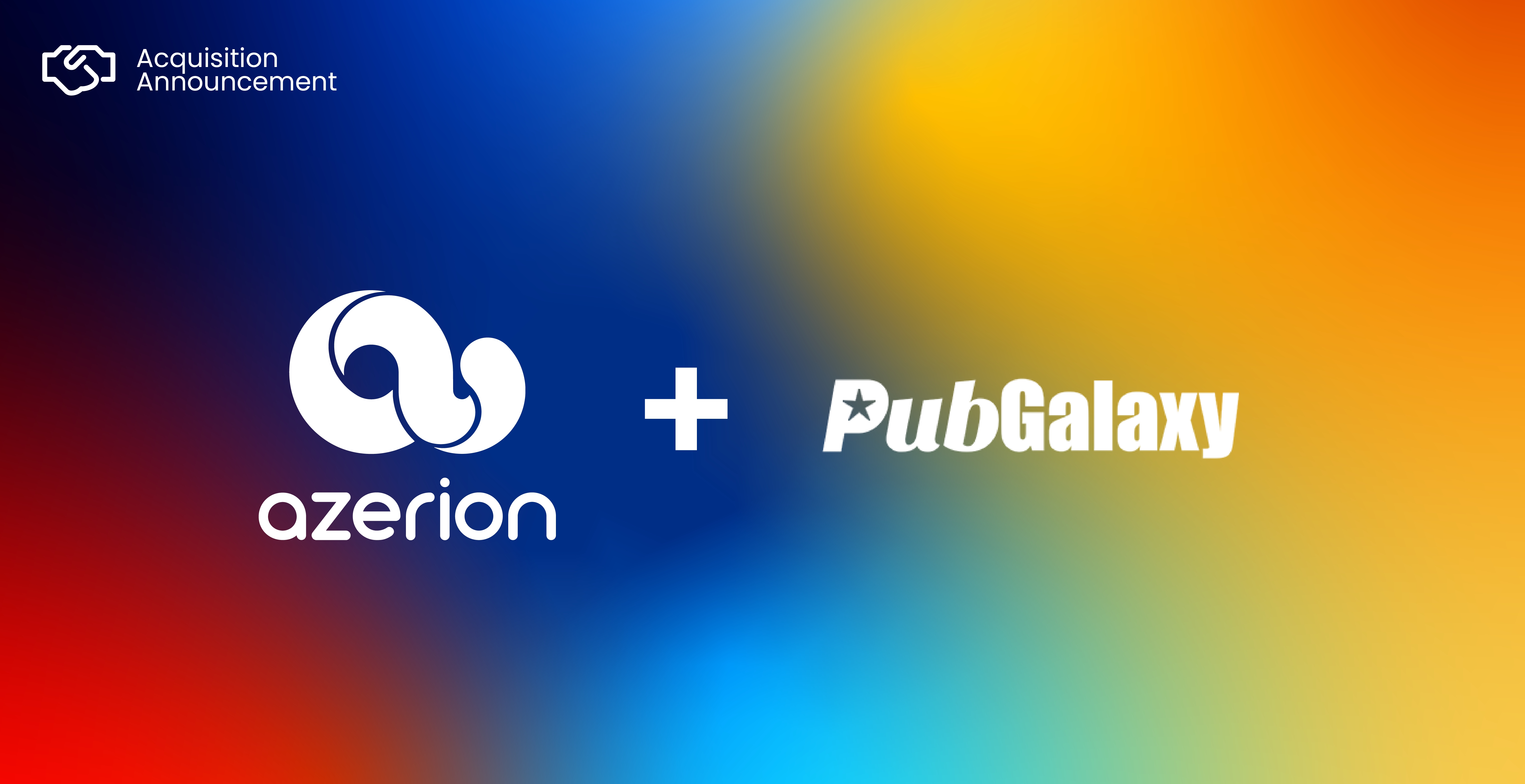 The integration of the Bulgarian monetisation platform will strengthen Azerion's footprint in Central Europe
Amsterdam, 19th October 2021 – Azerion, the fast-growing digital entertainment and media platform, today announces the acquisition of PubGalaxy, the Sofia-headquartered digital monetisation platform. Recognised by global advisory firm Deloitte as one of the fastest-growing tech companies in Central Europe, PubGalaxy will reinforce Azerion's monetisation capabilities and facilitate access for publishers to world-class advertisers active in the area.
"We are delighted to welcome PubGalaxy to our platform. They understand the challenges faced by publishers and have developed a comprehensive programmatic offering that matches perfectly the needs of our partners. Their integration will result in knowledge and technology sharing on both sides, and an enhanced customer experience for our advertisers and publishers", explains Joost Merks, Chief Investment Officer of Azerion.
Starting as a digital publisher in 2001 PubGalaxy has developed into a 360 proprietary ad revenue optimisation platform that helps publishers streamline their advertising operations and increase their ad earnings. Their track record in managing high-value inventories will prove valuable to Azerion's network of publishers, who will gain from cost-effective, bespoke and secure monetisation deals.
Ivan Ivanov, CEO of PubGalaxy further adds: "As a historical digital publisher, our teams know the publishing industry inside out. Some of the biggest publishers have already entrusted us with their monetisation strategies, as we strive to devise the most effective ways to maximise their ad revenues. We are confident that the expertise and insights gained from our two-decade experience in the publishing world will be of great help to Azerion's network of advertisers and publishers."
This acquisition follows the recent announcement that Azerion acquired Sublime as the company looks to bolster its advertising offering in Europe after securing €200M in funding.
About Azerion
Azerion is a fast-growing and leading pan-European digital entertainment and media platform. Our integrated platform provides technology solutions to automate the purchase and sale of digital advertising for media buyers and sellers. Content creators, publishers and advertisers work with us to reach millions of people across the globe that play our games and use our entertainment concepts to increase engagement, loyalty and drive e-commerce. Founded in 2014 by two Dutch entrepreneurs, Azerion has experienced rapid expansion thanks to organic growth and strategic acquisitions. Azerion is headquartered in Amsterdam, the Netherlands.
About PubGalaxy
PubGalaxy is a publisher-centric monetization platform, working across the entire RTB ecosystem and way beyond. Our mission is to help media owners by taking care of their monetization needs. We offer premium publishers a unique approach, which allows them to sell desktop and mobile inventory to premium advertisers across the globe. We combine the most precise algorithms with human expertise to ensure that the best of both worlds is working for you. We never get tired of monitoring, analyzing and improving results for our publishers, without sacrificing ad quality.