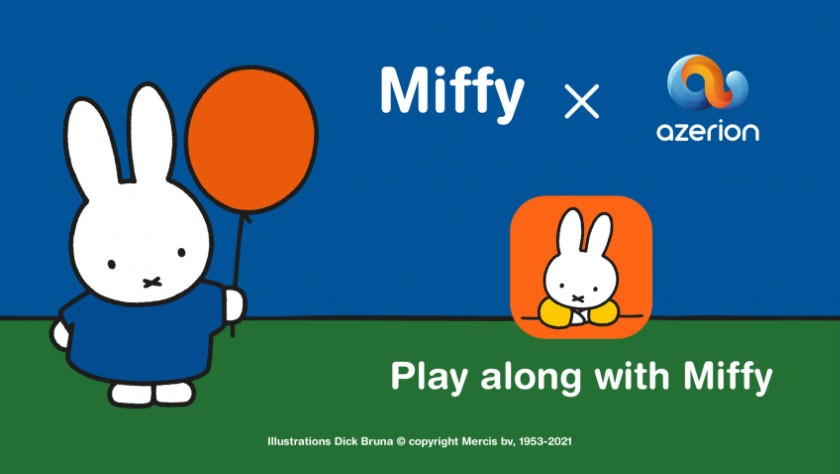 Dutch collaboration Azerion and Mercis launch the game app Play along with Miffy worldwide, which playfully teaches children letters and figures in the world of Miffy
Amsterdam, The Netherlands – August 17th – Play along with Miffy, a new educational app for children, is now available worldwide. The app is developed by Azerion, the leading European gaming and monetization company, in collaboration with Mercis, Miffy's global rights owner.
Brand new app including 15 Miffy games
The app Play along with Miffy bundles 15 Miffy games that allows young children to playfully learn numbers, shapes and letters in the wonderful world of Miffy. On top of that, children can enjoy fun games which feature coloring, cooking and making music. Play along with Miffy has the iconic style and vision of famous Dutch author, illustrator and graphic designer Dick Bruna, the creator of the well-known and beloved character Miffy.
Now available
Play along with Miffy is now available worldwide as part of a subscription service on HUZ, through Telecom operator partners such as Telenor, Italia Online and Ooredoo, and as a premium game via the Apple App Store and the Google Play Store. Users will get the first 3 games for free and can unlock all 15 games for € 4,99. Both the free and paid version of Play along with Miffy are ad-free.
Strong Dutch partnership
Yuliya Nabieva, Director Content Licensing and Production at Azerion, says about the collaboration with Mercis: We are very proud to collaborate with the people at Mercis and to work with one of the biggest and most famous brands for children. Thanks to this strong partnership we are able to launch this beautiful game today. As a company which originated in The Netherlands, it makes it even more special that we have partnered up with Mercis to create this app starring Miffy."
Frank Padberg, Business Development Manager at Mercis, continues: Our mission is to make sure the legacy of Dick Bruna lives on in the beautiful world he has created with Miffy and look for new opportunities to stimulate children to develop and express themselves in this wonderful world. It's an honor to add this brand-new game, together with Azerion, alongside the many books and TV series that have been released for children all over the world.
For more information about Play along with Miffy, Azerion and Mercis, please visit www.azerion.com, www.miffy.com or contact: info@mercis.nl
About Azerion
Azerion is a fast-growing, pan-European company, leading the way in digital gaming and monetisation. Hundreds of millions of people play our games and watch our videos. Advertisers reach massive audiences and targeted groups with our tech. Publishers earn top revenue with our tech and engage quality audiences with our content. Uniquely, Azerion works across these groups. We spot synergies, find efficiencies and weave together the best elements from our business for each of our brands and users. Founded in 2014 by two Dutch entrepreneurs, Azerion has experienced rapid expansion thanks to organic growth and strategic acquisitions. Azerion employs more than 955 employees across 24 offices and is headquartered in Amsterdam, the Netherlands.
Azerion: content, reach, revenue, engagement — a million possibilities
About Mercis BV
Dick Bruna's illustrations and IP rights are globally managed by Mercis bv, through highly integrated business units in the fields of publishing, media and licensing. Dick Bruna's philosophy forms the basis of Mercis bv's work; respect for the world of a child. The child in all of us.