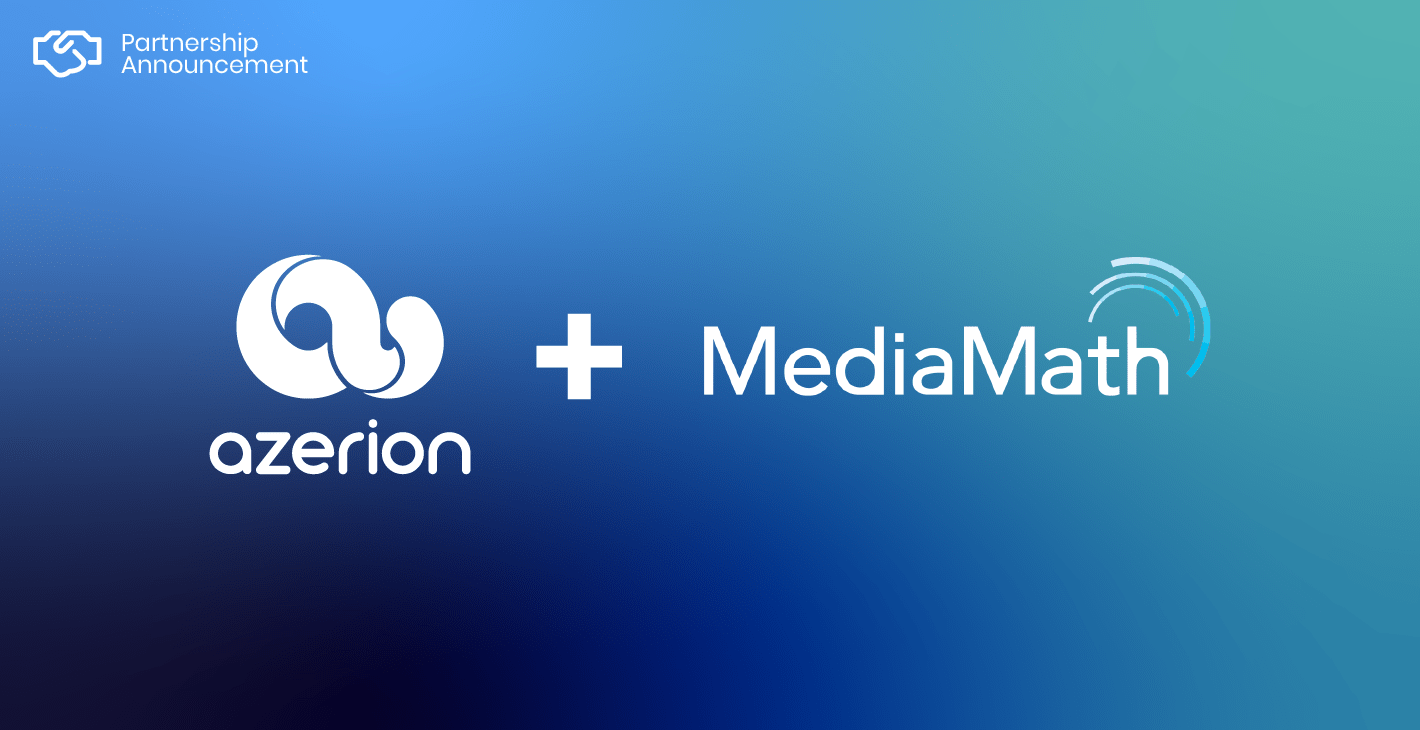 Strategic partnership will enable marketers to reach Azerion's audiences across the open-web and deliver privileged access to AAA gaming partners
Amsterdam, January 17 2022: Azerion, the digital entertainment and media platform, and MediaMath, the acclaimed independent DSP, have announced a brand-new partnership which aims to do for gaming what Walmart and Amazon have done for retail media. With this launch, brands and agencies will be able to reach Azerion's audience of over 425 million monthly users within both Azerion's ecosystem and MediaMath's transparent supply chain.
Gaming represents a huge percentage of mobile device usage, with the average person spending 4.2 hours per day playing mobile games. A brand-safe, lean-in environment, consumers are often more open to engaging with advertisers, leading to higher campaign performance. Under the partnership, MediaMath's clients will receive privileged access to Azerion's gaming inventory, ensuring they benefit from its high-performance.
The partnership will enable clients of Azerion and MediaMath to reach these users at scale across multiple touch points within MediaMath's transparent supply chain, creating exciting opportunities for advertisers of all verticals, with the potential to optimize to both upper-funnel brand metrics like awareness, and lower funnel performance like installs. 
The partnership also gives MediaMath's clients a first glimpse of advertising in the gaming world. Azerion enables brands to programmatically deliver advertising on billboards around a virtual racetrack, town or stadium. As more brands look for innovative ways to connect with their consumers, this represents an exciting opportunity to expand beyond standard digital, without making huge financial investments into bespoke creative executions.
"Gaming is at the heart of Azerion's platform. Being able to connect brands while consumers are being entertained, not only enhances the gaming experience but enables brands to connect with a more engaged audience. Whether it is giving consumers' rewards in exchange for viewing an ad or ads that are part of the gaming experience, we believe that there is a significant opportunity for brands to connect with their audiences in a more powerful way" said Sebastiaan Moesman, CRO at Azerion.      

"Our gaming partnership with Azerion is an example of how MediaMath is built for innovation and to support our clients in this moment and the next. The gaming marketplace will enable our clients to reach their audiences more effectively and deliver better results through new and existing channels, both on Azerion's gaming inventory but also achieve scale through MediaMath's wider transparent ecosystem" said Laurent Cordier, Chief Partnerships Officer at MediaMath. "It is a unique programmatic opportunity for brands, especially for Gaming, Gambling and Entertainment companies, to achieve their marketing goals".
The solution is due to be launched to brands in the coming weeks.
About Azerion
Azerion is a fast-growing and leading pan-European digital entertainment and media platform. Azerion's integrated platform provides technology solutions to automate the purchase and sale of digital advertising for media buyers and sellers. Content creators, digital publishers and advertisers work with Azerion to reach millions of people across the globe that play its games and its entertainment concepts to increase engagement, loyalty and drive e-commerce. Founded in 2014 by two Dutch entrepreneurs, Azerion has experienced rapid expansion thanks to organic growth and strategic acquisitions. Azerion is headquartered in Amsterdam, the Netherlands.

Azerion has announced a proposed business combination with EFIC1 which upon completion will result in Azerion becoming a publicly traded company listed on Euronext Amsterdam.
About MediaMath 
MediaMath is the demand-side platform that offers the most powerful off-the-shelf and custom capabilities for brands to reach and influence customers and prospects on any screen, making it possible for the world's leading advertisers and their agency partners to deliver personalized digital advertising across all connected touchpoints. Over 9,500 marketers in 42 countries use our enterprise software every day to launch, analyze, and optimize their digital advertising campaigns across display, native, mobile, video, audio, digital out of home, and advanced TV formats. Founded in 2007 as a pioneer in "programmatic" advertising, MediaMath is recognized as a Leader in the Gartner 2020 Magic Quadrant for Ad Tech and has won Best Account Support by a Technology Company for two years in a row in the AdExchanger Awards. 
  MediaMath is leading an industry-wide effort to create a 100% accountable, addressable and aligned supply chain through SOURCE ecosystem. SOURCE by MediaMath is a technical and commercial framework for agencies, brands, tech companies, and content owners designed to provide long-term sustainable solutions for a clean digital media supply chain with brand-safe, viewable inventory. To learn more about how MediaMath helps innovative marketers delight their customers and drive real business outcomes, follow us at @mediamath or visit www.mediamath.com.