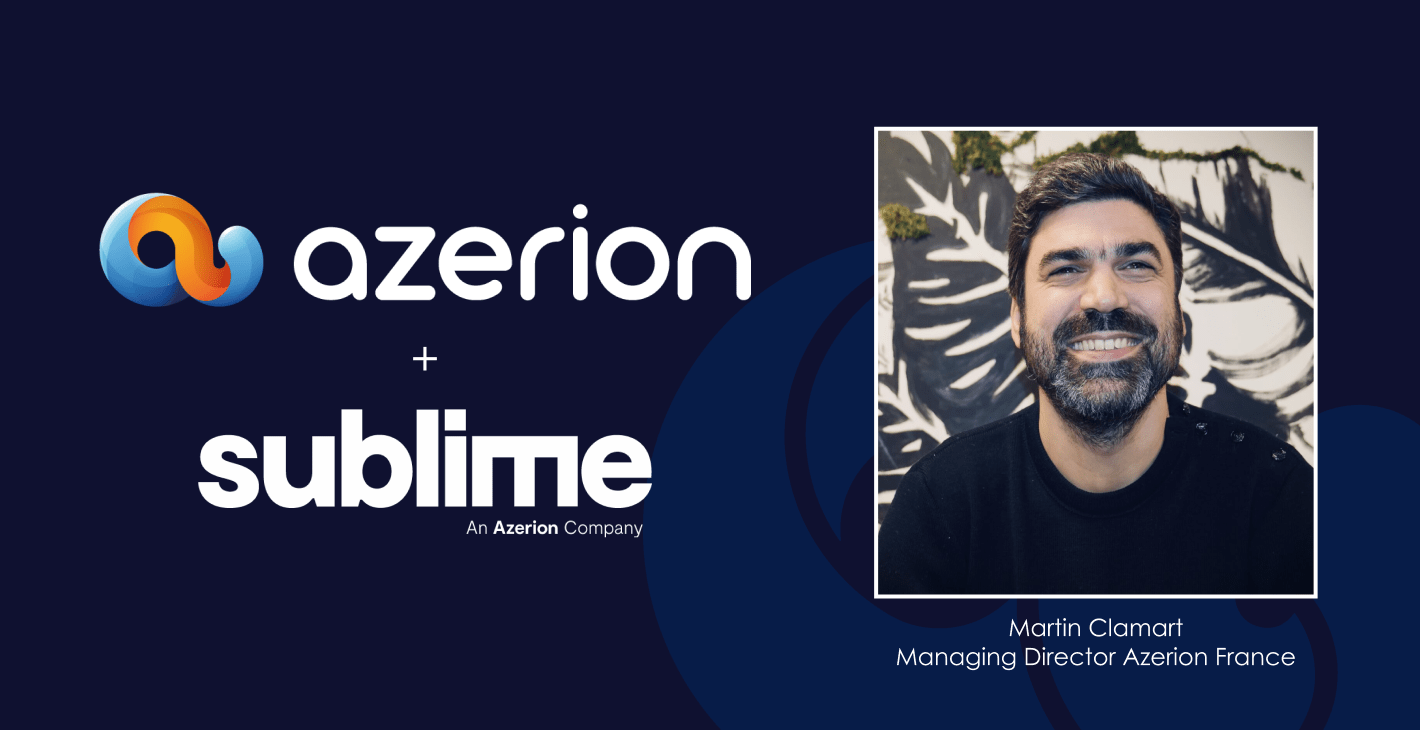 Paris, April 22, 2022. Following the acquisition of Sublime by the Azerion Group in September 2021, the Group continues the integration of the teams and announces the appointment of Martin Clamart as Managing Director France of Azerion. Mickael Ferreira, who was Country Manager of Azerion France until now, takes on a global role and is promoted to VP, Operations of the Amsterdam-based Group.
Azerion, the high-growth digital entertainment, and media platform announced last September the acquisition of Sublime, the specialist of high-impact digital advertising experiences.
A few months after this acquisition, synergies are accelerating with the merger of the Sublime and Azerion teams at the local level. This merger will enable the company to offer a wider range of advertising formats and solutions, with new offers and communication opportunities for advertisers. 
Martin Clamart, appointed Managing Director of Azerion France, comments: "Integrating Sublime's creative solutions and premium support into Azerion's dynamic environment will allow us to go even further and offer new advertising opportunities to advertisers. Our new Gaming and In-gaming offering is a perfect example of this, as these are areas that are still under-exploited by brands and yet are real opportunities to reach certain targets." 
Martin Clamart joined Sublime in 2017 as Head of sales EMEA New Markets and has since held several roles including Sales Director France and Managing Director France. With over 18 years of experience in the digital advertising industry, both in France and internationally, he is strongly involved in the industry, within the Mobile Marketing Association, and in the responsible advertising movement as well ('Mouvement de la publicité raisonnable'). 
Mickael Ferreira, who previously served as Azerion's Country Manager for France, has been promoted to VP of Group Operations. He adds "Azerion officially launched its French operations in October 2020. I am delighted to see another step in the Group's acceleration in France with the full integration of the Sublime teams." 
About Azerion
Azerion is a high-growth digital entertainment and media platform. As a content-driven, technology and data company, Azerion serves consumers, digital publishers, advertisers and game creators globally. Azerion's integrated platform provides technology solutions to automate the purchase and sale of digital advertising for media buyers and sellers, supported by in market sales and campaign management teams. Through our technology, content creators, digital publishers and advertisers work with Azerion to reach the millions of people across the globe that play Azerion's games and view its distributed entertainment content to increase engagement, loyalty and drive e-commerce.
Founded in 2014 by two Dutch entrepreneurs, Azerion has experienced rapid expansion driven by organic growth and strategic acquisitions. Azerion is headquartered in Amsterdam, the Netherlands and is a publicly traded company listed on Euronext Amsterdam. For more information visit:
About Sublime
Sublime (part of Azerion Group) creates and delivers Creative Solutions to brands looking for effective advertising. We offer high-impact solutions where market-leading technology combines with a creative-first approach.Sublime simplifies the delivery of premium, meaningful & user-friendly brand ad experiences. We are committed to breaking the mold in creative innovation, while delivering the highest level of service and support. Founded in 2012, the Paris-based company has offices in London, Madrid, Milan, and Singapore, and delivers direct and programmatic advertising campaigns across the globe. For more information, please visit www. sublime.xyz