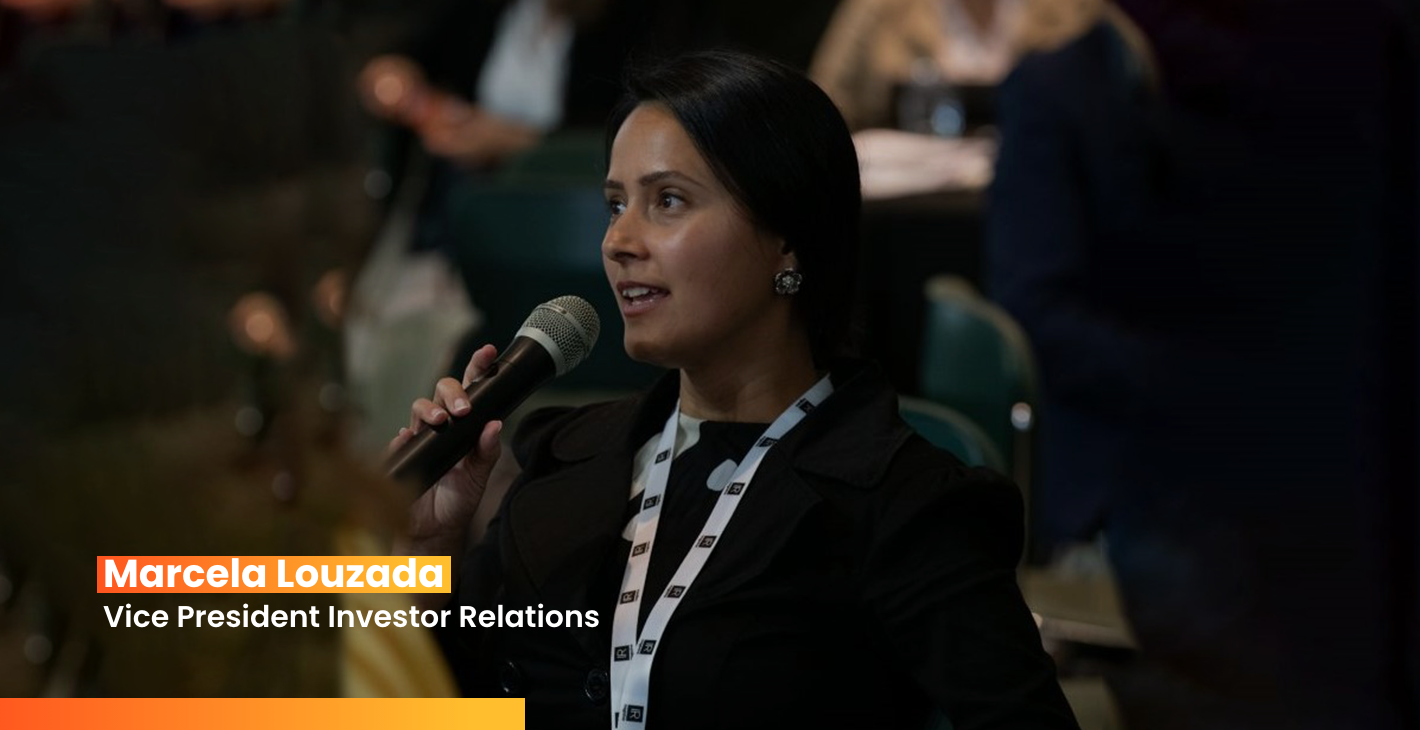 Amsterdam, 21 April 2022 – Azerion, the digital entertainment and media company, announces the appointment of Marcela Louzada to the newly created role of Vice President Investor Relations. An award-winning investor relations professional with international experience, Marcela will be responsible for crafting and implementing Azerion's investor relations strategy and financial communication framework.  She will be based in Azerion's headquarters in Schiphol Rijk. 
Over the past years, Azerion has built a unique "one-stop-shop" content-driven platform that fully capitalizes on the opportunities presented by the concurrent rise of digital gaming and digital advertising.  Drawing on 18-year experience in global markets, M&A and corporate finance, Marcela will have a critical role in informing investors about Azerion's value creation potential, driving the company's access to global markets and building long-lasting relationships with investors, analysts, and shareholders in Europe and beyond.  
Atilla Aytekin, CO-CEO, comments: "We are excited to welcome Marcela to the Group. As we enter a new chapter of our growth, we are putting greater emphasis on how we engage with the global investor community. Marcela brings the perfect mix of financial and digital acumen that would help us deliver a robust equity story and ensure we are appropriately positioned to all our stakeholders".
Marcela's appointment follows the successful market introduction of Azerion on the Euronext Amsterdam stock exchange in February this year.
Marcela joins from Royal Dutch Shell where she most recently served as Investor Relations Director. Winner of the Best Practice Award from IR Society in 2021 and shortlisted at various other awards, she has a strong track record in transforming and modernizing market communications and disclosures. 
Marcela earned a Master of Business Administration from Cambridge University. She also graduated from Universidade Federal of Rio de Janeiro in Manufacturing Engineering. A Brazilian national, Marcela is fluent in Portuguese, English and Spanish, and is proficient in German.
About Azerion
Azerion is a high-growth digital entertainment and media platform. As a content-driven, technology and data company, Azerion serves consumers, digital publishers, advertisers and game creators globally. Azerion's integrated platform provides technology solutions to automate the purchase and sale of digital advertising for media buyers and sellers, supported by in market sales and campaign management teams. Through our technology, content creators, digital publishers and advertisers work with Azerion to reach the millions of people across the globe that play Azerion's games and view its distributed entertainment content to increase engagement, loyalty and drive e-commerce.
Founded in 2014 by two Dutch entrepreneurs, Azerion has experienced rapid expansion driven by organic growth and strategic acquisitions. Azerion is headquartered in Amsterdam, the Netherlands and is a publicly traded company listed on Euronext Amsterdam. For more information visit: