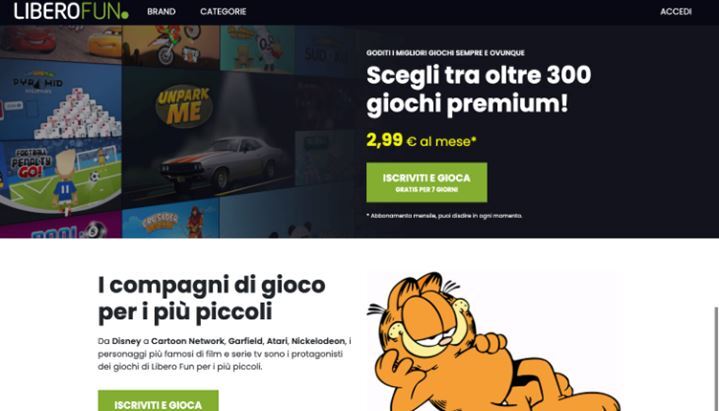 The largest Italian internet company Italiaonline partnered with Azerion to launch a subscription based games portal – Libero Fun. A single subscription of € 2.99 per month gives access to a catalog of 300 games for all ages, for multiple users, which can be used on a PC, tablet or smartphone
Italiaonline, the largest Italian internet company and owner of the Libero.it brand, launches a new premium games portal 'Libero Fun' with over 300 titles. With a subscription of 2.99 euros per month, players have access to the entire catalog to play via browser, on a PC, tablet or smartphone, wherever and whenever they want. The platform was created in partnership with Azerion, Europe's leader in casual online games.
The games are divided into various categories: arcade, action, adventure, cards and pawns, racing, educational, puzzles, simulation and sports. Games and the characters inside the service are among the best known and appreciated on the market today from Cartoon Network (Ben10, Paw Patrol …), Nickelodeon (SpongeBob), Rooplay (Garfield) and Atari (Arcade Games)
Libero Fun is for the whole family: a safe environment even for the little ones thanks to the parental control functionality and the ability to create KIDS profiles that will only allow access to selected games. The service can be activated free of charge for the first 7 days.
In the last year, the Home Entertainment segment and subscription streaming have experienced extraordinary growth and the prospects for growth are still very high. Libero Fun is an on-demand gaming service that can count on a very rich catalog and very famous titles, suitable for all age groups, from children with many games related to their favorite characters and educational games, to teen-agers and also to adults. Security, flexibility, catalog quality, unlimited access and fun at low prices, these are the key features of the new service that further enriches the portfolio of transactional services offered on our portals. Domenico Pascuzzi, Marketing Director Publishing Italiaonline said.
Gaming entertainment has become more popular than movies and music, and smart brands and publishers are using the strength of the channel to further monetize their audiences. We are delighted to work with Italiaonline to provide such a wide range of games, across all demographics says Carlo Poss, Country Manager Italy at Azerion We have carefully selected the games, making sure they are all family friendly. Italiaonline understands Italian consumer habits better than any other company, so we are very pleased that they are our first partner in Italy.