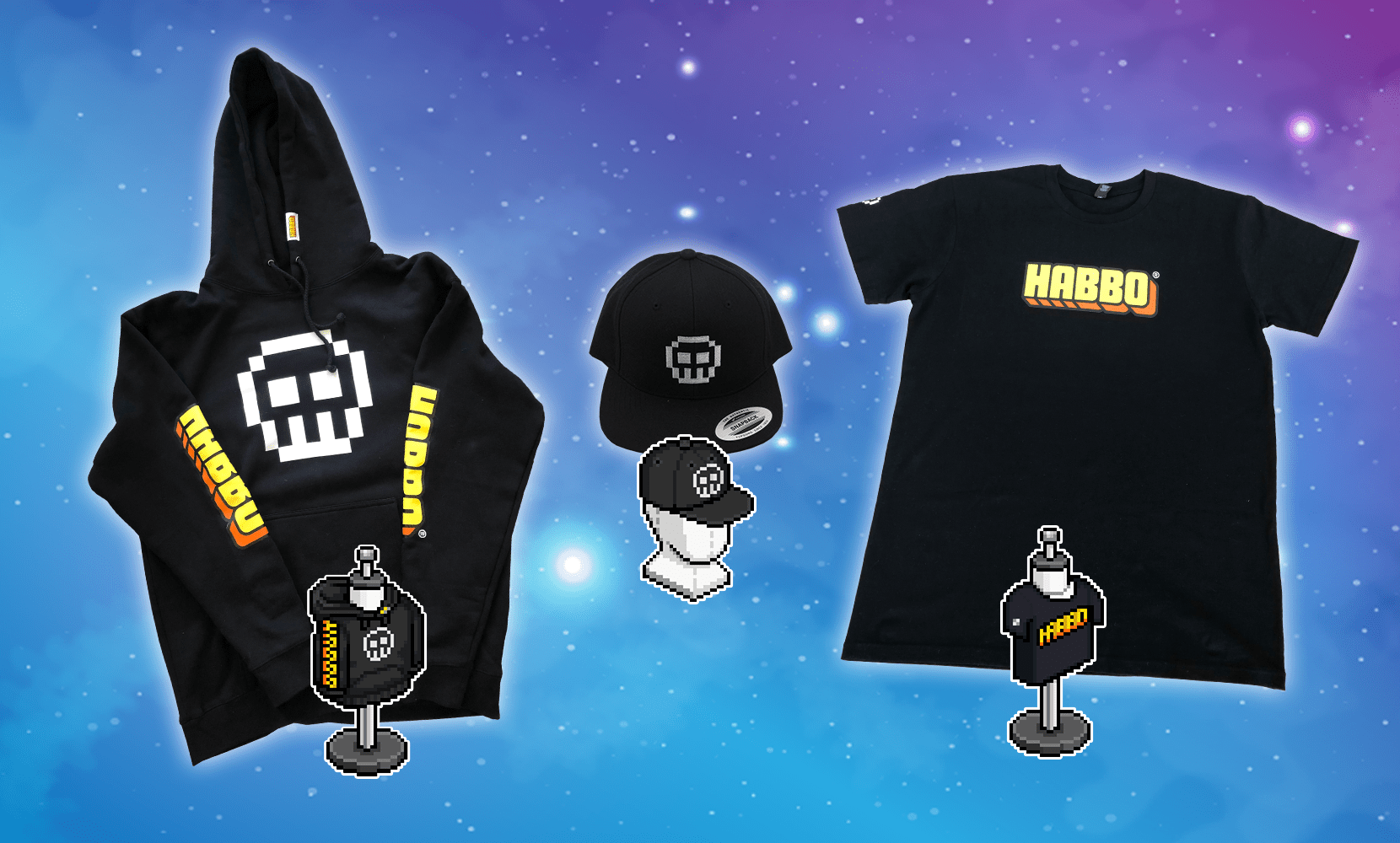 Hoodies, t-shirts and caps available for order now!
Helsinki, FI – May 20, 2022 – Sulake, part of the digital entertainment and media platform Azerion today announced new Habbo merchandise, including hoodies, t-shirts and caps, in partnership with Top Drawer Merch – known for their famous Adidas and Bored Ape Yacht Club merch drops. Alongside these new physical clothing items, fans will receive fully usable, in-game versions of the items purchased in the form of NFTs to use in Habbo. Each item purchased will come with a voucher code, so players can match their in-game avatar.
This sale marks the first physical Habbo merchandise launch in nearly 10 years, and the first time a merchandise drop has combined physical items with in-game digital versions as NFTs. Pre-sales of this new merchandise will be available on May 24th from this custom made Shopify store. After the pre-sale period ends, Top Drawer Merch will produce and distribute all items that have been ordered
"Habbo players have been asking for new merchandise over the years, and we are so happy to announce that our new Habbo merch is available in both physical and digital forms, combining real life and the metaverse!" said Valtteri Karu, CEO of Sulake. "We are excited to be working with Top Drawer Merch and we have full confidence in their commitment to quality, customer service and eco-friendly production practices."
About Azerion
Azerion is a high-growth digital entertainment and media platform. As a content-driven, technology and data company, Azerion serves consumers, digital publishers, advertisers and game creators globally. Azerion's integrated platform provides technology solutions to automate the purchase and sale of digital advertising for media buyers and sellers, supported by in market sales and campaign management teams. Through our technology, content creators, digital publishers and advertisers work with Azerion to reach the millions of people across the globe that play Azerion's games and view its distributed entertainment content to increase engagement, loyalty and drive e-commerce.
Founded in 2014 by two Dutch entrepreneurs, Azerion has experienced rapid expansion driven by organic growth and strategic acquisitions. Azerion is headquartered in Amsterdam, the Netherlands and is a publicly traded company listed on Euronext Amsterdam. For more information visit:
About Habbo and Sulake
Sulake is a social entertainment company focused on providing a safe and fun online service for self-expression through its games, Habbo and Hotel Hideaway. Sulake was founded in 2000 by a small team of passionate people and now after 20 years, Habbo is still one of the largest virtual communities in the world, reaching players all over the world each month. With paying customers in over 115 countries and over 850,000 active users a month, Habbo continues to be a hugely popular and globally recognised brand.
Sulake's mission is to enable its users to meet new people, make friends and give them a place to create and share their user-generated content in fun virtual surroundings. Sulake was acquired in 2020 by Dutch media and technology company Azerion. www.sulake.com
About Top Drawer Merch
Top Drawer Merch is a premium full-service merchandise and technology agency based in Los Angeles, CA, focused on providing our partners with elevated, white-glove core services while developing and integrating creative solutions and innovative technology.