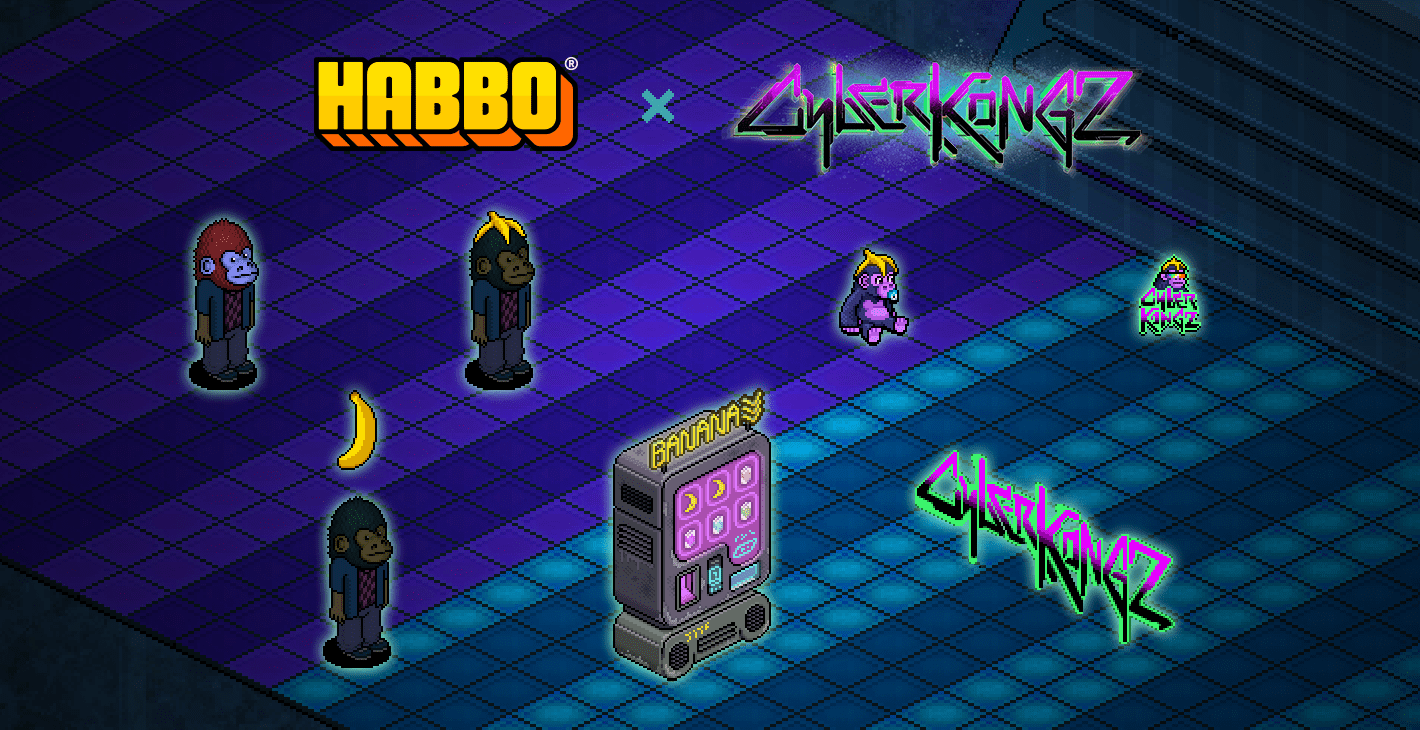 News on Habbo NFT interoperability unveiled in keynote speech at the event
Amsterdam, NL – June 16th 2021 — Azerion, the digital entertainment and media platform, today announced that Habbo will be partnering with popular blockchain brand CyberKongz. This partnership, announced during the MET AMS Metaverse festival, is the third that Habbo has undertaken in recent weeks as it increases the utility of NFTs within Habbo hotels. This was announced as Azerion presented at the MET AMS festival in Amsterdam (running 14th-17th June) where they are introducing the newest developments at their booth, as they continue to pioneer their corner of the Web3 metaverse. Additionally, industry leader Mika Timonen, NFT Director, gave a keynote presentation at the conference on the use of NFTs in Habbo in increasing interoperability in Web3.0.
CyberKongz NFT holders will be able to unlock unique in-game collectibles including clothing, badges and furniture to decorate their hotel rooms (as well as bespoke speech bubbles and effects in a future Habbo update) by connecting their crypto wallets to their Habbo account. These items will be exclusively owned and tied to owning CyberKongz NFTs, allowing owners to show off their collections in Habbo and feel connected to the wider NFT community. Habbo will also create a decorative community room for the collaborations as a social hub for the collection.
"We are so excited to bring the CyberKongz community to Habbo," said Mika Timonen, NFT Director. "CyberKongz is one of my favorite projects and is the perfect project to help kick off our collaborations."
"Habbo Hotel is one of the OG projects back from the early Web2 days and I vividly remember playing it as a kid… Witnessing brands like them harnessing the power of NFTs and Web3 is truly inspiring and a match made in heaven! We are super proud and excited to collaborate with such an amazing project!" said myoo, founder of CyberKongz.
"CyberKongz joining Habbo is a huge step in strengthening our position as the leading Metaverse in the industry," said Jurriaan van Teunenbroek, Vice President of Games & Content at Azerion. "Habbo has over 20 years experience entertaining people and being the ultimate place for people  around the globe with shared interests to socialise and interact with each other, allowing them to connect in a safe and fun environment."
For more information on Habbo and the latest NFT integration efforts and FAQs:
Follow Habbo on Twitter: @Habbo
Follow the Habbo Avatars project on Twitter: @HabboNFT
Join our channel for the latest updates: http://discord.gg/habbo-nft
For more info on Habbo's work with Offsetra: https://offsetra.com/profile/sulake
About Azerion
Azerion is a high-growth digital entertainment and media platform. As a content-driven, technology and data company, Azerion serves consumers, digital publishers, advertisers and game creators globally. Azerion's integrated platform provides technology solutions to automate the purchase and sale of digital advertising for media buyers and sellers, supported by in market sales and campaign management teams. Through our technology, content creators, digital publishers and advertisers work with Azerion to reach the millions of people across the globe that play Azerion's games and view its distributed entertainment content to increase engagement, loyalty and drive e-commerce.
Founded in 2014 by two Dutch entrepreneurs, Azerion has experienced rapid expansion driven by organic growth and strategic acquisitions. Azerion is headquartered in Amsterdam, the Netherlands and is a publicly traded company listed on Euronext Amsterdam. For more information visit:
About CyberKongz
CyberKongz is a social and gaming WEB3 brand made up of NFT avatars focused on interoperability in Metaverse and play-to-earn gaming. What started March 2021 as a Genesis collection of 1,000 unique and randomly generated NFTs, developed into a community-based project that introduced many innovations for the NFT industry, including: 
$BANANA utility token

CyberKong Baby breeding

Creating the term "VX" for 3D Voxels avatars

Creating our Play & Kollect game on Polygon

Creating a 2FA on chain (Guardian Contract) 
The CyberKongz community hosts some of the finest developers and experts in the NFT, DeFi, and gaming space who have helped push the brand's success. This includes 5,000 2D avatars, 15,000 3D avatars, metaverse-ready accessories, incubator projects, top-tier partnerships, Kongz-branded video games, and so much more to come.
About Habbo
Habbo is an online community aimed at teens and young adults and one of the largest virtual communities in the world. Founded in 2000, Habbo has expanded to nine online communities (or "hotels"), with paying customers in over 150 countries and more than 600,000 active users a month. Habbo was originally developed by Sulake, a Finnish company owned by Azerion.
About MET AMS
MET AMS is Europe's leading metaverse festival taking place in Amsterdam, June 2022. The 4-day festival is the first of its kind and will include keynotes, panels, talks and workshops as well as immersive experiences and installations from 100+ thought leaders, artists and brands shaping this space. The event will explore different aspects of metaverse culture, from how NFTs and the metaverse are impacting every industry – from art and music through to fashion and gaming – as well as covering important topics like diversity, inclusion and sustainability. Bringing to life the metaverse and the technology you've been reading about in a special way, MET AMS is one of the most immersive conferences to date. Find more information here.