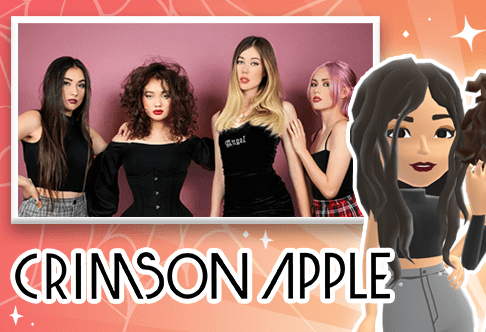 Crimson Apple's "Hideaween" concert on October 29 is the next in Hotel Hideaway's ongoing live music series
Amsterdam – October 22, 2021: Start celebrating Halloween a little earlier this year with Hotel Hideaway and Crimson Apple!

The alt-pop band's performance on Friday, October 29 will be broadcast at 4PM CET, 4PM EDT, 4PM PDT, and 4PM GMT+7.

The sister act with a global fanbase
Originating from the Hawaiian island of Oahu, Crimson Apple features sisters Colby (lead vocals), Shelby (guitar, vocals), Carthi (bass, vocals), and Faith (drums, vocals) Benson. The band's eclectic pop sound and charming sibling dynamic have attracted an audience of 1.9 million fans on TikTok. Their powerful live performances have made Crimson Apple a popular fixture at music festivals and opening act for bands such as The Chainsmokers, Plain White T's, and All Time Low.
Crimson Apple are thrilled to give a virtual concert at Hotel Hideaway: "We're unbelievably excited to be working with Hotel Hideaway and bringing this never-before-seen Crimson Apple concert to an audience of players worldwide. We hope you're ready for some Halloween fun and can't wait to see you all there!"
Sweetening the deal this Hideaween
To make this year's Hideaween extra memorable, we are giving away 20 backstage passes to the Crimson Apple meet-and-greet on Monday, November 8, 2021. To enter, just screenshot a picture from Crimson Apple's concert at Hotel Hideaway and post it on Instagram.
Crimson Apple live and direct
Crimson Apple plays Hotel Hideaway October 29 at the following times:

4 PM CET
4 PM EDT
4 PM PDT
4 PM GMT+7
The virtual concert
Hotel Hideaway is a social online 3D hotel where players can create an avatar, make friends, and furnish their own rooms. The game is developed by the creators of Habbo Hotel and has become an increasingly popular hangout with more than a million users visiting each month worldwide. With this concert Sam Fischer will follow in the footsteps of DJ Luuk van Dijk, Sydney Samson, DJ Mark Sixma, Trixie Mattel, Cookiee Kawaii and Fly by Midnight who performed earlier this year in the game. Interested in attending the show? Download the game via the Apple App Store
About Azerion
Azerion is a fast-growing and leading pan-European digital entertainment and media platform. Our integrated platform provides technology solutions to automate the purchase and sale of digital advertising for media buyers and sellers. Content creators, publishers and advertisers work with us to reach millions of people across the globe that play our games and use our entertainment concepts to increase engagement, loyalty and drive e-commerce. Founded in 2014 by two Dutch entrepreneurs, Azerion has experienced rapid expansion thanks to organic growth and strategic acquisitions. Azerion is headquartered in Amsterdam, the Netherlands.