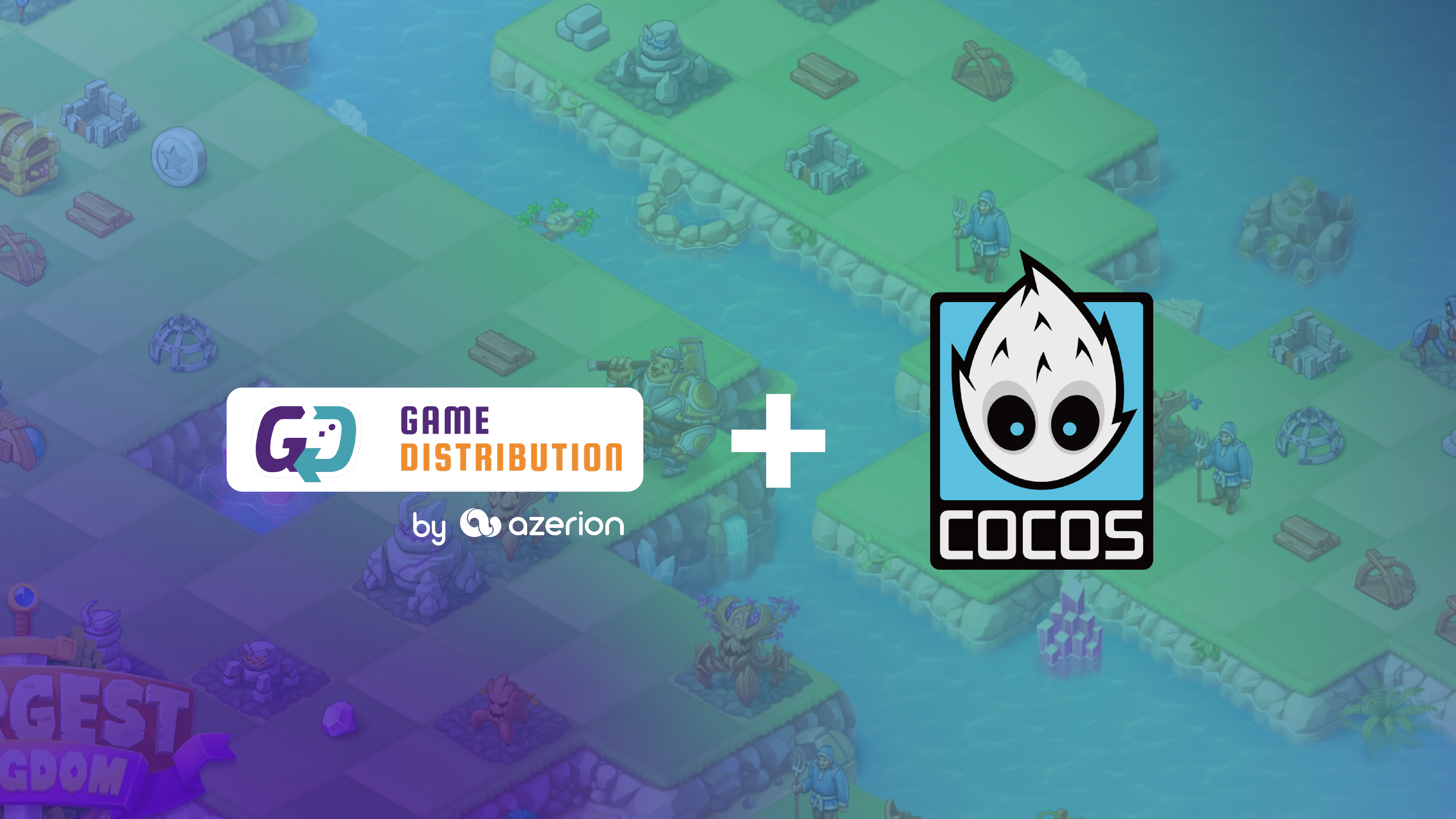 This partnership gives game developers the ability to easily publish their games via the open source development engine, Cocos – within Azerion's huge distribution network, free of charge.
Amsterdam, The Netherlands – 3 May 2022 – Azerion, the digital entertainment and media platform, announced a partnership with Cocos, one of the leading game engines that helps developers to easily create quality games and apps. Thanks to a plugin that was created in collaboration with Azerion's gamedistribution.com, the Azerion casual games distribution platform offers Cocos developers an easy way to benefit from the significant reach of Azerion's gaming portals network free of charge. This partnership enables game developers that build their games in Cocos to distribute their content to the more than 2,400 gaming portals within the Azerion network.
Yuliya Nabieva, Director of Casual GamesDistribution at Azerion: ''We're proud to team up with Cocos to provide game developers with the tools they need to bring games to new publishing channels. As a result of our collaboration, game developers can present their creativity to millions of players worldwide through thousands of gaming portals powered by Azerion's casual games distribution platform. A special plugin, developed by Azerion, is already available in the Cocos Engine and we encourage developers to try it and to make their games available to players outside traditional publishing platforms. Together with Cocos, we will continue supporting the developer community by bringing more diversity for publishing and profound monetization products for monetization.''
Easy access to millions of players
Azerion has created a special plugin in the popular Cocos Engine. Over 1.4 million developers worldwide are using Cocos cross-platform engine with a total of 25 thousand games made.
Luke Stapley, Marketing Director at Cocos: "We're excited to be working with a great company like Azerion, who are working hard in bringing about the next generation of web games that can be easily accessed on your computer, phone, and TV. Our goal has always been to make game development easier and adding this partnership will help those using Cocos Creator bring their games to thousands of places. We hope this is just the first step in many great things coming to the casual gamer."
More information about Cocos can be found here.
About Azerion
Azerion is a high-growth digital entertainment and media platform. As a content-driven, technology and data company, Azerion serves consumers, digital publishers, advertisers and game creators globally. Azerion's integrated platform provides technology solutions to automate the purchase and sale of digital advertising for media buyers and sellers, supported by in market sales and campaign management teams. Through our technology, content creators, digital publishers and advertisers work with Azerion to reach the millions of people across the globe that play Azerion's games and view its distributed entertainment content to increase engagement, loyalty and drive e-commerce.
Founded in 2014 by two Dutch entrepreneurs, Azerion has experienced rapid expansion driven by organic growth and strategic acquisitions. Azerion is headquartered in Amsterdam, the Netherlands and is a publicly traded company listed on Euronext Amsterdam. For more information visit:
About Cocos
Founded in Xiamen, China on December 30, 2011, YAJI Software, the official team of Cocos Engine, has independently developed a series products, including the second generation game engine "Cocos Creator", and the world's most popular open source engine framework "Cocos2d-x", relying on its profound technical background and years experience in the Game Industry. Cocos, whose vision is to "Simplify Game Creation", has served more than 1.4 million game developers From 195+ countries. Cocos allows developers and artists to work together seamlessly thanks to its open-source framework, Cocos2d-x and GUI editor, Cocos Creator. Cocos effectively enables developers to create games for all major platforms, including iOS, Android, Facebook Instant Games, WeChat Mini Games, HTML5 as well as desktop platforms.