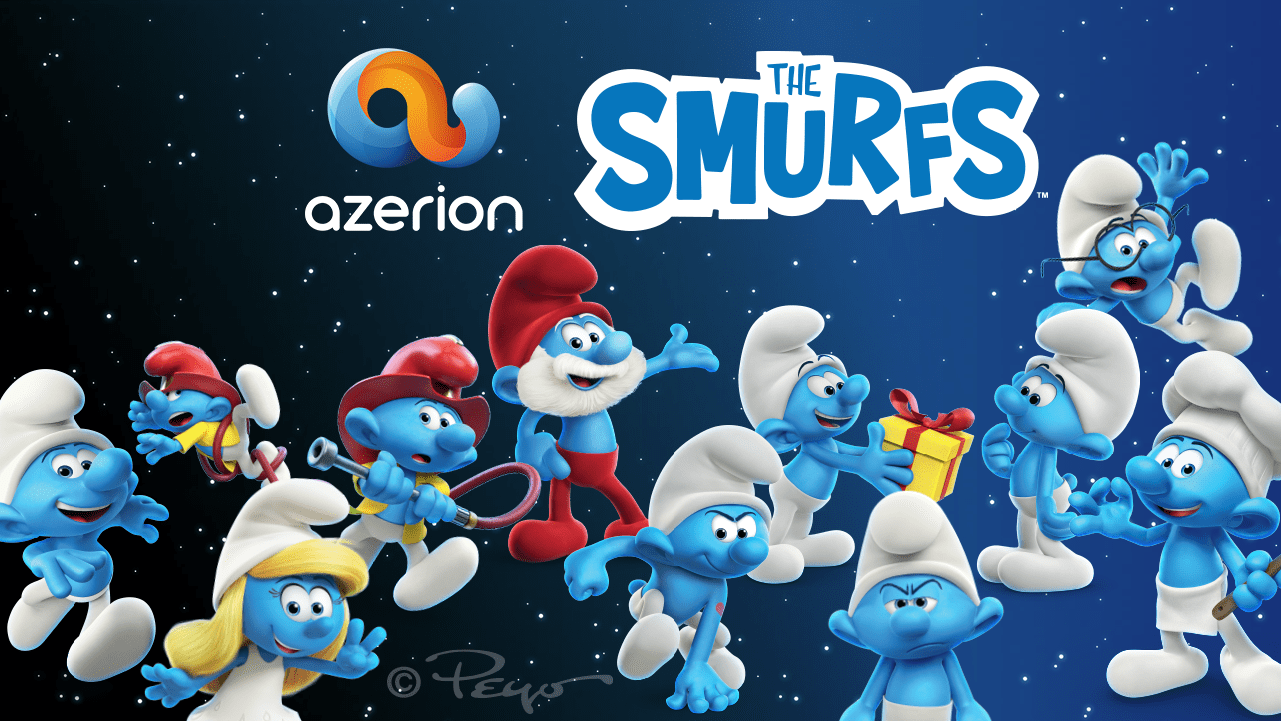 IMPS/Lafig and Azerion — together we'll Smurf it!
Amsterdam, June 1st – Azerion will launch a series of Smurfs games to tie in with a new TV show launching this autumn
Azerion, the leading pan-European digital gaming and monetisation company, announces today that it will be the casual gaming partner for IMPS/Lafig, the firm which manages the Smurfs IP.
Five new Smurf games will be developed and distributed by Azerion over the next year. The games will be available globally within Azerion's distribution channels, including on web portals with a reach of 220 million unique players. In addition to this, selected games will be exclusively available on the gaming subscription channels and telecommunication services.
The games will be released at the same time as a new Smurfs TV series to be aired around Europe and in the US later this year. The casual games developed by Azerion will add to its various platforms' appeal for the pre-school and tween demographics.
Azerion's developers will build on positive Smurf values for players. They will emphasise such ideas as teamwork, skills development and environmental awareness.
We are more than thrilled and honoured to be working with these iconic characters, says Umut Akpinar, Azerion's co-CEO. The Smurfs are among the funniest and most-loved comic book personalities ever created. Featuring them in our games portfolio will boost our engagement with players around the world.
The addition of such an iconic IP to the portfolio is expected to add to user engagement levels for Azerion's publisher partners and improve reach for advertisers targeting this type of audience.
I am very happy with this beautiful partnership, says Véronique Culliford, President and founder of IMPS, and daughter of Peyo, the Smurfs' creator. I have always played online and the idea of having five games specifically featuring my little Smurfs enchants me. I'm sure they will appeal to all Smurf fans, everywhere.
About the Smurfs, Peyo, their creator, and IMPS/ Lafig (International Merchandising Promotions & Services)
IMPS is the official licensor of the little blue-skinned characters 'The Smurfs'. Since 1984, IMPS has worked in close collaboration with their agents worldwide to develop successful licensed merchandising programmes, retail and co-branded promotions, publishing activities, broadcasting deals, theme parks, live shows, video games, online games, and Smurf music. These have secured the everlasting success of the Smurfs. IMPS is run by Véronique Culliford, the daughter of Pierre Culliford, the creator of the Smurfs, who is better known under his pseudonym Peyo.
About the new Smurfs TV series
The Smurfs is a Peyo Productions and Dupuis Audiovisuel production, in co-production with KiKA, KETNET and RTBF, with the participation of TF1 and with the participation of Wallimage (La Wallonie), of Screen Flanders, of BNPPFFF and with the support of the Tax Shelter of the Belgian Government and the participation of the CNC. Season 1 – 52 episodes / 11 minutes / 3D CGI © Peyo Productions – Dupuis Édition & Audiovisuel – Dargaud Media – KiKA – KETNET – RTBF.be – 2021
About Azerion
Azerion is a fast-growing, pan-European company, leading the way in digital gaming and monetisation. Hundreds of millions of people play our games and watch our videos. Advertisers reach massive audiences and targeted groups with our tech. Publishers earn top revenue with our tech and engage quality audiences with our content. Uniquely, Azerion works across these groups. We spot synergies, find efficiencies and weave together the best elements from our business for each of our brands and users. Founded in 2015 by two Dutch entrepreneurs, Azerion has experienced rapid expansion thanks to organic growth and strategic acquisitions. Azerion employs more than 900 employees across 19 offices and is headquartered in Schiphol-Rijk, Amsterdam, the Netherlands.
Azerion: content, reach, revenue, engagement — a million possibilities
Azerion key facts:
220 million players 16,100 games 1.5 billion content views per month 2000 publishers