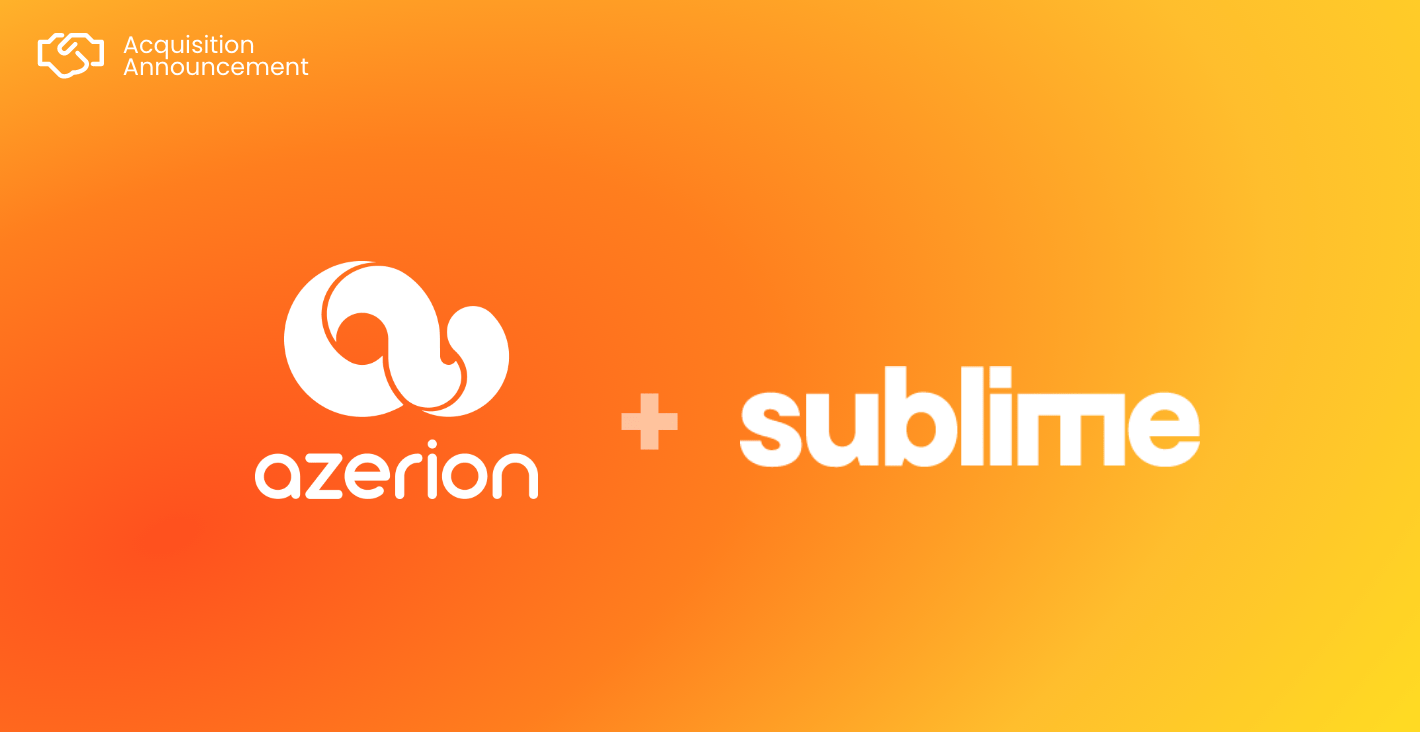 by integrating Sublime's unobtrusive advertising capabilities into Azerion's technology stack we further improve the user experience and advertising performance of the platform simultaneously
Amsterdam, 3rd of September 2021 – Azerion, the fast-growing digital gaming and monetisation platform, today announces the acquisition of French digital advertising company Sublime. Sublime delivers creative and effective tailor-made programmatic advertising solutions to premium brands and publishers worldwide. As part of the Azerion ecosystem, this acquisition will bolster the company's programmatic and monetisation offering across Europe.
With the acquisition of Sublime, we further strengthen our digital advertising platform. Since their launch in 2012, their impactful, user-friendly and scalable formats have changed the digital advertising industry. Sublime's DNA aligns perfectly with Azerion's multicultural values and European approach. Therefore, we expect Sublime to add immediate value to our platform and help execute premium creative content on behalf of the brands we work with across Europe., says Sebastiaan Moesman, Chief Revenue Officer of Azerion.
Sublime's proprietary ad technology helps advertisers respond to the pressing issue of viewability, engagement and performance by delivering premium, user-friendly digital ad formats to highly targeted audiences. Its creative solutions help advertisers and top tier brands generate high impact ad campaigns whilst protecting the user experience.
Andrew Buckman, CEO at Sublime, adds: After nine years growing into a reputable European player with a global ad network of 4,000 leading publishers and more than 2,000 premium partner brands, we are really excited to be growing the company further by joining one of the world's leading platforms. Azerion's dynamic environment will give us the opportunity to scale up our operations and continue to develop our top-notch adtech technology whilst accessing a wider network of brands and publishers."
About Azerion
Azerion is a fast-growing pan-European digital gaming and monetisation platform. We develop and operate a safe and reliable online social gaming and entertainment platform for people of all ages to enjoy. Our integrated platform includes monetisation features and provides technology solutions to automate the purchase and sale of digital advertising for media buyers and sellers. Content creators, publishers and advertisers work with us to reach millions of people across the globe that play our games and use our entertainment concepts to increase engagement, loyalty and drive e-commerce. Founded in 2014 by two Dutch entrepreneurs, Azerion has experienced rapid expansion thanks to organic growth and strategic acquisitions and is headquartered in Amsterdam, the Netherlands.
About Sublime
Sublime creates and delivers Creative Solutions to brands looking for effective advertising. We offer high-impact solutions where market-leading technology combines with a creative-first approach. Sublime simplifies the delivery of premium, meaningful & user-friendly brand ad experiences. We are committed to breaking the mould in creative innovation, while delivering the highest level of service and support. Founded in 2012, the Paris-based company has offices in the UK, Madrid, Milan, Lyon and Singapore, and delivers direct and programmatic advertising campaigns across the globe. For more information, please visit www.sublime.xyz
Sublime Key Figures
A global Ad network of 2,000 premium brands and 4,000 leading publishers
Serving all verticals (auto, FMCG, Retail, Consumer Electronics…)
2bn monthly impressions