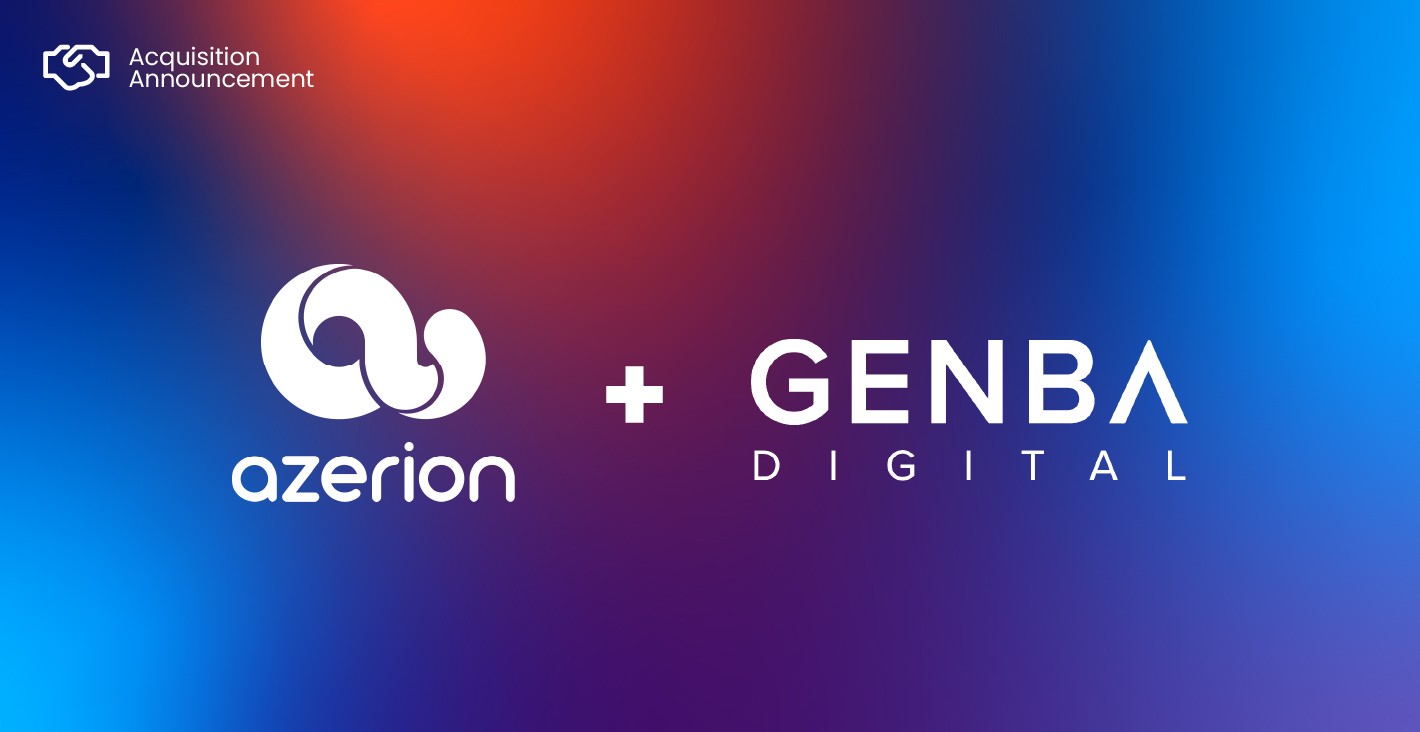 Amsterdam, 14th September 2021 – Azerion, the fast-growing digital gaming and monetisation platform, today announces the new addition of Genba Digital, the British digital distribution company, and owner of the GENBA™ platform, an award-winning automated API-driven digital logistics platform that connects content owners with prominent retailers around the globe.
Erol Erturk, Executive VP Games & Strategic Partnerships at Azerion, said: We have been working with Genba's team for a long time now, they are well-respected specialists with in-depth expertise in digital insight, technical guidance and revenue growth in digital distribution of premium video games. Genba's platform will allow us to offer content owners a whole new world of sales channels, and to connect quicker and more efficiently with our media publisher partners, by offering innovations like white-label stores of premium PC games.
The benefits of the integration of the GENBA™ platform technology with Azerion's Improve Digital environment are two-fold. First, it will enable Azerion to attract more game developers by ensuring more efficient and secure distribution of their games to a worldwide network of specialist games e-tailers. Second, the platform will provide its network of online retailers with increased access to Genba's extensive catalogue of video games and software content.
Matt Murphy, CEO of Genba Digital, further comments: Since 2015 we've worked tirelessly to build up a portfolio of 90 leading video games content owners and 300 sales channels. We are excited to be part of the Azerion Group as it gives us the potential to build on the Genba proposition with new technology services for our content owners and our retailers, whilst opening up new video games sales channels."
About Azerion
Azerion is a fast-growing pan-European digital gaming and monetisation platform. We develop and operate a safe and reliable online social gaming and entertainment platform for people of all ages to enjoy. Our integrated platform includes monetisation features and provides technology solutions to automate the purchase and sale of digital advertising for media buyers and sellers. Content creators, publishers and advertisers work with us to reach millions of people across the globe that play our games and use our entertainment concepts to increase engagement, loyalty and drive e-commerce. Founded in 2014 by two Dutch entrepreneurs, Azerion has experienced rapid expansion thanks to organic growth and strategic acquisitions. Azerion is headquartered in Amsterdam, the Netherlands.
About Genba Digital
Genba Digital connects digital content owners and sellers to deliver efficient distribution and revenue growth. Launched in 2015 in Leamington Spa, UK, we had a vision to provide game-changing distribution to a range of clients around the globe. Today, we are proud to have developed an industry-leading platform, GENBA™, that sets the standard in transparency and security. Originating in PC, we now apply our expertise and insights across geographical regions and platforms, providing access to a huge catalogue of quality digital content. We work with 90+ publishers and 300+ retail partners across 195 countries. From securely widening retail networks for games and software publishers, to providing digital stores with fast access to the best content; we build close, collaborative relationships that deliver the best possible results.