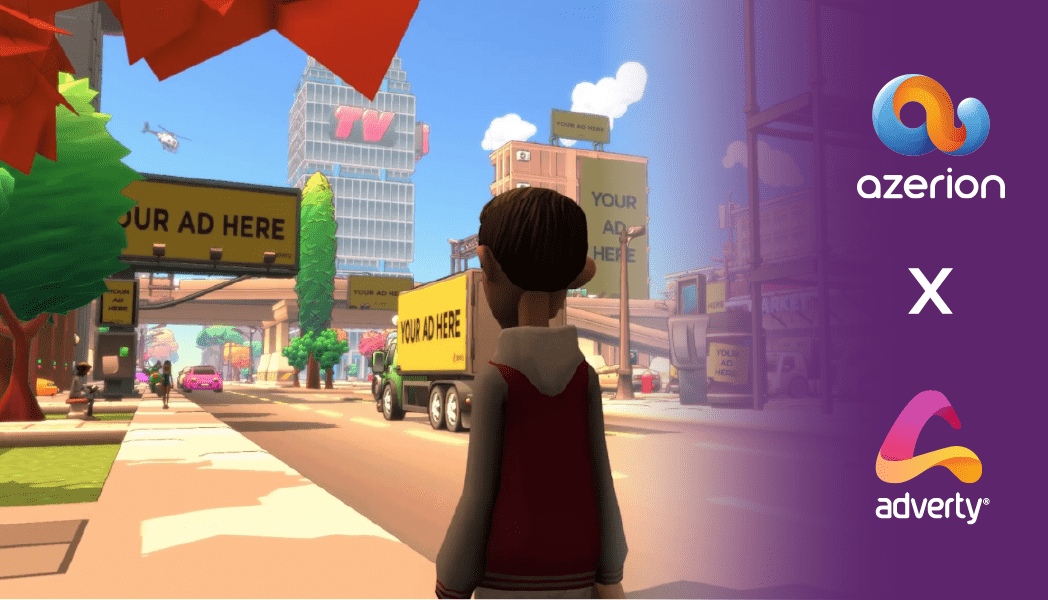 The partnership with Azerion's premium advertising platform (Improve Digital), designed to enable more advertisers to leverage its market-leading programmatic in-game offering.
Amsterdam, The Netherlands – August 23rd – Adverty, the leading in-game platform for advertisers, agencies and game developers, has announced a partnership with Azerion's premium advertising platform (Improve Digital), which will increase its programmatic reach for brands and advertisers looking to enter the increasingly influential world of gaming.
Adverty delivers unobtrusive advertising which connects brands and audiences through its revolutionary and patented technology, built specifically for gaming. The partnership with Azerion and its platform integration with Improve Digital will allow buy-side clients to access Adverty's innovative In-Play and In-Menu ad formats in mobile games at scale. The partnership has already activated in-game advertising campaigns with brands such as Calvin Klein, and will launch in full during October 2021, once the technical integration of platforms is complete.
Daan Boekestein, VP Product at Azerion, comments: With this exciting partnership we are able to provide even more opportunities for brands to effectively reach and engage with premium gaming audiences through new and innovative in-game ad formats. Azerion's growing ecosystem is providing additional monetisation opportunities for media businesses whilst vastly improving reach for advertisers.
This news follows Adverty's unprecedented growth on the supply-side recently, having signed partnerships with TapNation, Mamboo Games, Lucky Kat Studios, Goldtown Games and Playducky. With interest in in-game advertising soaring, not to mention Adverty's collaboration with Oracle's Moat for third-party ad verification and its recent US patents granted for its work around in-game viewability, the collaboration comes at an exciting time.
About Adverty
Adverty, the leading in-game advertising platform, delivers seamless In-Play™ and In-Menu™ ads to connect brands and people through its revolutionary and patented technology built for games. The platform offers true in-game ad inventory at scale and allows content creators to monetise the complete experience with unobtrusive, easy-to-integrate, immersive ads. Founded in 2016, Adverty has offices in Stockholm, London, New York, Madrid, Helsinki, St Petersburg and Lviv and works with advertisers, agencies and developers to unlock audiences and gaming revenue streams. More information at www.adverty.com.
About Azerion
Azerion is a fast-growing, pan-European company, leading the way in digital gaming and monetisation. Hundreds of millions of people play our games and watch our videos. Advertisers reach massive audiences and targeted groups with our tech. Publishers earn top revenue with our tech and engage quality audiences with our content. Uniquely, Azerion works across these groups. We spot synergies, find efficiencies and weave together the best elements from our business for each of our brands and users. Founded in 2014 by two Dutch entrepreneurs, Azerion has experienced rapid expansion thanks to organic growth and strategic acquisitions. Azerion employs more than 955 employees across 24 offices and is headquartered in Amsterdam, the Netherlands.
Azerion: content, reach, revenue, engagement — a million possibilities