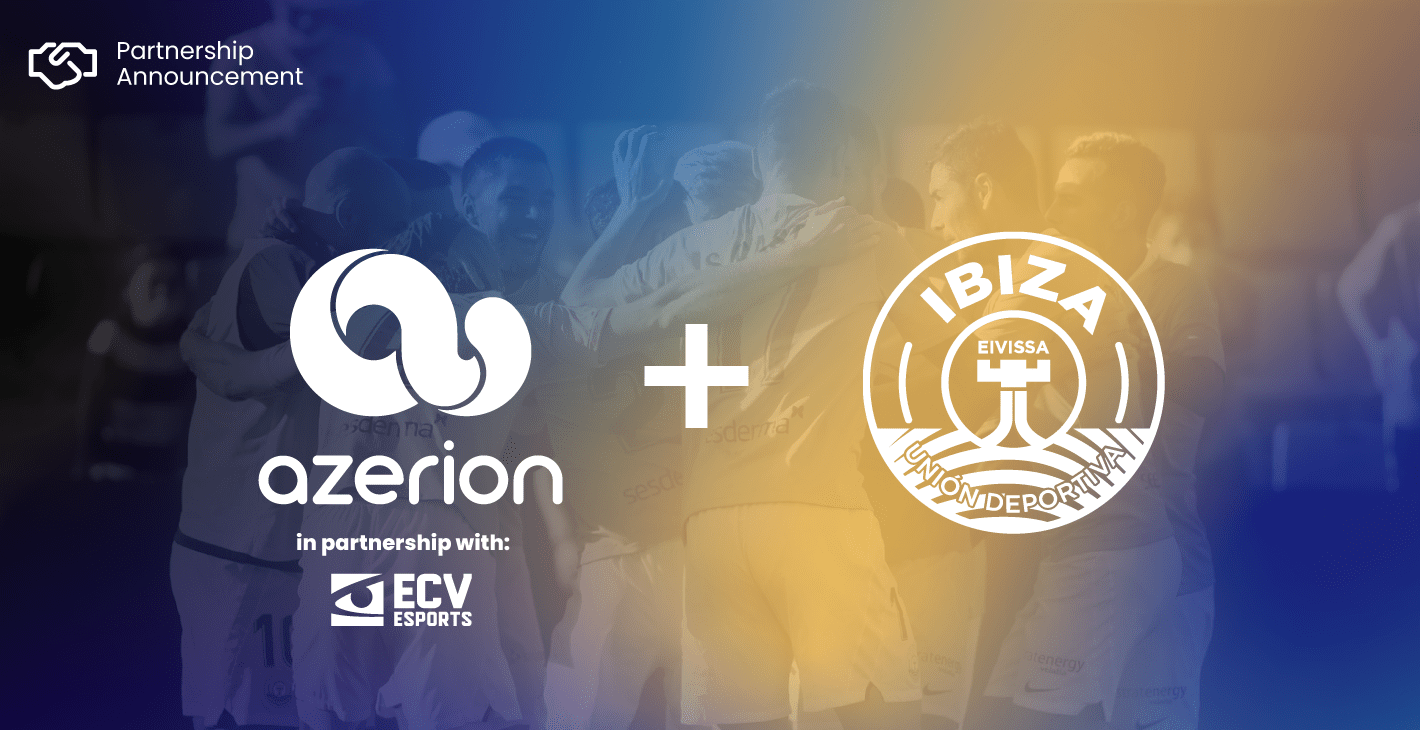 Azerion to oversee development and sponsorship of UD Ibiza's esports team, work with club on gamifying the entire fan experience 
Amsterdam – November 9, 2021: Azerion, the digital entertainment and media platform, is excited to announce its partnership with Spanish football club Unión Deportiva (UD) Ibiza.  
Enhancing digital fan experiences
With ongoing partnerships alongside Dutch football clubs AFC Ajax and Fortuna Sittard, Azerion's initial one-year partnership with Spanish club UD Ibiza broadens the reach of Azerion's expertise in creating engaging digital fan experiences and developing new ways to monetise football clubs' interaction with fans.
Among the key objectives of the Azerion-UD Ibiza partnership is the establishment and monetisation of UD Ibiza's esports team. In this, Azerion will work closely with its corporate partner, ECV Esports, to scout, develop, coach, and manage players.
Official kickoff
The Azerion-UD Ibiza partnership commences upon signing. Speaking of the partnership, Amadeo Salvo, UD Ibiza's president, says, "It is a pleasure to have Azerion as a partner. With them, UD Ibiza will try to quantitatively increase its digital footprint in an increasingly technological world. The times and habits of our fans are changing more and more, and we want to be a part of it. It is because of this that thanks to this alliance, fans will be able to approach our club in a way that they have never done before, reaching them in a direct yet innovative way."

Robbert Oomens, Azerion's Head of Publishing at Azerion, commented, "We are delighted to announce our partnership with UD Ibiza. With them, we are gamifying the fan experience, making the football club and its players more accessible to fans. Esports, of course, is an important component of this partnership and we are honoured to have the chance to develop UD Ibiza's team for competition in the eLaLiga. We are looking forward to our year ahead and to a productive partnership beyond that."
About Azerion
Azerion is a fast-growing and leading pan-European digital entertainment and media platform. Our integrated platform provides technology solutions to automate the purchase and sale of digital advertising for media buyers and sellers. Content creators, publishers and advertisers work with us to reach millions of people across the globe that play our games and use our entertainment concepts to increase engagement, loyalty and drive e-commerce. Founded in 2014 by two Dutch entrepreneurs, Azerion has experienced rapid expansion thanks to organic growth and strategic acquisitions. Azerion is headquartered in Amsterdam, the Netherlands.
About UD Ibiza
UD Ibiza was founded in June 2015. In bringing professional football to the island, a first in Ibiza's history, the club's board of directors started the ambitious work of transforming UD Ibiza into a world class football and sporting club. UD Ibiza currently competes in LaLiga SmartBank.