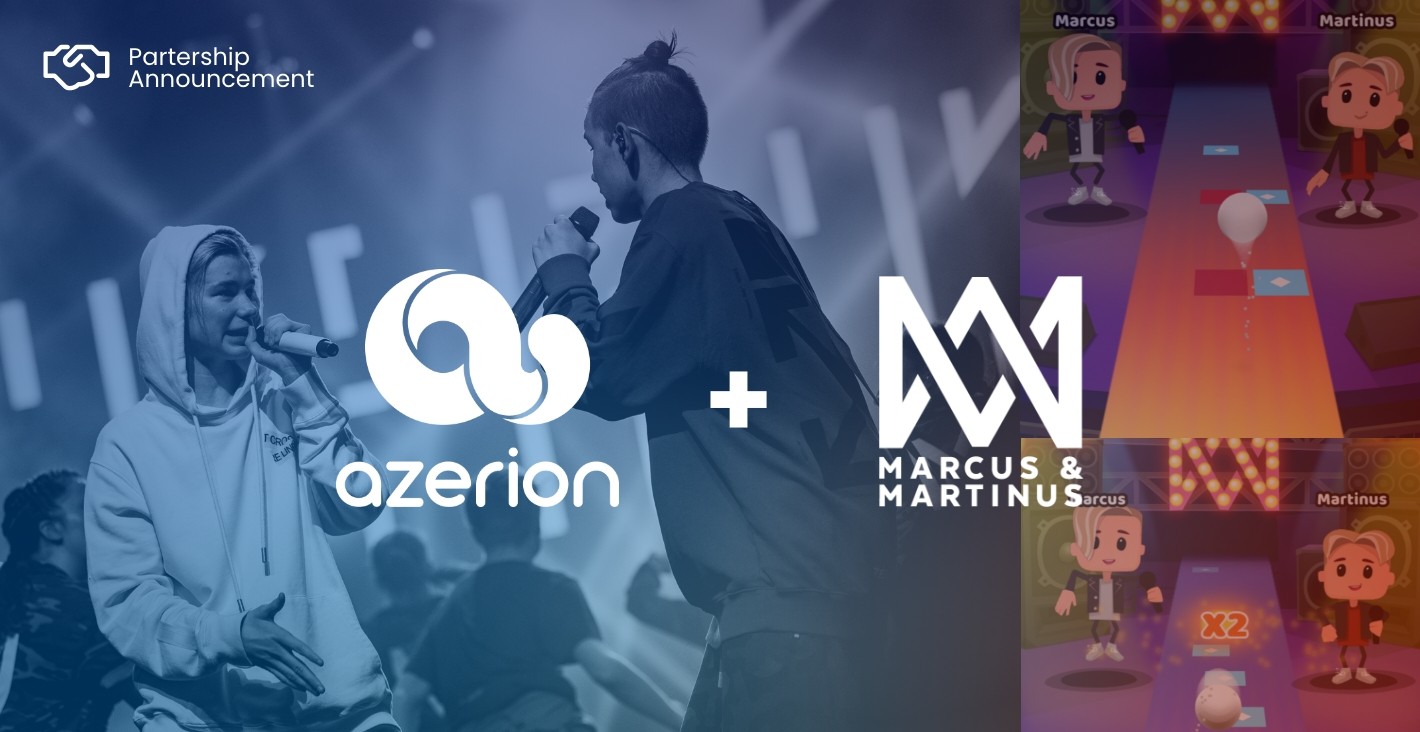 Amsterdam – October 5th, 2021 – Azerion, the digital media platform and Telenor, are happy to announce the new generation music rhythm game Marcus & Martinus Beat Hop featuring Norwegian super stars Marcus & Martinus. Beat Hop is exclusively available in Norway through the online portal Spill fra Telenor, on mobile via the Telenor Spill app in Google Play Store and the Apple Appstore as the result of an exclusive partnership. Players who join now will have two months free access to Marcus and Martinus Beat Hop and to more than 500 games on the premium game platform Spill fra Telenor. Moreover, those who set high scores in the game will have a chance to win a meet and greet with the Norwegian superstars!
New Exclusive Game: Marcus & Martinus Beat Hop Marcus & Martinus Beat Hop is a multiplayer music rhythm game where players compete to break the high score on their favorite songs of Marcus & Martinus to become their biggest fan and win a meet and greet with the Norwegian superstars! Players can play the game by fully customizing the authentic outfits, unlock their characteristic dance moves and enjoy the favorite Marcus & Martinus songs. In the brand-new rhythm game players have the opportunity to get the highest scores on the leaderboards and earn surprises from Marcus & Martinus. Beside the multiplayer mode, players have the ability to enjoy the game in single player mode too. Azerion has developed Marcus and Martinus Beat Hop together directly with Marcus & Martinus and their fans to deliver an experience as authentic as possible
This is the first time ever that the Norwegian pop stars appear in a video game with their famous songs. We are very happy and proud that we can finally share our own unique music game with our fans in these difficult times. Thanks to the fantastic collaboration with Azerion and Telenor we can deliver the game we love to play and bring it to our fans. We can't wait to hear the reactions of our fans! say Marcus and Martinus.
With Spill fra Telenor, children get access to over 500 exciting game titles for young and old children from suppliers such as Disney and Cartoon Network, all in a safe environment. The platform has no advertising and no opportunity to buy anything unexpected, says mobile director of Telenor, Ric Brown.
The collaboration between Azerion and the pop stars from Norway is part of Azerion's strategy to bring high quality and relevant content to local markets. Music rhythm driven games is a fast growing genre. We are happy to bring a new format of interaction with the music to Marcus & Martinus fans in Norway. Norway is an important market for us so it's wonderful to develop bespoken content for local players. says Yuliya Nabieva, Director Content Licensing and Production at Azerion.
Marcus & Martinus Beat Hop
Marcus & Martinus Beat Hop is now available via Spill fra Telenor on Google Play Store, Apple Appstore, Spill fra Telenor's website and even via smart TV's. Players who join now have two months free access to Azerion's brand new music rhythm game and over 600 games on Spill fra Telenor. Players who join now and set a high score in Marcus & Martinus Beat Hop have a chance to enjoy the surprises or win a meet and greet chance with Marcus and Martinus.
About Premium Game Platform: Spill fra Telenor
Spill fra Telenor is an unlimited mobile gaming platform which provides premium digital gaming experience across all demographics. From action to adventure, education to simulation, 600+ high quality games are available from top brands such as Disney, Nickelodeon, Cartoon Network, Atari. Up to 5 profiles can be created for family members to provide age related content in safety. Via parental control features, parents can control availability of games to their children and follow customized dashboards which reflect some information on play time, played games of each family member. To start playing games on Spill fra Telenor, users need to log-in with their Telenor number on telenorspill.no and start a monthly subscription. All Telenor users will have a chance to try Spill fra Telenor for two months free-trial option and they can continue their subscription paying 79 NOK/month via their Telenor bills.
About Azerion
Azerion is a fast-growing pan-European digital gaming and monetisation platform. We develop and operate a safe and reliable online social gaming and entertainment platform for people of all ages to enjoy. Our integrated platform includes monetisation features and provides technology solutions to automate the purchase and sale of digital advertising for media buyers and sellers. Content creators, publishers and advertisers work with us to reach millions of people across the globe that play our games and use our entertainment concepts to increase engagement, loyalty and drive e-commerce.Founded in 2015 by two Dutch entrepreneurs, Azerion has experienced rapid expansion thanks to organic growth and strategic acquisitions and is headquartered in Schiphol-Rijk, the Netherlands.