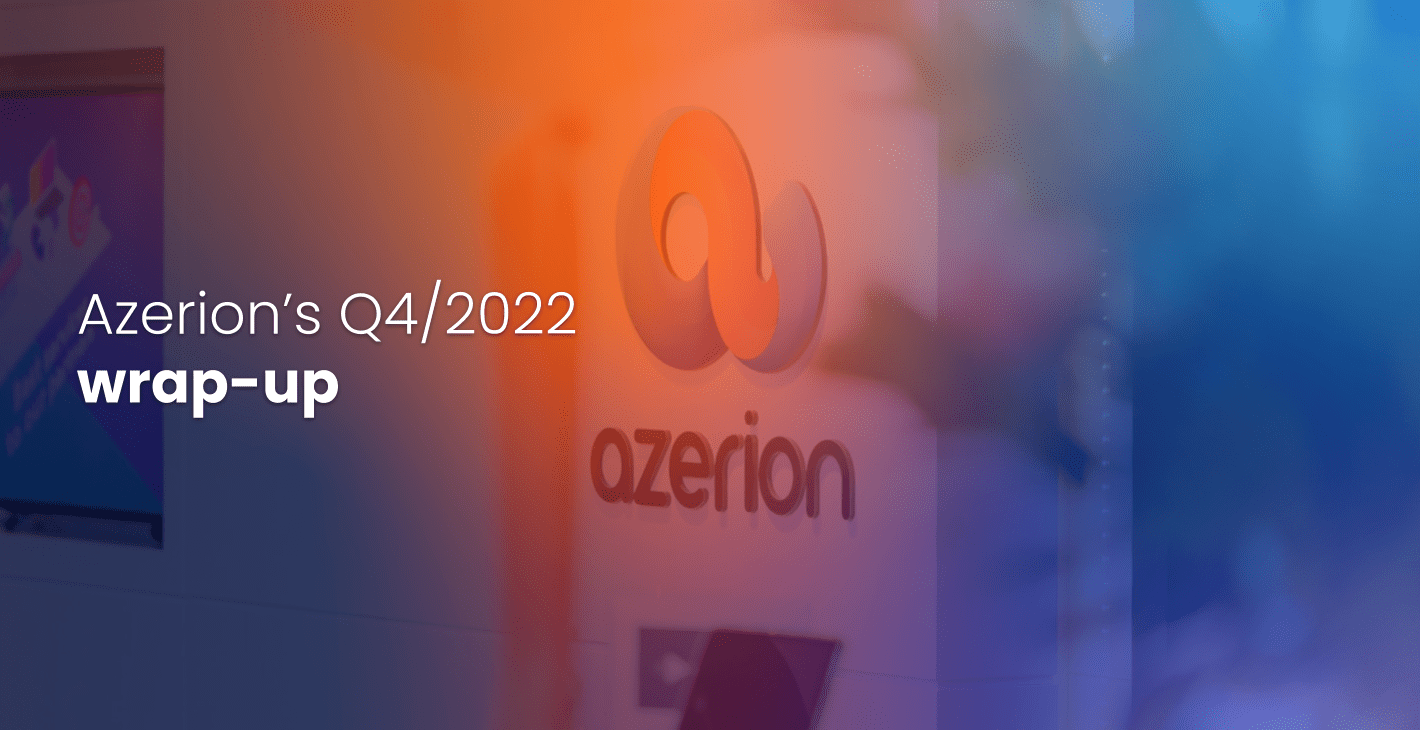 Dear all,
The last quarter of 2022 was the perfect end to Azerion's most productive year to date.
As we prepare to announce our Q4 and FY 2022 results on Tuesday 28 February at 8:00 CET (see registration link here), we would like to share a recap of the incredible effort from our business teams who worked hard to strengthen our platform and deliver the most diverse product portfolio in the industry.
In this newsletter we discuss how we drive different spend in our Platform, the successful product launches and updates in our premium games, growing our market share through acquisitions and showing how you can help support the earthquake victims in Türkiye and Syria.
Registration 
Members of the Management Board will host a results webcast on Tuesday 28 February 2023 at 14:00 CET (13:00 GMT). Registration is open via this link: https://azerion-q4-2022-results.open-exchange.net/
Azerion is becoming the go-to-partner for advertisers to reach audiences at scale in an easy-to-use, competitively priced and brand-safe digital environment. Azerion generates revenue through advertising spend across its platform and e-commerce businesses, and also through in-game purchases across its premium games, with additional revenue coming from its key games.
Platform 
In our Platform business we reach over hundreds of millions of users every month with digital advertising, through our large and diverse network of digital publishers and distribution of casual games, as well as our e-commerce business. The Platform largely generates revenue by showing digital ads in both game and non-game environments and by selling popular titles through our e-commerce channels. 
Local direct sales
One of the key competitive advantages of Azerion is our local direct sales teams. In Q4 we had record direct sales in markets like France topping the performance charts and demonstrating the added value of local teams working hand in hand with our clients to successfully advertise to their audiences. The team sold a combination of branding and performance campaigns relying on Azerion's data to make the advertising successful. With this combined approach covering the full funnel, we had the ability to deliver higher viewability, better completion rates and high-quality traffic. Azerion's platform can deliver a wealth of campaigns and reach the advertisers' targets.
One of the largest grocery chains in the world, Carrefour, collaborated with Azerion to enhance its 2022 in-store traffic strategy for shops in Italy. By combining the creativity of high impact display formats with Azerion's precise technology, the objective of the strategy was geared towards awareness and store visits. The campaign combined a variety of mobile display advertising formats with drive-to-store features to promote traffic and increase visits to the stores involved. The drive-to-store ad format was designed specifically aimed at stimulating users with engaging creatives, enabling them to easily locate the closest physical Carrefour shop. In terms of engagement rate and increase in store visits, the results were very positive. With an improved cost-per-visit, the campaign was able to solidify the relationship between the renowned grocery chain and Azerion.
Lastly, in order to provide advertisers with social impact messaging opportunities across its portfolio of in-game advertising and high impact inventory across APAC (Asia-Pacific), Azerion has partnered with the advertising platform Right Thing Media. Through this partnership, Azerion offers advertisers the possibility to designate a certain portion of their overall campaign budget as a donation to a partner charity or nonprofit organisation and we produce an impact report combining ad performance with insights on society impact.
Technology partnerships and integrations
Azerion also differentiates by offering a full stack of technology. Our ad tech has been part of the digital advertising industry since 2008 and we have been integrating partners, formats, and solutions bringing more scale and versatility to our Platform. In Q4 we expanded this reach through innovations, for example with Hawk DSP, new partnerships as with Amazon DSP, and expanding existing relationships with Google.
Azerion made a strategic partnership with Hawk DSP, an advertising platform which focuses on emerging media, such as CTV and InApp, which unlocks the demand of the advertisers looking for CTV and InApp inventory on the Hawk platform. 
To help publishers maximise their revenue from advertising, Azerion's supply-side platform (SSP), Improve Digital, finalised its direct integration with Amazon's DSP and is one of the few direct supply partners.
We further expanded our integration with Google audiences, resulting in significant growth of Google's demand platform spendings via our proprietary technology. Advertisers are now able to reach their Google audiences in the Azerion Platform. 
Last but not least, by automatically directing network and computing resources toward high-performing ad slots, we increased platform efficiency and higher margins for Azerion's publishers and advertisers.
Curated content
Azerion launched  'Azerion Fanzone', a new product which allows sports clubs to easily build a digital environment for their community with many possibilities for entertainment. The company has already partnered with a number of sports institutions, including Fortuna Sittard, RKC Waalwijk, FC Volendam, SK Lommel and KVC Westerlo to create bespoke applications, bringing their dedicated fan base closer to their favourite club, from purchasing tickets and merchandise to entering forums, playing games and much more. The app will bring users a free, fun way to engage with their favourite club and interact with their fellow supporters. 
With Azerion Fanzone, the company will leverage its experience in building businesses around audiences and expand into the world of sports, giving advertisers access to one of the most engaged consumer groups in the global market. 
Fortuna Sittard was the first club that launched the Fanzone solution. The club generated more than 24,000 sessions within their first 30 days and was the fourth most downloaded Dutch club application in December 2022.
Premium games
In our premium games we expand our value proposition to advertisers, creating opportunities for them to engage with their audiences in virtual worlds, which we believe will be the future of entertainment. Azerion operates nine premium game titles, with the goal of  fostering social interaction between players and building communities.
Coinciding with the successful start of the Habbo X Alpha, the initial player testing of the first fully Web3.0 integrated Habbo game, the Room NFT collection, sold out within 54 hours. Owners of the room NFTs can leverage the enormous back catalogue of Habbo items, plus existing NFT furni, to decorate, creating their own unique immersive social spaces.
Monopoly Poker and MyJackpot expanded and perpetuated partnerships with Hasbro and the German and Italian markets respectively, intensifying the communities' engagement.
M&A
By pursuing selective, value-added acquisitions, in a highly fragmented industry, Azerion has further strengthened its market position in 2022, increasing market share, and expanding and complementing product and service offerings.
With the addition of Vlyby, Targetspot, Madvertise, and AdPlay, Azerion has brought new creative ad formats. Through [M]Media in the Netherlands and TakeRate in Italy, we boosted our direct sales to advertisers. In addition, with the acquisition of Hybrid Theory and Infinia we have stepped up our performance marketing capabilities. 
Fundraisers and campaigns
On 6 February, a devastating earthquake struck along the border of Türkiye and Syria. It goes without saying that our hearts go out to those impacted by this disaster, which has taken thousands of lives and caused unimaginable damage across the region. As of 23 February, we have raised almost €290K, including a donation from Azerion of €100K. Thank you to everyone who has supported, shared and donated. If you haven't done so already, donations can still be made here.
Have a great start to 2023, we hope to welcome you to our webcast on Tuesday 28 February at 14:00 CET (13:00 GMT) and we hope you all look forward to what this year has to offer.
Kind regards,
Azerion Press
About Azerion
Azerion is a high-growth digital entertainment and media platform. As a content-driven, technology and data company, Azerion serves consumers, digital publishers, advertisers, and game creators globally. Azerion's integrated platform provides technology solutions to automate the purchase and sale of digital advertising for media buyers and sellers, supported by in-market sales and campaign management teams. Through our technology, content creators, digital publishers and advertisers work with Azerion to reach the millions of people across the globe that play Azerion's games and view its distributed entertainment content to increase engagement, loyalty, and drive e-commerce.
Founded in 2014 by two Dutch entrepreneurs, Azerion has experienced rapid expansion driven by organic growth and strategic acquisitions. Azerion is headquartered in Amsterdam, the Netherlands and is a publicly traded company listed on Euronext Amsterdam.
For more information visit: www.azerion.com.
Contact:

Investor Relations
ir@azerion.com
Media
press@azerion.com