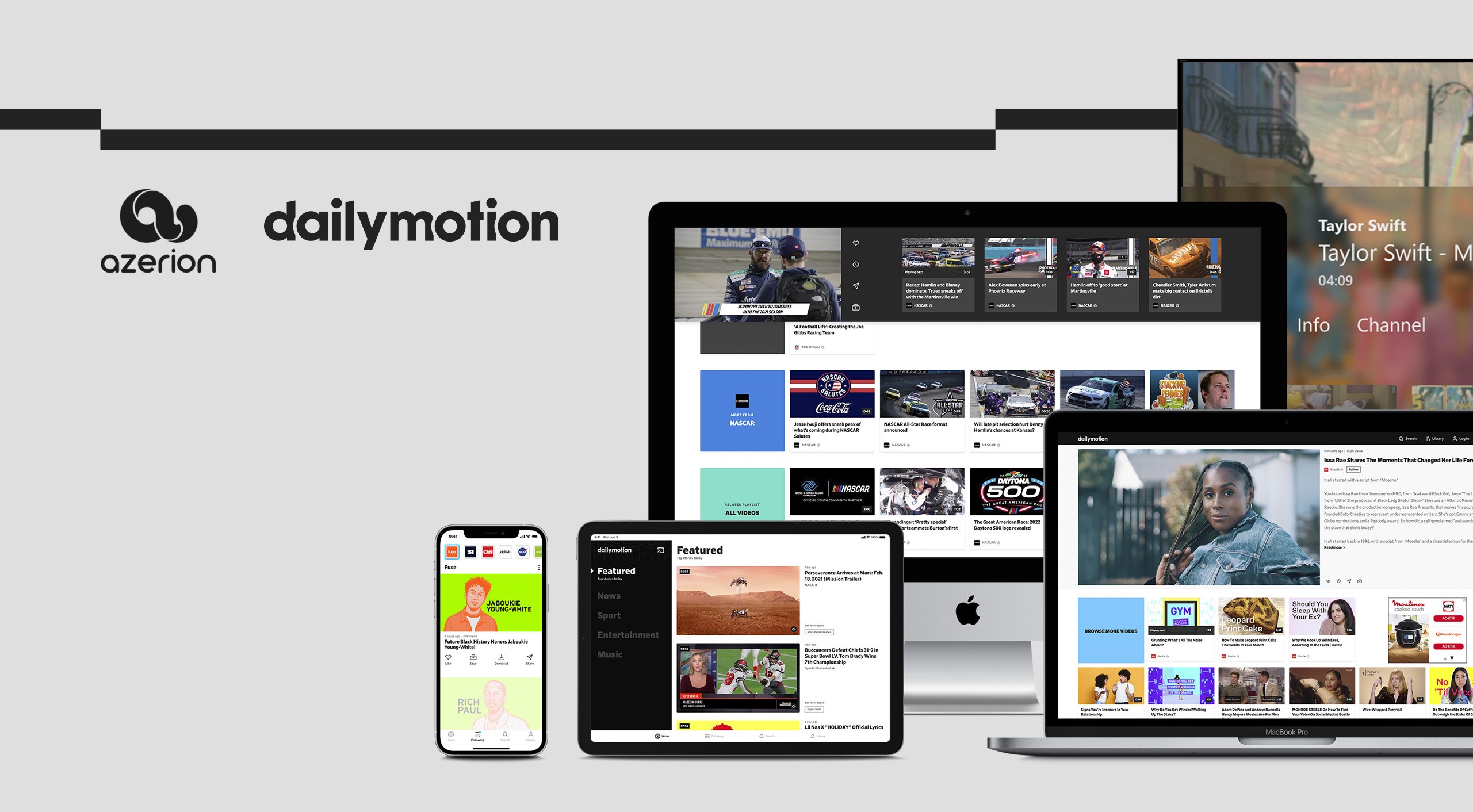 Amsterdam, 18th May – Azerion, a fast-growing leading pan-European digital gaming and monetization platform, today announced its appointment as exclusive partner to Dailymotion, a Vivendi-owned video platform and content monetization solution. Dailymotion's display, in-stream and out-stream ad inventory in the Netherlands, Belgium, Italy, the Nordics (Norway, Sweden, Finland and Denmark) and Luxembourg will be exclusively available via Azerion through its proprietary programmatic platform, Improve Digital.
With more than 300 million monthly viewers, generating 3 billion views per month, Dailymotion is one of the most used video streaming platforms in the world. Since 2015, Dailymotion pivoted its strategy to provide users with trusted content sources, contracting multiple Triple A content providers like Universal Music, CNN, MBC, Vice etc. Major efforts to improve the user experience on the platform have also been conducted to reflect the quality of this new positioning.
Dailymotion now offers advertisers the ability to reach their desired audiences with massive scale in a brand safe environment through engaging video inventory. By means of this exclusive partnership, Azerion reinforces its strong position in the entertainment and digital advertising industries, taking its offerings to the next level for advertisers and media agencies.
Azerion through Improve Digital, its proprietary programmatic platform, will enable Dailymotion to increase ad monetization of both its display, in-stream and out-stream inventory through its direct sales teams as well as via Azerion's premium and local demand.
Through this programmatic platform, buyers can directly access Dailymotion's premium inventory and its +2,000 Publishers' partners, distributing high-quality content with the Dailymotion player. Azerion allows them to connect in real-time with highly engaged audiences while delivering real and scalable outcomes. With more than 100.000 advertisers and thousands of publishers, the programmatic platform manages more than 1.6 trillion transactions per month.
This partnership represents our belief in providing marketers with direct, exclusive and brand safe audiences. Having Dailymotion being accessible via Improve Digital SSP and Azerion's commercial footprint present in these markets, allows us to better support our clients and drive simplicity in the overall buying process. We are thrilled to be joining forces with Dailymotion! said Sandra Yassaka, VP Demand Product & Partnerships at Azerion.
We are thrilled to start this strategic and exclusive partnership with Azerion. Together, we'll help brands grow their businesses through engagement, innovation and measurement. Our premium contents, creative formats and marketing services will enable best in class experiences for users and clients. said Thomas Alombert, VP Sales Global Business at Dailymotion
About Azerion
Azerion is a fast-growing and leading pan-European digital gaming and monetization platform, headquartered in Amsterdam. Hundreds of millions of people play our games and watch our videos. Advertisers reach massive audiences and targeted groups with our tech. Publishers earn top revenue with our tech and engage quality audiences with our content. Uniquely, Azerion works across these groups. We spot synergies, find efficiencies and weave together the best strands from our business for each of our users. Azerion: content, reach, revenue, engagement — a million possibilities.
About Dailymotion
Founded in 2005, Dailymotion is a global video streaming service that connects over 300 million entertainment-seekers to their personal world of news and entertainment. Built on a clever player, intuitive algorithm, and on carefully-selected recommendations made by our experts who really (really) love great videos, Dailymotion is the one-stop place for enjoying stories by/from the best creators around in one heightened video experience. Dailymotion is currently owned by Vivendi and headquartered in Paris with offices in New York, Singapore and Marseille.
Dailymotion for Advertisers
About Dailymotion
Press contact – Dailymotion
https://about.dailymotion.com/en/press/
press@dailymotion.com