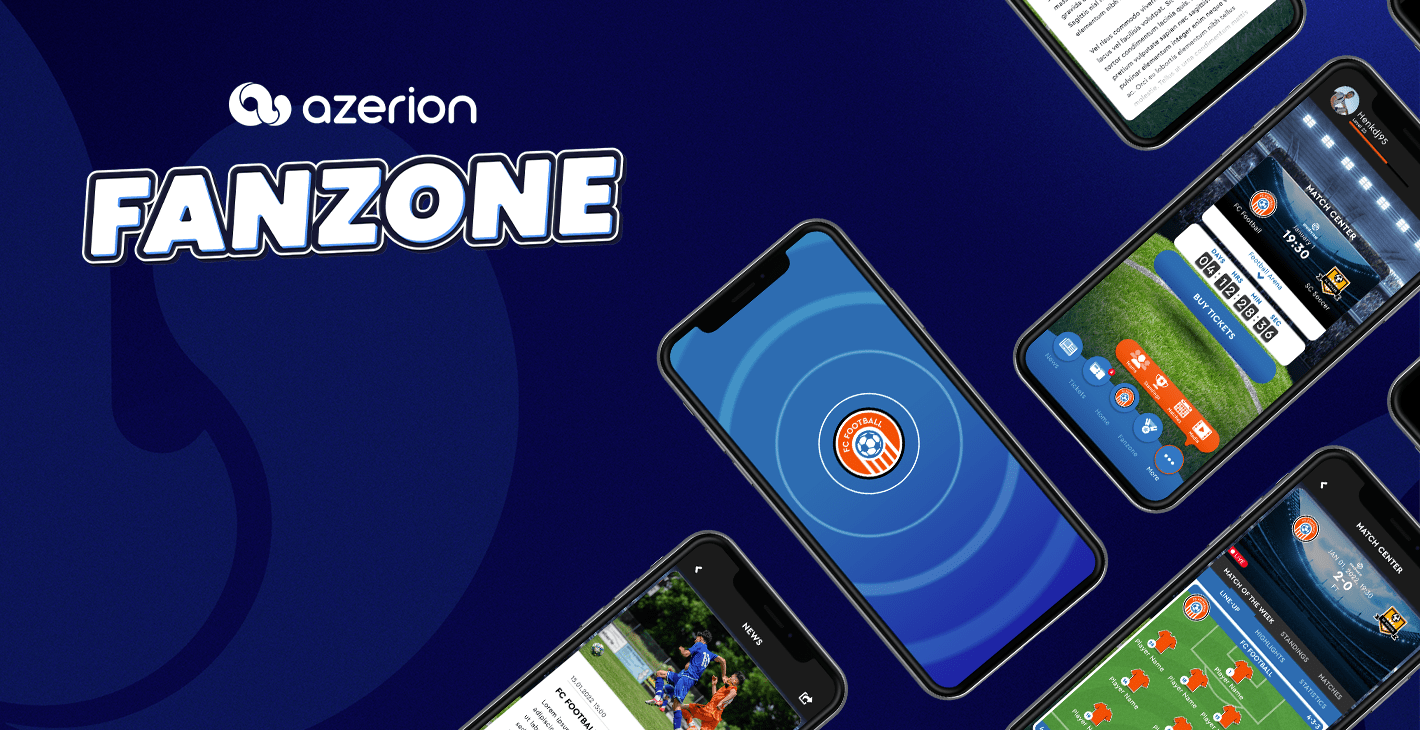 Amsterdam, 20 June 2023 – Azerion Fanzone, the innovative sports platform that puts fans at the heart of the action, is making waves in the Dutch sports community. The platform offers a unique fan experience by providing a centralised platform, including a mobile application for news, ticketing, and match information for fans of their favourite clubs. Azerion Fanzone has rapidly gained momentum, attracting the interest of over 18 clubs, of which 10 are Dutch.
Azerion Fanzone is a cutting-edge platform that enables sports clubs to create a digital ecosystem tailored to their community's needs. With a wide array of engagement features, including ticketing and a live match centre, clubs can now connect with their fans in a more personalised and interactive way. This user-friendly platform acts as a one-stop hub for all online interactions, fostering a stronger bond between clubs and their fanbase and engages them before, during and after the match with newly added features each quarter. 
Jurriaan van Teunenbroek, VP of Games and Content at Azerion, comments: "We are thrilled to see how Azerion Fanzone has transformed the way sports clubs interact with their fans. This groundbreaking platform has opened up new avenues for engagement, providing a centralised hub for clubs and fans to connect. With its seamless integration of advertising technology, Azerion Fanzone offers tremendous potential for brands to reach their target audience effectively."
Drawing on Azerion's extensive gaming knowledge, the platform is designed to entertain and engage audiences like never before. With a deep understanding of what captivates fans, Azerion Fanzone offers an immersive experience that keeps them coming back for more.
Not only does Azerion Fanzone enhance fan experiences, but it also presents exciting advertising and sponsor opportunities for brands and businesses. With the ability to reach passionate sports fans, advertisers can leverage the platform's extensive user base. Azerion's advanced advertising technology ensures that advertisers can deliver targeted and impactful campaigns on a large scale, maximising their reach and impact.
Since its launch in December, Azerion Fanzone has experienced exponential growth, providing a platform for sports clubs, fans, and advertisers to thrive. The platform has gained significant traction in the Netherlands, with 10 clubs from the prestigious Eredivisie and the Keuken Kampioen Divisie already onboard. Buoyed by this success, Azerion Fanzone has expanded its reach to Belgium and Turkey and has plans to launch in Portugal, Germany and the United Kingdom in the near future. The platform's robust revenue model, built on multiple features, continues to attract interest from sports clubs worldwide, eager to capitalise on its potential. Furthermore, strategic partnerships for ticketing services are also emerging, unlocking even more opportunities for clubs and their dedicated followers.

As Azerion Fanzone continues to transform the landscape of fan engagement, the future looks promising. With its unrivalled user experience and expansion into international markets, the platform is poised for continued growth and success in the years to come.
About Azerion
Azerion is a high-growth digital entertainment and media platform. We bring globally scaled audiences to advertisers in an easy and affordable way through our technology and in a safe, engaging and high quality environment, thanks to our owned and operated content with entertainment and other publishing partners.
Having its roots in Europe with its headquarters in Amsterdam, Azerion believes in a personal and local approach and has teams based in over 26 cities around the world to closely support our clients and partners to find and execute creative ways to really make an impact through advertising.
Founded in 2014, Azerion is listed as AZRN on Euronext Amsterdam.
Contact Information
Investor Relations
ir@azerion.com
Media
press@azerion.com