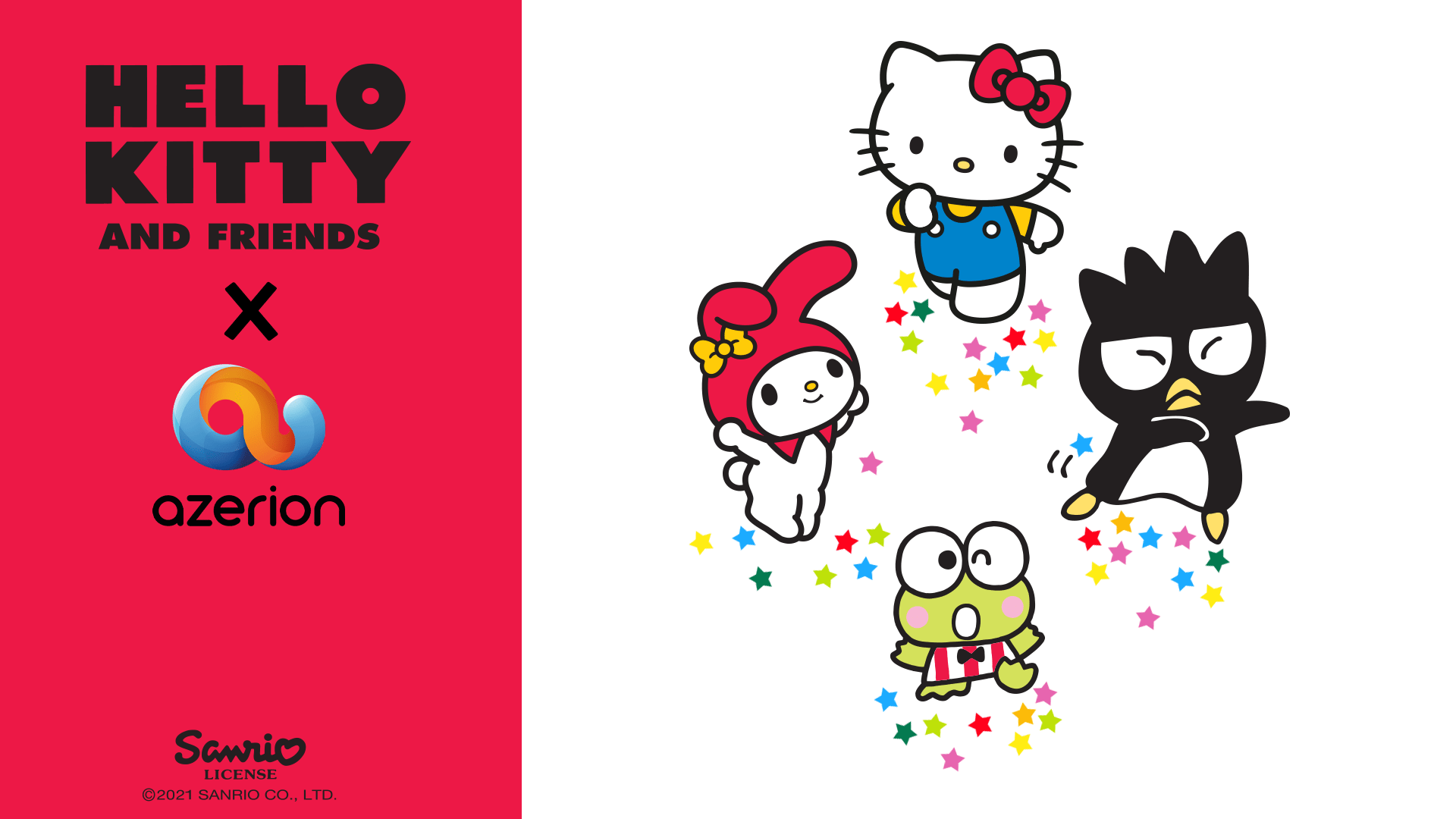 Azerion Moves Beyond Games to Provide IP-Driven Multimedia Content for Hello Kitty and Friends within Azerion Platforms
Amsterdam, The Netherlands – July 7th – — Azerion, the leading pan-European digital gaming and monetisation company, and Sanrio, the global lifestyle brand recognized worldwide for its universally beloved pop icon Hello Kitty, today announced a three-year partnership to provide fans of the popular Japanese character with a series of casual games.
Through this partnership, Azerion will launch five Hello Kitty and Friends-branded games as web-enabled versions powered by HTML5. The games will be accessible to a wider audience on both web and mobile devices.
Azerion is planning a series of joint marketing initiatives to introduce the new Hello Kitty and Friends games across its diverse platforms to its audiences across the globe. Multimedia promotional events and community engagement through social media channels, featuring video trailers and other assets will be developed and distributed by Azerion. Promoting and activating its audience to drive awareness for the new Hello Kitty and Friends experience will enable Azerion to reach new audiences on publisher and user side and offer new entertainment content for existing Sanrio fans no matter where they are or what device they use.
Silvia Figini, COO of Sanrio- EMEA, India and Oceania, Mr. Men – Worldwide said: We are extremely glad to partner with Azerion on this new project. The combination of the global appeal of Hello Kitty and the great experience of Azerion in developing and publishing high quality engaging games will generate the perfect formula to deliver fantastic gaming experience to our worldwide audience.
Erol Erturk, Executive VP games & strategic partnerships at Azerion said: Azerion's partnership with Sanrio's Hello Kitty and Friends supports the iconic brand in becoming a fully fledged media franchise. Azerion will give Hello Kitty and Friends cross- and multi-platform reach, specifically with customized concepts for our publishing partners. We are honoured to have Sanrio's trust in this and are thrilled about the possibilities.
With a series of games to rollout within the coming years, the first games include: Hello Kitty Pinball, and Hello Kitty and Friends Jumper.
About the games
Hello Kitty and Friends Jumper
Choose your favorite Hello Kitty and Friends character and jump up on the platforms! Every few seconds a new floor will appear and you have to time your jump correctly. Play as Hello Kitty, My Melody, Kerokerokeroppi or Bad Badtz-Maru and explore different environments. Jump as high as you can and set a new high score!
Hello Kitty Pinball
Enjoy a classic Hello Kitty pachinko pinball game and obtain the highest score by shooting yellow, green, blue and pink balls! Unlock the bonus and Hello Kitty will throw in some special bonus balls. You have ninety seconds to set the highest score!
About Azerion
Azerion is a fast-growing, pan-European company, leading the way in digital gaming and monetisation. Hundreds of millions of people play our games and watch our videos. Advertisers reach massive audiences and targeted groups with our tech. Publishers earn top revenue with our tech and engage quality audiences with our content. Uniquely, Azerion works across these groups. We spot synergies, find efficiencies and weave together the best elements from our business for each of our brands and users. Founded in 2015 by two Dutch entrepreneurs, Azerion has experienced rapid expansion thanks to organic growth and strategic acquisitions. Azerion employs more than 955 employees across 24 offices and is headquartered in Schiphol-Rijk, Amsterdam, the Netherlands.
Azerion: content, reach, revenue, engagement — a million possibilities
About Sanrio
Sanrio is the global lifestyle brand best known for Hello Kitty who was created in 1974, and home to many other beloved character brands such as My Melody, LittleTwinStars, Cinnamoroll, Pompompurin, gudetama, Aggretsuko, Chococat, Bad Badtz-Maru, Kerokerokeroppi and the British icons Mr. Men Little Miss. Sanrio was founded on the small gift, big smile philosophy – that a small gift can bring happiness and friendship to people of all ages. Since 1960, this philosophy has served as the inspiration to offer quality products, services and activities that promote communication and inspire unique consumer experiences across the world. Today, Sanrio's business extends into the entertainment industry and includes the operation of a number of theme parks. Sanrio boasts an extensive product lineup of around 50,000 products, which are available in over 130 countries and regions around the world. To learn more about Sanrio, please visit www.sanrio.eu and follow us on Facebook, Instagram and Twitter.