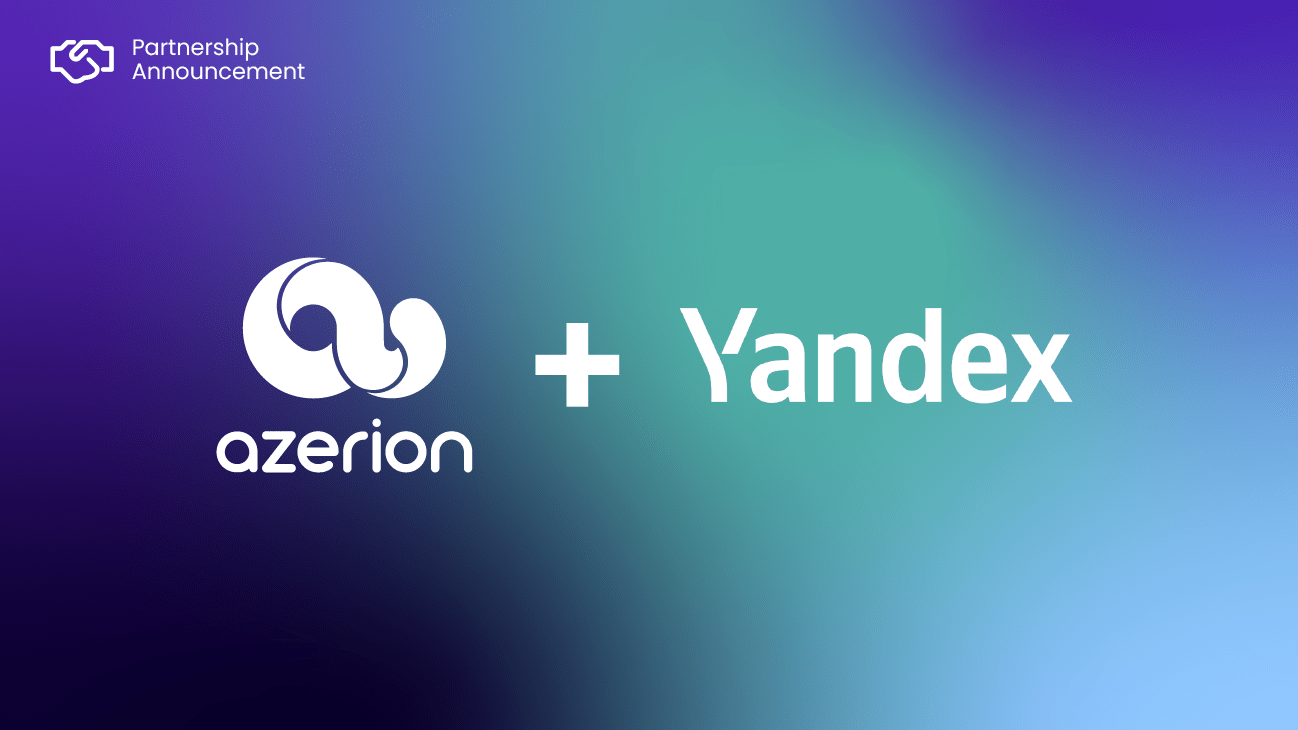 Amsterdam, 19 of January 2022: Azerion, the digital entertainment, and media platform, today announces that it has been appointed by Yandex, one of Europe's largest internet companies and the leading search and ride-hailing provider in Russia, to upscale its gaming content and monetization capabilities, signaling a major boost in their history of collaboration.  
As a strategic partner of Yandex since 2019, Azerion will integrate its premium advertising platform, to provide programmatic advertising monetization, as well as, leverage Azerion's commercial footprint and drive direct local demand. 
The expansion of Azerion's remit also includes the publishing of Yandex Games content within the Azerion publishing network. Historically, Azerion has provided gaming content to Yandex Games catalog. Yandex will now benefit from a larger portfolio of cross-platform games distributed by Azerion 
2022 will see the announcement of new initiatives and projects, bringing monetization and quality in cross-platform gaming to Yandex with the help of Azerion's platform.
Pavel Epishin, Head of Yandex Games, said:
"For a few years now we've seen how Azerion is able to offer a quality gaming experience for end-users to interact with our brand. And that's why we don't want to stop there. Azerion will also help take our gaming portfolio to the next level by raising engagement across publishers' networks and improving reach for advertisers. We take our close relationship with Azerion very seriously and we know that the platform will open up new and unique opportunities for us as a business this year.
Yandex is also expanding its partnership network with Demand Side Platforms globally, and Azerion is a great fit of a solid partner in global markets. Thanks to cooperation with Azerion, the publishers and partners of Yandex Network will be receiving the additional demand from such regions as Nordics, Benelux, Germany, Italy and France."
Erol Erturk, EVP Games and Strategic partnerships at Azerion, said:
"We're really pleased that Yandex is now fully leveraging our powerful platform. We see this next step in our strategic partnership, which started with just content, to be a logical continuation of collaborative success. Both Azerion and Yandex have established business in the world of advertising and content and the new work this year will strengthen the business proposition of both parties simultaneously."
About Azerion
Azerion is a fast-growing and leading pan-European digital entertainment and media platform. Azerion's integrated platform provides technology solutions to automate the purchase and sale of digital advertising for media buyers and sellers. Content creators, digital publishers and advertisers work with Azerion to reach millions of people across the globe that play its games and its entertainment concepts to increase engagement, loyalty and drive e-commerce. Founded in 2014 by two Dutch entrepreneurs, Azerion has experienced rapid expansion thanks to organic growth and strategic acquisitions. Azerion is headquartered in Amsterdam, the Netherlands.
Azerion has announced a proposed business combination with EFIC1 which upon completion will result in Azerion becoming a publicly traded company listed on Euronext Amsterdam.
About Yandex
Yandex is a technology company that builds intelligent products and services powered by machine learning. Our goal is to help consumers and businesses better navigate the online and offline world. Since 1997, we have delivered world-class, locally relevant search and information services. Additionally, we have developed market-leading on-demand transportation services, navigation products, and other mobile applications for millions of consumers across the globe. Yandex, which has 30 offices worldwide, has been listed on the NASDAQ since 2011. https://yandex.com/
About Yandex Games
Yandex Games is an open platform for desktop and mobile HTML5 browser games. Developers can publish games in the catalog and every game in this catalog is automatically advertised on the Yandex Advertising Network and Yandex portal. Yandex technologies find a suitable audience for each game. Games with high metrics are placed higher in the catalog.
This is free for all games and does not require any additional effort from the developers. Over 8000 games are already available in the Yandex Games catalog. https://yandex.com/games/