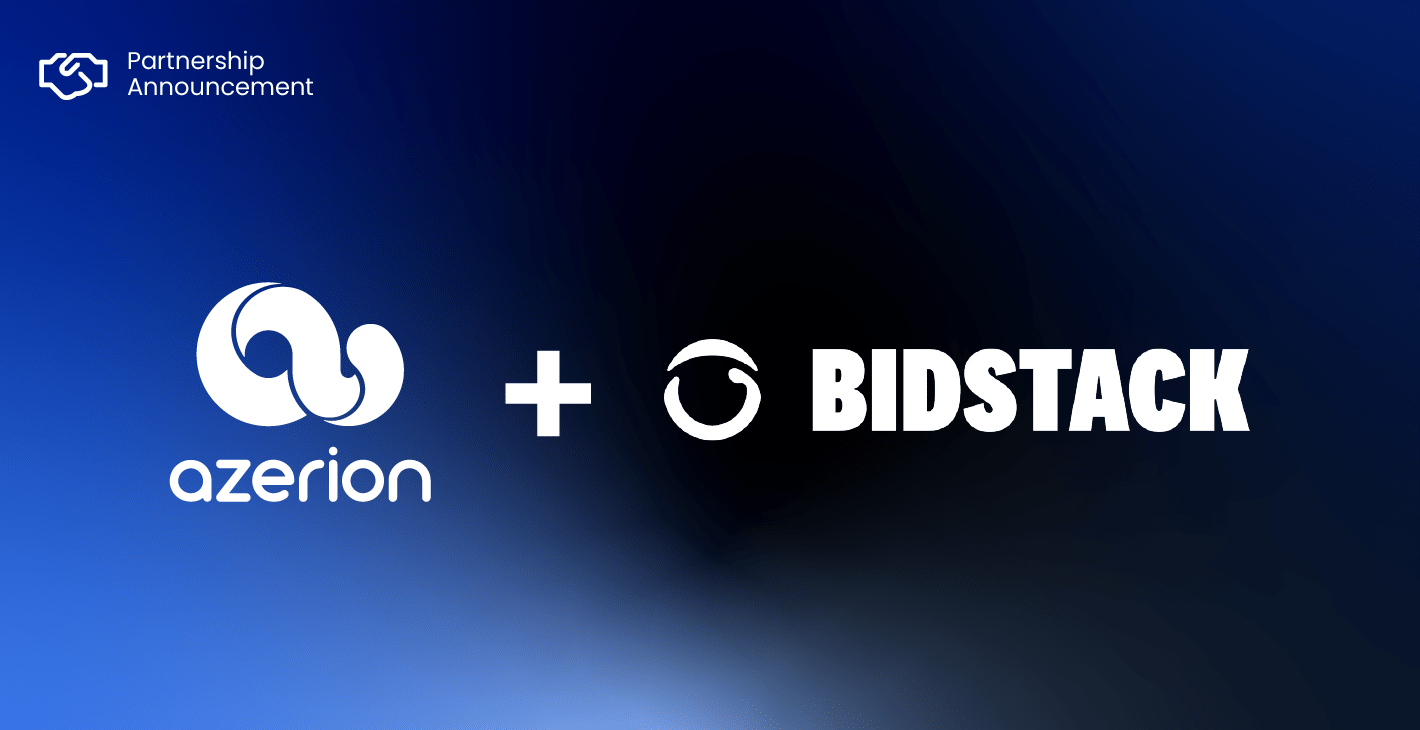 Amsterdam – December 17, 2021, Azerion, the digital entertainment and media platform, is excited to announce its exclusive strategic partnership with Bidstack, the leading in-game advertising and video game monetisation platform. Azerion will be the exclusive commercial partner across Bidstack's inventory over the next two years. The partnership is regarded to be one of the industry's largest programmatic in-game advertising deals.
Through this exclusive agreement, Azerion will strengthen its digital advertising platform and provide brands with easy access to highly engaged consumers through immersive advertising experiences. Azerion will gain access to around 40 millions users and 60 titles across a rapidly growing portfolio of AAA, independent and mobile publishers. The genres are diversified across stadium, racing, open world and life simulation titles which provide an attractive and highly engaged addressable audience. The partnership has a worldwide reach, covering significant markets including the United States, the United Kingdom, the Netherlands, France, and Germany.
The partnership will allow Azerion to extend its footprint in in-game advertising at an important strategic moment, with 2022 expected to be a significant breakthrough for in-game advertising. 
Umut Akpinar, Co-Founder and Co-CEO of Azerion, added "We are delighted to strike this strategic partnership with Bidstack which strengthens our digital advertising platform. It will allow brands to explore new advertising frontiers in premium and brand-safe inventories, while connecting seamlessly with consumers through impactful and immersive experiences. At Azerion, we believe that the future is digital entertainment. This new partnership is perfectly aligned with our vision for the upcoming years."

James Draper, Bidstack Founder and CEO, said, "This contract signals a realisation that brand advertising within the metaverse has truly arrived.  Since our pivot into gaming in 2017, we have embedded a culture of no-shortcuts into the formation of in-game advertising as a new channel.  We expect this to be just the start of a long and deep relationship with Azerion as both companies have strong ambitions within the digital entertainment and media space.  I want to personally thank the incredible efforts of our team, in particular Lewis Sherlock (SVP of Programmatic) and Francesco Petruzzelli (CTO), who have played a key role in securing this deal."

About Azerion
Azerion is a fast-growing and leading pan-European digital entertainment and media platform. Our integrated platform provides technology solutions to automate the purchase and sale of digital advertising for media buyers and sellers. Content creators, publishers and advertisers work with us to reach millions of people across the globe that play our games and use our entertainment concepts to increase engagement, loyalty and drive e-commerce. Founded in 2014 by two Dutch entrepreneurs, Azerion has experienced rapid expansion thanks to organic growth and strategic acquisitions. Azerion is headquartered in Amsterdam, the Netherlands.
About Bidstack
Bidstack is the leading in-game advertising and video game monetisation platform. Their sophisticated technology allows brands to serve advertisements into natural spaces within video games whilst protecting the gaming experience.
 These branded experiences can vary from trackside banners and cityscape billboards to pitchside LED boards, skins or any other contextually relevant spaces within the metaverse.
The company has more than 80 staff across five international locations and is a public company listed on the London Stock Exchange.