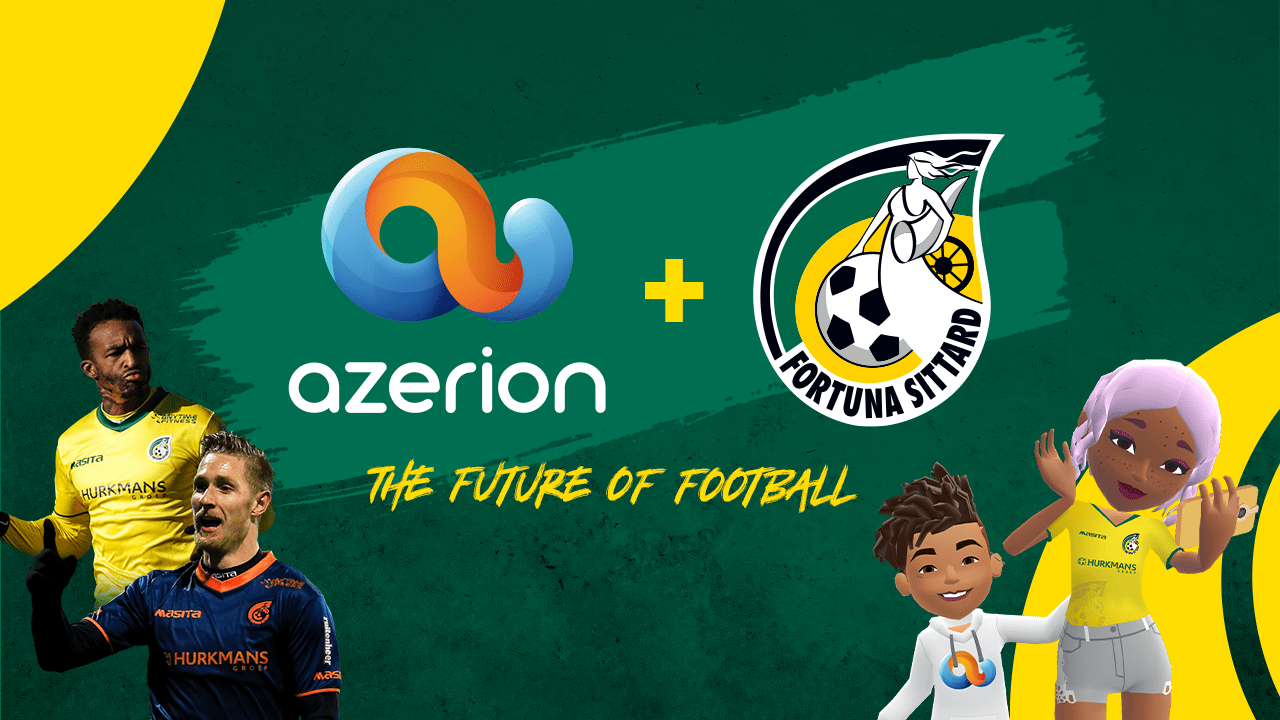 Azerion will become minority shareholder from the club
This partnership will deliver a high-quality fan experience by integrating offline and online services
Amsterdam, 13th May – International gaming company Azerion and Dutch football club Fortuna Sittard are set to write the future of gaming together.
The Amsterdam-based internet company, specialising in online gaming and advertising technology, has become the co-owner of the Limburg Eredivision ist by acquiring a minority stake of 20 per cent.
This investment made by Azerion – a company best known to the general public for its flagship games Habbo Hotel, Governor of Poker and Hotel Hideaway – will give the Limburg popular club the means to meet its sporting and corporate ambitions.
Joining forces with high expectations
We are very happy and excited to join forces with Azerion, said Isitan Gün, chairman of Fortuna Sittard. Azerion is a fast-growing company with global impact and unprecedented expertise in the field of gaming and advertising technology. After we started talking to each other, we quickly noticed that there were many similarities between the two parties and that we matched well in terms of organisational culture. We both have an out-of-the-box mentality and are dedicated to realising our ambitious and creative ideas. We see a very bright future with Azerion at our side.
Atilla Aytekin, founder and CEO of Azerion, agreed: From the very first moment, the collaboration with Fortuna Sittard went incredibly well". "We were welcomed to the stadium with enormous warmth, which made us feel at home right away. We are football fans and see many similarities between this fantastic club and Azerion. Fortuna Sittard is – just like us – one big family and with games from our portfolio such as Habbo Hotel and Hotel Hideaway, we know that a strong and close relationship with the community is very important and valuable. It was therefore logical for us to invest in this beautiful club.
More than just capital
Azerion brings not only capital to Fortuna Sittard, but a wealth of valuable expertise. The successful Dutch gaming and advertising technology organisation wants to achieve a healthy and successful growth through the partnership with the Limburg professional football club in the organisational areas, commerce and fan base growth. The objective is to help Fortuna Sittard become a stable mid-table player in the Eredivisie. Helping organisations grow is in our DNA, explained Azerion CEO Atilla Aytekin. Azerion has already invested in more than fifty organisations and helped them grow their business. We are determined to do the same for Fortuna Sittard. We know how we can achieve digital interaction with people and want to support Fortuna Sittard with this. We also want to strengthen the strong family relationship between the fans and the club by introducing new forms of exclusive and entertaining content, games and interactive means of communication to the club. Fortuna chairman Isitan Gün also sees the advantages of this: In the football world, technology and innovative and interactive ways of communication are becoming increasingly important and I, therefore, believe that this collaboration is a good example of how these domains reinforce each other.
For more information about the partnership between Azerion and Fortuna Sittard click here
Follow Azerion via @weareazerion and Fortuna Sittard via @fortuna.sittard
Play the game FortunaGO here.
About Azerion
Azerion is a fast-growing and leading pan-European digital gaming and monetization company. We develop and operate a safe and reliable online social gaming and entertainment platform for people of all ages to enjoy. Our integrated platform includes monetization features and provides technology solutions to automate the purchase and sale of digital advertising for media buyers and sellers. Content creators, publishers and advertisers work with us to reach millions of people across the globe that play our games and use our entertainment concepts to increase engagement, loyalty and drive e-commerce. Founded in 2015 by two Dutch entrepreneurs, Azerion has experienced rapid expansion thanks to organic growth and strategic acquisitions. Azerion employs more than 900 employees across 19 offices and is headquartered in Schiphol-Rijk, the Netherlands.
About Fortuna Sittard
Fortuna Sittard is the pioneering player of professional football in the Netherlands. The club was established in 1968 from a merger between RKSV Sittardia and Fortuna '54 and can therefore call itself the very first professional club in the Netherlands. Highlights of the team's success include winning the National Cup in 1957 and 1964, becoming first division champions in 1995 and achieving promotion into the Eredivisie, first in 1982 and again in 2018 – the division where they currently compete.